The Value of a Concordia Education
As you consider your college options, calculating your cost after scholarships is certainly important, but what's more important is the value your college provides, both while you're enrolled there and in your life after graduation.
If you are looking for an excellent academic education and a vibrant, Christ-centered community, Concordia is the college that can best prepare, mentor and support you to develop a clearer identity, improve your skills, explore your calling and ultimately serve and lead through your career, church, community and world.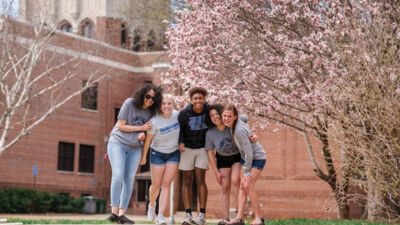 Concordia At A Glance
We are ranked No. 37 in the Midwest Regional Universities category in U.S. News and World Report's rankings.
Nearly 83% of our faculty have earned the highest degree in their respective fields of study.
With a student-to-faculty ratio of 14:1, you'll receive the individualized attention you'll need from supportive professors to help you acheive your best.
Choose from more than 75 undergraduate programs and more than 30 graduate programs, where you'll be equipped for your vocation.
Our majors range from art to education, chemistry and theology, and many other disciplines in between.
Nearly 1,200 undergraduate students call Concordia home.
At Concordia, our students are the priority, not research or politics. You'll get the attention you need from our faculty and staff to succeed, along with a personalized education planto make sure you reach your fullest potential in the classroom and in your life.
You'll have unparalleled opportunitiesto be involved on campus and in the community. Many of our students are involved in cocurricular activities like theatre and music, and at the same time are members of extracurricular athletic or intramural teams, Bible studies, community outreach groups or one of the many student-led campus clubs.
Some students prefer to check boxes when it comes to getting their degree. That's not how it works at Concordia. Our students seek a deeper experience on campus, where they're challenged to think critically by their professors, supported by their peers and viewed as leaders within the community.
$29,000
average amount of financial aid provided to each undergraduate student
100%
of full-time undergraduate students receive financial aid
| 2022-23 Concordia Nebraska Costs | |
| --- | --- |
| Tuition | $38,500 |
| Basic Room | $4,400 |
| Meal Plan | $5,950 |
| Student Services Fee | $700 |
| Total Tuition and Room & Board | $49,500 |
| Scholarships and Grants | ($27,000) avg. aid in 21-22 |
| Federal Direct Loan | ($5,500) |
| Average Total Cost | $17,050 |
A Private Education Comparable To A State School Price
We are ranked No. 17 on U.S. News and World Report's Best Value Schools in the Midwest region. The value of the private education you'll receive at Concordia comes at a similar cost to large public universities in the Midwest*.
*Data compiled from the Integrated Postsecondary Education Data System for 2020-21. These figures account for average financial aid provided to first-year students, including the Federal Direct Loan.
Private Education

with Value(s)
Serve A Higher Purpose
Concordia is a Christ-centered university that is a member of the nationwide nine school Concordia University System of The Lutheran Church—Missouri Synod (LCMS).
On campus, you'll find many opportunities to put your faith into action through on-campus worship clubs, mission trips and more.
Within the Concordia community, you'll be inspired to use your talents to impact the community, church and world.
Elevate Your Faith
Jesus Christ is at the center of all that we do as a university. It is our intention that all of our students will grow in their faith during their time on campus. You'll be encouraged to develop your critical thinking skills with issues related to faith and life, and above all, to know God's saving love.
St. John Lutheran Church (LCMS) is across the street from campus, and other Lutheran, Catholic and Christian congregations are available throughout the Seward community.
Every weekday, you'll have the opportunity to attend a chapel worship service that's open to students, faculty and staff, in addition to multiple traditional and praise/contempororay worship opportunities throughout the week and the school year.
Fulfill Your Calling
Concordia has nearly 100% placement rates in the mathematics, biology, physics, computer science, pre-seminary and Director of Christian Education (DCE) programs.
Ninety-two percent of our graduates in the natural sciences gained employment or positions in health careers programs, graduate schools, science education and the science industry, while 3% have gone into full-time mission work, or to graduate theological study at a seminary or divinity school.
We are the leader in preparing full-time professional workers for the LCMS.
Pursue Your Passions
Concordia offers 22 intercollegiate athletic programs and is a member of the Great Plans Athletic Conference, one of the premier conferences in the National Association of Intercollegiate Athletics (NAIA).
Our athletic department leads the nation in total, all-time NAIA scholar-athletes, with 1,703 and counting.
There are 12 music ensembles within the music department, including the University A Cappella Choir and Symphonic Band, both of which tour nationally and internationally.
Our Art Department offers undergraduate studio spaces and a state-of-the-art Mac computer lab, as well as opportunities to showcase your art on campus in the Marxhausen Gallery of Art and in the community at Red Path Gallery.
If you're looking to get involved with groups on and off-campus, you can choose from more than 25 pre-professional to mission- and service-oriented clubs, where you can make an impact.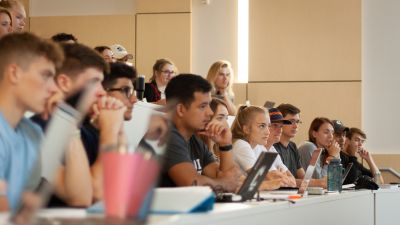 Expand Your Mind
Concordia Nebraska can provide you with the excellent, rigorous academic foundation you need to be successful no matter where your interest lies. With more than 100 undergraduate, graduate and professional academic programs to choose from, you'll have the opportunity to study at the highest level, discover your passions and apply your knowledge in ways that will change the world.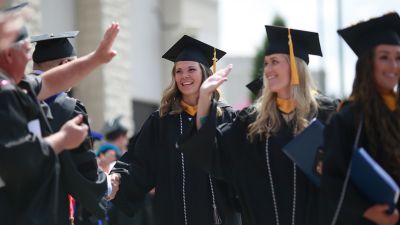 Student Success Is Our Priority
Your success at Concordia is not just defined by your GPA, but how you're equipped to make an impact in your career and throughout your life. We're committed to providing you the academic and spiritual tools you'll need to be successful in all facets of your life.