Ways To Give
You have many distinctive opportunities to support Concordia University. Through your annual financial generosity or special monetary gifts, or by volunteering your time and talents in a wide variety of ways, you will impact future generations of Concordia students and therefore the world at large.
It has been proven time and again that when a large percentage of alumni and friends support an institution, grants and major corporate gifts are more easily acquired.
Concordia is blessed in this regard with a long history of support from alumni and friends of the university.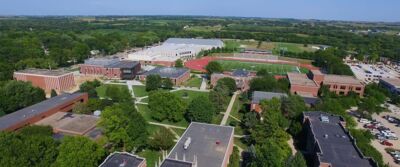 Giving Opportunities
Help us make difference today that will last for generations to come. The opportunities for you to make a difference are many.
General Gifts of Support
Concordia University gratefully accepts gifts for the general operation of the university. Unless specifically designated, your gift will be put to work where most needed to ensure Concordia's mission of quality, faith-based higher education. Your gift may be made by check, credit card or the convenience of electronic funds transfer.

To give securely online by credit card click on the following link and it will take you to a secure giving form: Give now online.
Endowments Create a Lasting Legacy
One of the ways to create a lasting legacy of your own at Concordia is to establish a named endowment. Endowments create a perpetual stream of income for student scholarships, faculty support and new programs just to name a few. You can establish your own named endowment or add to one of Concordia's existing endowments.
Download a sample endowment agreement.
For more information about Concordia's endowment program email development@cune.edu or call 800-535-5494, ext. 7408.
Planned Giving
Concordia University encourages those who support our cause to include our mission in their wills and estate plans. Although it may take years and decades, it is a gift that leaves a legacy. We can work with you to include a gift to our mission in your plans. Email us at heritagesociety@cune.edu to find out more.
Scholarship Gifts
The general cost of higher education is demanding. Few students or their families can provide the full measure of support, and Concordia University, Nebraska is no exception. Concordia students depend on generous donors for help along the way. If you wish to provide scholarship assistance, your generosity will be received with great joy. You may choose a gift for the general scholarship fund or designate your assistance to benefit a student engaged in a particular area of study. You may also pray for a student, stay in touch with him or her and follow that student's progress. For more information, please contact the development office at 800-535-5494, ext. 7408, or email development@cune.edu.
Gifts of Appreciated Securities
Gifts of appreciated securities (assets of stock, land, etc., worth more now than at the time you purchased them) also benefit Concordia University. They also provide you with specific tax benefits. Your gift of appreciated securities is valued from the day you assign them to Concordia. You receive a tax deduction for their total value at that time. If you intend to provide appreciated securities as a gift, it is important not to sell them privately. Such action may negate the capital gains tax benefit you would ordinarily receive. By giving appreciated securities directly to Concordia, you bypass the capital gains tax. For more information, please contact the development office at 800-535-5494, ext. 7408, or email development@cune.edu.
Our Treasured Friends Gift Program
Our Treasured Friends Gift Program provides an opportunity to honor your friends and loved ones. It is a way to celebrate a special occasion, honor a birthday or anniversary or memorialize a loved one who has passed away.
Our Treasured Friends provides an opportunity to support Christ-centered education while celebrating the gift of a treasured friend. When a Treasured Friends gift is received, a card is sent to the honoree or the family of the person being honored or memorialized, telling them of the gift; however, the amount of the gift is not disclosed. Each gift is promptly acknowledged. To make a Treasured Friends gift in honor or in memory of a friend or loved one, please complete this form. Mail it with your gift to:
Our Treasured Friends
Concordia University
800 N. Columbia Ave.
Seward, NE 68434
For more information, feel free to contact the development office at 800-535-5494, ext. 7408, or email development@cune.edu.
Gift of Grain: Outright Gifts of Commodities
Farmers and ranchers can direct the administrators of their local farmers cooperatives or grain buyers that they want to give 100, 500, or 1,000 bushels of corn, wheat or soybeans to Concordia.
There are certain federal and state laws that must be complied with as one makes these gifts of grain, but the use of this gifting mechanism can be a marvelous way to express gratitude to God for his blessings and a way to address certain tax implications. We urge you to speak with your tax and financial advisors before you make your gift to understand how it may apply to your situation.