Paul Scholars
Concordia's Work College Program
In Concordia University, Nebraska's innovative Paul Scholars work college program, you will join a community that combines academic excellence with real-world work experience to seamlessly integrate classroom learning and practical job skills, fostering a holistic approach to higher education that equips you for servant leadership in the church and world.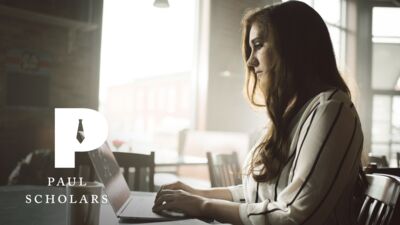 "For you shall eat the fruit of your labor of your hands; you will be happy, and it shall be well with you"
Psalm 128:2
What is a Paul Scholar?
Concordia's Paul Scholars are servant leaders in their workplace from day one. Hard working and driven, Paul Scholars want to make a difference through their careers while leading their future teams, mentoring others and reflecting Christ's light in the workplace, no matter their future vocations.
As a Paul Scholar, you'll
Earn full tuition covered through a combination of Paul Scholar scholarships and job income as you gain experience in your career field.
Have a variety of work opportunities so you can choose a field you're passionate about.
Work with one of our local community partners who will help mentor and guide you to be a servant leader.
Be part of a community of Paul Scholars, mentors and community partners to help you build a strong business network while you're still in college.
Gain confidence in your abilities that will prepare you to lead and serve your future organizations.
Use your gifts, talents and abilities to glorify God while you learn to lead in your future workplace.
Gain access to and participate in events and experiences only available to Paul Scholars.
How Does Paul Scholars Work?
The service you provide through your job as a Paul Scholar covers part of the cost of tuition and is applied automatically to your student account. The remaining portion of your tuition is covered by a scholarship awarded through the Paul Scholars program.
Apply to be a Paul Scholar
All students who have been admitted to Concordia are invited to apply to be a part of Paul Scholars.
Once you have been admitted to Concordia, complete the application below, save it to your computer, and submit your application via email to PaulScholars@cune.edu.
If you've already applied to Concordia but would like to apply for the Paul Scholars program, email aaron.roberts@cune.edu.
When submitting your completed application to PaulScholars@cune.edu, please include all of the following components:
A video no more than two minutes explaining why you are applying for the Paul Scholars program.
Two letters of recommendation: One from a teacher and one from a non-family member.
Complete the Paul Scholars application
Frequently Asked Questions
What are the requirements to be a Paul Scholar?

To be considered for the Paul Scholar program, you must maintain a minimum GPA of 3.0 and will be required to participate in development and leadership activities determined by the Paul Scholars director. You cannot receive sports or performance scholarships while in the program.
What are the benefits of being a Paul Scholar?

As a Paul Scholar, you'll earn a tuition-free degree while you gain invaluable experience as a servant leader in the workplace. Your classroom learning is seamlessly integrated with practical job skills, fostering a holistic approach to your higher education.

You'll also have access to a network of other Paul Scholars, mentors, community partners and Concordia faculty and staff that will help you navigate your academics and work experience and prepare you for your vocations after college.

Will I still be able to have a full college experience while working and taking classes?

Yes! Most college students work a part-time job to earn money. As a Paul Scholar, your work experience is built into your academic experience. You'll still have time to participate in on-campus activities, hang out with friends and have a normal college experience.
Will I have to commute far away for my job?

Concordia's community partners and mentors are local; most of the time, we are able to find a job for you close to campus, near Seward. Depending on the job you want to pursue, you may be placed in a surrounding community. We will always work with you to find the placement that's the best fit for you!
Do I get to pick my job?

We want you to work in an area that you're passionate about and that will fuel your future career. Our Concordia staff will work with you to find a job that furthers your career goals, is close by and will help you become a servant leader in your future workplace!
Questions?
For questions about the Paul Scholar program, email PaulScholars@cune.edu.