Undergraduate Cost and Financial Aid
Yes, we're a private university. However, through scholarships and other financial aid, our students pay close to, or in some cases, less than students at larger public universities. Each of our full-time undergraduate students receives financial aid, which isn't typical at public institutions.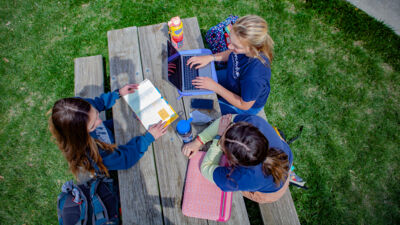 100%
of full-time undergraduate students receive financial aid
$29,000
average amount of financial aid provided to each undergraduate student
At Concordia, you'll get a private education at a similar cost to larger public universities. Not to mention perks like free parking (and plenty of parking spots) as well as free admission to athletic events.
2023-24 Concordia Nebraska Costs
Tuition
$38,500
Basic Room
$4,400
Meal Plan
$5,950
Student Services Fee
$700
Total Tuition and Room & Board
$49,550
Scholarships and Grants


Amounts of academic, performance and/or need-based scholarships and grants vary for each student.

($27,000)*

Federal Direct Loan
($5,500)
Average Total Cost
$17,050
*Average financial aid provided in 2020-21. Average total cost includes the Federal Direct Loan.
Your
Private Education

with Value(s)
Making Every Dollar Count
At Concordia, your investment goes directly to your academic experience, instead of housing and fees. You'll learn from professors, not assistants, who are experts in their fields and will equip you with the skills and knowledge you'll need to be successful in your vocation.
Here, you'll have countless opportunities to make an impact on campus and in the community. You'll have experiences outside of the classroom that can be hard to find at larger institutions.
Here, your professors are your biggest fans, cheering you on both inside and outside of the classroom. They know you as a person, not a student ID number, leading to meaningful relationships during your time on campus and beyond.
The value of a private education at Concordia comes at a similar cost when compared to large public universities in the Midwest*.
*Data compiled from the Integrated Postsecondary Education Data System for 2021-22. These figures account for average financial aid provided to first-year students and are based on a student taking 18 credit hours. Exact amount of scholarships vary for each student.
#37
BEST REGIONAL UNIVERSITIES—MIDWEST
U.S. & WORLD REPORT 2021-22
#18
Best Value Schools—Midwest
U.S. News & World Report 2021-22
ONLY
Christian College of Distinction in Nebraska