Giving to Concordia
At Concordia University, Nebraska, we believe every student should have access to a high-quality, affordable Lutheran Christian education. Your gift, whether it's financial or through your time, talents and prayers, will support Concordia students, faculty, staff and alumni who will impact the future of our church and world.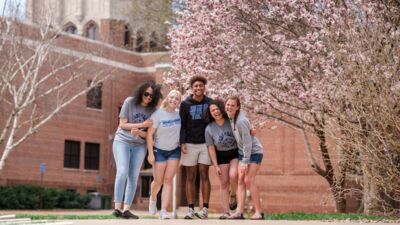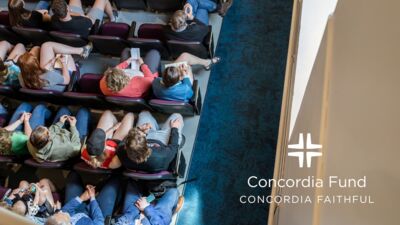 Concordia Faithful
Giving an online, recurring monthly gift of any amount to Concordia helps strengthen the university and enrich the experiences of our students, faculty and staff.
High-Impact Giving
With high-impact giving initiatives such as Concordia Fund, endowments and program operations, you can find the intersection where passions meet the institution's greatest needs, resulting in a truly rewarding giving experience.
We invite you to explore the countless ways in which your support can intersect with our university's vision, creating a legacy of learning, growth and positive change.
Concordia Fund
The Concordia Fund is the lifeblood of the institution, undergirding the University's operating budget and scholarship programs, ensuring a Concordia education remains both excellent and affordable for students. As the annual fund for the university, the Concordia Fund primarily supports student scholarships. With 100% of students receiving some type of scholarship support, the Concordia Fund is crucial to Concordia students.
Make a gift to the Concordia Fund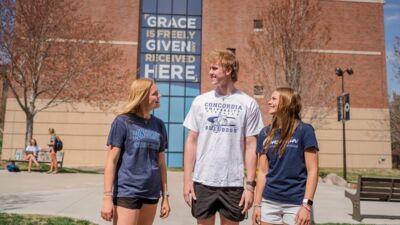 General Mission
Concordia University gratefully accepts gifts to "general mission," used for the operations of the university. Unless specifically designated, your gift will be put to work where it's most needed to ensure Concordia's mission of quality, faith-based higher education.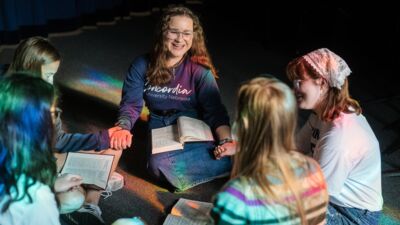 Scholarships
Concordia students depend on generous donors for help along the way, and 100% receive some level of scholarship support, whether through academic scholarships, church work scholarships, talent scholarships or named scholarships.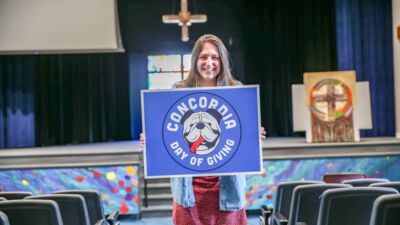 Day of Giving
Concordia's Day of Giving is a 24-hour fundraising event that brings friends, alumni and students together to support the mission of Concordia University, Nebraska: equipping men and women for lives of learning, service and leadership in the church and world.
Endowments
One of the ways to create a lasting legacy at Concordia is to establish a named endowment. Through scholarship, academic program, faculty position or institutional excellence endowments, you create a perpetual stream of income for a component of the University's mission you feel most connected to and passionate about.
Gifts to Concordia's 400+ endowment funds are pooled together and invested carefully in a professionally managed portfolio. The collective endowment investments subsequently provide a steady, reliable income stream and create a margin for excellence that increases over generations. Specific endowments are used to fund scholarships, attract and retain exceptional faculty & staff and maintain a level of enduring excellence in campus facilities.
You can choose to support:
University Endowment
Named endowments
Faculty and staff position endowments
Academic program endowments
Excellence endowments for campus facilities
Program Operations
University program operations encompass a broad spectrum of activities, from academic departments to extracurricular initiatives and community outreach efforts. These operations ensure that academic programs run smoothly, faculty and students have the necessary resources they need to be successful and outreach programs can make a tangible impact.
Giving in Community
By joining with others who give strength to Concordia's mission and share common interests, you become part of a dynamic network of supporters dedicated to making a lasting impact on our institution, the church and the world.
Concordia Faithful

Concordia Faithful celebrates the power and collective impact of a community of supporters making small, monthly gifts to Concordia's operations and scholarships funds. Set up a month-to-month gift of any amount to any designation to become Concordia Faithful.
Weller Society

The Weller Society for Leadership recognizes alumni, parents and friends of Concordia who commit to providing at least $1,500 annually to the Concordia Fund, which funds the university's core operating needs each year. These faithful stewards share a special bond of commitment to Concordia's mission and enjoy an enhanced level of communication with university leadership and access to selected events.
Concordia Business Partners

As a Concordia Nebraska business partner, you will make a difference in the lives of nearly 2,600 students. One hundred percent of your support is dedicated to the mission of Concordia, which is equipping students to learn, serve and lead in their families, workplaces and communities.

Choose from four levels of participation – platinum, gold, silver and bronze. Each level provides exciting benefits for your business while supporting Concordia's academic, co-curricular and community programs.
Bulldog Athletic Association Membership (BAAM)

Support the Concordia Bulldogs teams with your Bulldog Athletic Association Membership (BAAM). Choose your level of support and earn perks such as free entry to all Concordia-sponsored home athletic events and Bulldog gear.
Golden Reunion and Alumni Classes

Many of our wonderful alumni classes have chosen to establish scholarships and endowments to continue their legacy and support future alumni. Share your Concordia experience and stay connected to your alma mater!
Congregations for Concordia University, Nebraska (CCUNE)

Congregations for Concordia University, Nebraska (CCUNE) equips students from our member LCMS congregations by enabling them to obtain a Christ-centered, Lutheran education while preparing for their vocational callings.
Matching Gifts

Many companies have matching gift programs for their employees who wish to make a gift to a nonprofit organization like Concordia. This is a great way to multiply your gift to support Concordia students.

To find out if your company has a matching gift program, please enter your employer's name below.
Memorial Gifts

Our Treasured Friends memorial gift program provides an opportunity to honor your friends and loved ones. It is a way to celebrate a special occasion, honor a birthday or anniversary or memorialize a loved one who has passed away.

When a Treasured Friends gift is received, a card is sent to the honoree or the family of the person being honored or memorialized, telling them of the gift; however, the amount of the gift is not disclosed.

To make a Treasured Friends gift in honor or in memory of a friend or loved one, please complete this form. Mail it with your gift to:

Our Treasured Friends
Concordia University
800 N. Columbia Ave.
Seward, NE 68434
Advancement News
Current Gifts
Gifts given today make an immediate impact on Concordia's mission.
Quick and Simple Gifts
Cash
Make a quick, immediate and simple gift by writing a check or using your credit card to make an online donation. A charitable income tax deduction is available to you and, if your company offers a matching gift program, you have the opportunity to double your gift's impact.
Securities
By making a gift of appreciated stock to Concordia, you can eliminate the tax on capital gains.
IRA Qualified Charitable Distribution (QCD)
If you are 70.5 or older, gifts made directly from your IRA can satisfy your required minimum distribution for the year and reduce your taxable income, simply by directing your IRA custodian to make a distribution to Concordia.
Tax-Efficient Gifts
Gifts of Grain and Livestock
Farmers and ranchers can inform the administrators of their local farmers cooperative or buyers that they want to give some livestock or grain to Concordia. There are certain federal and state laws that must be complied with as one makes these gifts of grain and livestock, but the use of this gifting mechanism can be a marvelous way to express gratitude to God for his blessings and a way to address certain tax implications.
Donor Advised Funds (DAF)
If you've established a DAF to set aside funds for charity, you've already received a tax benefit and can now bless qualifying charities like Concordia with a grant.
Deferred or Planned Gifts
Through a planned gift, you can ensure a Christ-centered education is available to students for generations to come. From bequests to charitable gift annuities to retirement plan gifts – there are many ways to make a difference.
Beneficiary Designations
Name Concordia University, Nebraska as a full or partial beneficiary of your life insurance, investment or retirement account.
Retirement plan assets
By naming Concordia as beneficiary of your retirement plan assets, you can bless Concordia while saving on your most highly-taxed assets.
Life insurance
You can make a potentially significant gift with little out-of-pocket cost by naming Concordia University, Nebraska as owner or beneficiary of your life insurance policy. If you name Concordia as owner, you can receive a charitable deduction for your premium payments. If you designate Concordia as the beneficiary, you can continue to own and make use of the policy during your lifetime.
Payable on Death (POD) / Transfer on Death (TOD) Accounts
Make a gift of your bank account, CD or investment account upon being called to your heavenly home by naming Concordia University, Nebraska as payable/transfer on death beneficiary. In this process, you'll have lifetime control of your account.
Wills and Trusts
Make a future gift to help Concordia University through your Will or Revocable Living Trust. Simply name Concordia University, Nebraska and your other favorite charities to receive a percentage of your estate after you and your spouse are called home to heaven.
Life Income Agreements
Charitable Gift annuity
A current gift that provides a fixed, lifetime payment for one or two individuals. Payment rates are based on the age of the annuitants and a portion of the payments are typically tax-free.
Charitable Remainder Trust
A current or future transfer of assets to a trust that provides income to you and/or your heirs and a remainder gift for Concordia University, Nebraska.
Ways to Give
Mail your gift to:
Concordia University, Nebraska
ATTN: Institutional Advancement
800 N. Columbia Ave.
Seward, NE 68434
If you'd like to talk to someone in the advancement office about making a gift, contact the development office at 800-535-5494 or email development@cune.edu.
Concordia University, Nebraska is a 501(c)3 tax-exempt organization.