The Concordia Scene
Make sure to use #snapcune to tag us with your favorite photos from campus.
Show your love for Concordia by using one of our backgrounds for your next online meeting.
Our COVID-19 Response and Safety Protocols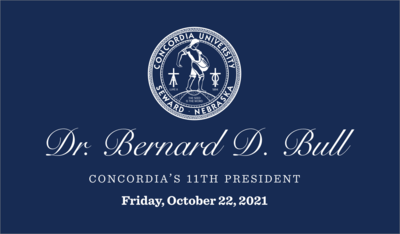 Inauguration of Dr. Bernard D. Bull
Join us in welcoming Dr. Bernard Bull, Concordia Nebraska's 11th president during a week of events and celebrations.
The theme of the inauguration week is Our Promises of a Lutheran Education. During the week's activities, we will celebrate community, explore inquiry, ponder purpose and seek wisdom through special activities.
These special events explore how Our Promises are made evident at Concordia, how they serve the foundation of our academic community and equip our students for lives of learning, service and leadership.
Learn more