No breakpoint
Breakpoint
sm
Breakpoint
md
Breakpoint
mlg
Breakpoint
lg
Breakpoint
xl
Breakpoint
2xl
Concordia Graduation Commitment
At Concordia, we believe in serving you as an individual, an approach reflected in the Concordia Graduation Commitment. We work with you to create an individualized graduation plan that best fits your needs now and in the future.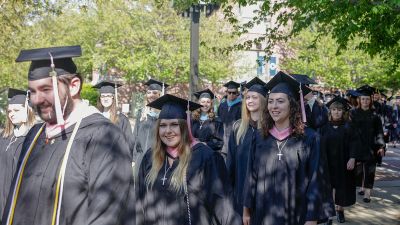 Our Commitment to You
Through the Concordia Graduation Commitment, Concordia promises that you will be ready to graduate on a timeline you help set. For most students, that's four years.
More importantly, you will be ready for the world. Concordia provides you with opportunities to develop real-world skills to succeed in your vocations, to serve God and to make an impact on others. By remaining faithful to our strong academic standards as a Lutheran Christian university, Concordia makes sure you meet all of the requirements to graduate on time without sacrificing a high-quality education.
If you meet with your academic advisor, follow your graduation plan, go to class, study hard and complete all your program requirements, you will graduate on time. If you don't, Concordia will cover the cost of additional courses you need, or we'll provide acceptable course substitutions.
Graduating On Time
For most of Concordia's programs, we consider graduation in four years to be "on time." A few programs require more than four years, however. Your academic advisor will work with you to help you plan a course of study that best suits your needs. You may even be able to graduate in fewer than four years if you come to Concordia with college credit or if you are able to take courses during the summer.
Changing Your Program
Life happens. We know that some students who come to Concordia will discover new passions and, as a result, change their program of study. Some students add a double major or a minor or need to take fewer credit hours in a particular semester. When something comes up to alter your plan, Concordia will work with you to create a new on-time graduation plan that will best serve your needs.
Your plan is a partnership between you and Concordia. Your job is to bring your passion and goals, and our job is to help you find the program of study that helps you fulfill your passions and a plan of completion that gets you there on time.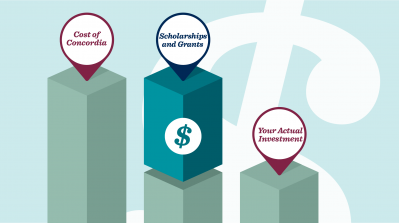 Academic and Performance Scholarships Available
There are a number of scholarships available for you at Concordia. Whether you're participating in one of our performance areas, on one of the 22 athletic teams or for your academic achievements and faith background.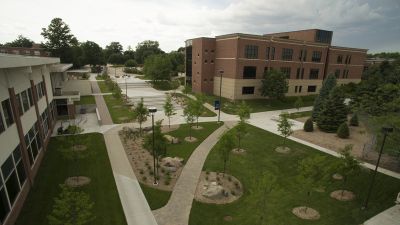 Get To Know Us Better
We believe the best way to get the Concordia experience is to visit our supportive and fun campus. We'd love to design a personalized in-person or virtual visit for you and your family, where you can meet with professors, potential coaches, current students and the financial aid office. You'll be able to get to know some of the people who make our campus special and get the information you'll need to make the best decision for you and your family.