B.A.

Information Technology
The bachelor of arts in information technology degree from Concordia University, Nebraska integrates technology skill development with problem solving skills required in the fast-paced, rapidly changing global workplace. Our IT degree program builds a foundation in technical computer hardware and software skills, focusing on the essential components of IT systems to help you gain a strong understanding of the impact of information technology on many different professional fields.
When you major in information technology at Concordia, you will:
Focus on client-server development, digital media and other emerging technologies such as cybersecurity and big data
Be prepared with the most up-to-date information technology techniques
Develop a strong blend of professional, organizational, technical and interpersonal skills
Be equipped to find a carer in IT or continue your education in graduate school
15:1
Student-to-faculty ratio
100%
Faculty with terminal degree
Create effective solutions to today's knowledge-based problems within a cybersecure environment.
Program Highlights
WHY STUDY INFORMATION TECHNOLOGY AT CONCORDIA?
As an information technology major at Concordia University, Nebraska, you'll find a distinctive blend of faith-based instruction and real-world, hands-on experience, including:
Training to develop critical thinking skills, to become innovative technology solution providers and to solve present and future IT problems withing an ethical framework.
An inextricable foundation of Christianity woven throughout Concordia's information technology program: from faculty and administration to student activities.
A focus on being good stewards of the resources God has entrusted us to manage and acting out our faith in an ethical way.
The chance to grow in your faith and find your vocation in information technology.
Join Concordia's programming team and become part of a community dedicated to becoming better programmers and software developers. You'll have the opportunity to compete in national and international collegiate programming contests and competitions, as well as working on collaborative software development projects and developing and maintaining software systems. Get real-world coding experience that benefits the entire campus community!
MEET OUR EXPERT FACULTY
As experts in information technology, our faculty and instructors bring years of experience to the classroom.
Meet our students
Accreditation
Concordia University, Nebraska is accredited by the Higher Learning Commission, a regional accreditation agency recognized by the U.S. Department of Education.
Degree Goals
An information technology graduate from Concordia University, Nebraska will be able to:
Create and evaluate network architectures within a cybersecure infrastructure
Configure and administer complex computer and database systems
Design and process interactive information management solutions
Develop and evaluate web-based software systems with client-server architecture
Understand the core ideas and principles of computer science, including cybersecurity, networking, databases and software development
Computer Science and Mathematics Minors
Computer Science
Cybersecurity
Information Technology
Mathematics
Career Outcomes
IT Manager
Implement and maintain an organization's technology infrastructure
Support efficient data management and communications
Monitor an organization's operational requirements
Research strategies and technology solutions
Build effective and efficient systems
Computer Systems Analyst
Administer and implement computer-related technologies, including network security, internet operations and software upgrades
Supervise the installation of new computer hardware
Maintain security networks
Web Developer
Meet with clients to determine needs
Design websites
Write the code that allows the site to function
Test functionality of websites across platforms
Database Administrator
Install and configure database software and servers
Develop and implement backup and recovery plans
Create security models to keep data secure from viruses and attacks
FAQs
What's the difference between the information technology, management information systems and computer science majors?

An undergraduate degree in information technology from Concordia University, Nebraska teaches skills for operating and maintaining computer systems, specifically how systems collect and store information as well as understanding and controlling how information can be accessed through computer systems, networks and databases.

By contrast, Concordia's computer science program focuses on the foundations of algorithms in the design and development of efficient computer and information systems.

The management information systems program focuses on developing business theory and skills, while equipping students to manage networks, software and hardware of the information systems used to process and retrieve internal business information.
What kind of resources does Concordia University, Nebraska's information technology program have?

Concordia opened the Dunklau Center for Science, Math and Business in 2019. The facility houses classrooms and laboratories for a variety of science subjects, including three laboratories dedicated to computer science and information technology. Students have access to a lab for hardware design, a lab for network design and maintenance and a student research lab. All IT labs house state-of-the-art equipment and technology to help prepare our students for real-world information technology applications.
What can I do with a degree in information technology from Concordia University, Nebraska?

IT graduates are well-suited for many entry-level positions in the technology industry and can transition into other positions throughout their careers, including:
systems administrators
project managers
software developers
information security analysts
information technology consultants
web developers
What is the average beginning salary for an information technology career?

The average salary of your information technology career will depend on which of the many available areas you decide to go into. According to the Bureau of Labor Statistics, a database administrator may start with an average salary of $51,800, while a software developer might start around $61,660.

Related Programs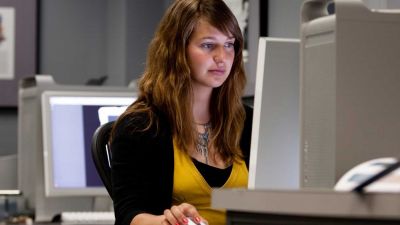 Computer Science
Concordia University, Nebraska's computer science program is designed to help you meet current and future challenges in technology- and application-related fields. Here, you can gain a strong fundamental foundation with an emphasis on practical functions of theoretical concepts.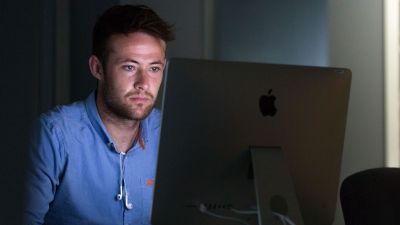 Management Information Systems
Management information systems is a dynamic career field focused on employing technologies in ways that help businesses and organizations achieve their strategic goals and operational objectives. Information systems have become increasingly important as technology advances, creating a high demand for skilled individuals.
1 Recent graduates attending graduate school or employed within six months of graduation.