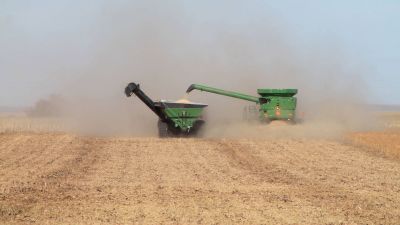 B.S.

Agricultural Science
15:1
Student-to-faculty ratio
100%
Faculty with terminal degree
God entrusted humans to be the stewards of His earth, caring for the land, water and living creatures He created. A career in agriculture is the perfect way for you to live that mission by supporting our food system through production agriculture, natural resource conservation or as part of a government agency focused on agriculture in the United States or globally. Earn your degree in agriculture from Concordia University, Nebraska and serve a higher purpose!
At Concordia Nebraska, we believe in promoting the well-being of God's creation through a Christ-centered education with our bachelor's degree in agriculture. Here, you will have the opportunity to prepare for a career in production agriculture or advanced study in an agricultural graduate or professional school. Through Concordia's ag degree, you will study a broad selection of agriculture courses that look at food production from start to finish so you are ready for a career in agriculture or natural resource-related sales, ag finance, or work in an extension office, government agency, land-use organization or in production agriculture as a farmer or rancher.
Concordia Nebraska's hands-on agriculture degree includes agriculture internships with local farmers, ranchers, landowners and agribusiness companies. Students are able to gain real-world experience in the agricultural field while taking classes from experts who have worked in agriculture and agribusiness.
If you want to study agriculture at a small town, Christian Lutheran university, where you can be a part of a close-knit community with deep agricultural roots, then Concordia Nebraska is the college for you.
Program Differentiators
Core Concepts
Concordia University, Nebraska's agriculture program equips students with a well-rounded and balanced educational program that will challenge you to become an effective communicator, critical thinker and ethical decision-maker. Concordia's Christ-centered, excellent academics will prepare you to be a leader in the agriculture field through dynamic, real-world learning experiences so you can inspire and serve others and fulfill your calling.
Uzziah Scholars
If you've been successfully admitted to Concordia University, Nebraska and plan to study in an agriculture-related program, you may apply for the Uzziah Scholars where you will be challenged to solve real-world challenges, explore the many facets of agriculture in depth and be a part of creating sustainable, long-lasting and ethically sound agriculture practices for the future.
Learn more about Uzziah Scholars
Dr. Dennis Brink - Agriculture
Dr. Dennis Brink, professor of agriculture, loves teaching ag, because God reveals amazing new things about creation and conservation every day. Learn more about Dr. Brink in this Faculty 5 video.
Concordia Agricultural Science Program
Concordia's agricultural science program offers a high-quality, hands-on education at a Christian Lutheran university, so you can become a leader in agriculture and a steward of God's earth.
Testimonials
In agriculture, you're constantly being confronted with things that are beyond your control. That's why having faith in Christ is so important for the job.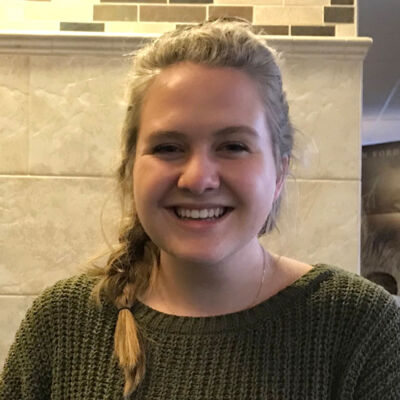 Olivia Leising
Arapahoe, Neb.
Read Olivia's story
Concordia Nebraska

Agricultural Science: Learning Objectives

Students in the agricultural science program at Concordia University, Nebraska will demonstrate an ability to solve problems typical of those that arise in the agricultural industry.

Students will be able to communicate agriculture concepts and issues clearly in a variety of appropriate ways.

Students will demonstrate production and management skills and abilities necessary to successfully farm or ranch and/or provide agricultural services in a professional setting.
Concordia Nebraska

Agricultural Science: Program Goals
Students will demonstrate knowledge and technical competency in agricultural science, as well as emerging technologies in the agricultural field and their applications.
Students will be able to apply critical thinking skills in applying basic scientific and agricultural principles in formulating, analyzing and solving problems.
Students will develop knowledge of the relationships of individuals, groups and governments around the world and their implications in the global food and agricultural community.
Students will demonstrate knowledge of ethical practices in agriculture, both locally, globally and as it pertains to the agriculture industry in general.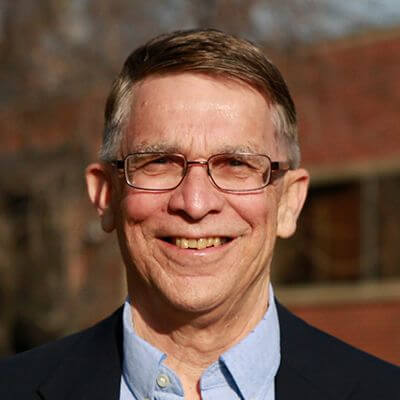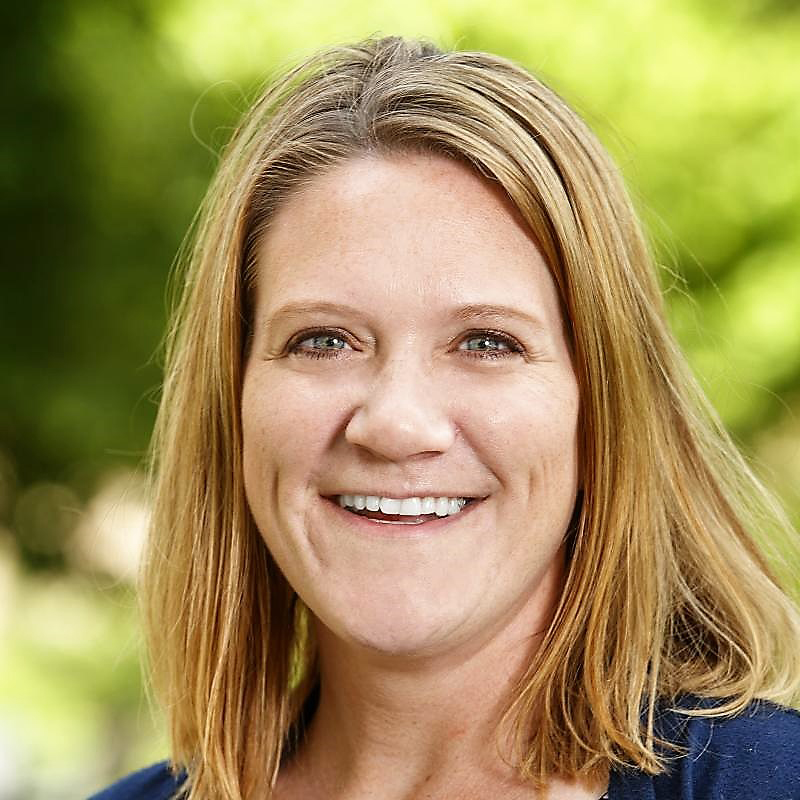 Agricultural Science Faculty
As experts in agricultural science, our faculty and instructors bring years of experience to the classroom.
Concordia Nebraska

Agricultural Science: FAQs

What kind of careers can you get with a degree in agriculture?

Earning your B.S. in agriculture from Concordia University, Nebraska is a great way to gain the knowledge, skills and experience to manage your own agricultural business, or work in ag sales, food production and many other areas of agriculture.

You might choose to go into a career directly related to your ag degree, such as owning or managing a farm or ranch or working as a soil scientist or plant geneticist. You may wish to work in agricultural sales selling seed, equipment, fertilizer, feed, crop or livestock protection insurance or other products related to food and crop production. A degree in agriculture can also prepare you for work in agricultural or natural resources communications as a print or broadcast journalist or in agricultural marketing.

Because of the general nature of our agriculture degree, as well as the hands-on experience you'll earn through your classes and internships, you will be prepared for many different ag career opportunities after graduation.​​​

Should I major in agriculture or agribusiness?

If you're interested in a career in agriculture, earning your degree in either agribusiness or agriculture can help you achieve your goal. It just depends how much you want to specialize and what type of jobs you want after graduation.

If you know that you want to work on the business side of agriculture, such as owning or operating a large scale farm, working in agricultural sales or agricultural marketing, then agribusiness may be the best choice for you.

If you know you want to work in agriculture, but you're not sure exactly what field of specialization, or if you know you want to continue your education in agriculture graduate or professional school, then you might choose the more general major in agriculture.

The best way to decide whether to major in agriculture or agribusiness is to meet with your counselor and discuss your future career goals and the agriculture classes you want to take. Either degree will prepare you with the academics and experiences you will need for your desired career in agriculture.​​​​

What types of classes are required for a degree in agriculture?

Concordia University, Nebraska's comprehensive agricultural science program focuses on the four main areas of ag: agribusiness, animal science, food science and plant science.

At Concordia, you'll learn from local agribusiness professionals on how to solve real-world problems through experiences in the field. You'll learn how to lead in managerial positions in the grain, feed, fertilizer, farm petroleum and related agricultural industries. The curriculum will teach you how to use financial statements, operating and managerial functions, communication and the inter-personal work environment within an agricultural organization.

You'll learn about the beef, equine, poultry, sheep and swine industries in Nebraska, the U.S. and the world. There will also be an introduction to the disciplines of animal production, including breeding and genetics, meat science, nutrition and reproductive physiology. Course topics within the agricultural science program will include the broad scope of the animal industries and their contributions to humankind on a regional, national and international scale.

You'll explore the variety of agricultural practices in Nebraska, the Great Plains, the U.S. and the world and how and why those practices were developed. You'll learn about the practices and principles of food production, including: crop distribution, growth process, response to environment, grain and forage crops, and their distribution, use, improvement, growth, harvesting and marketing.

Within the plant science portion of Concordia's agricultural science program, you will learn the fundamentals of field and forage crop production; basic knowledge of the biology production and utilization of major food crops climatic zones, where differing cropping systems are used; yield potential, genetics and biotechnology in field crop production; field and forage crop growth and development; and basic tillage systems and equipment, rotations, soils and fertility management, irrigation management and pest management for field and forage crops.

How will a bachelor's degree in agriculture from Concordia University, Nebraska prepare me for a career in agriculture?

Concordia's B.S. in agriculture is the perfect tool to help you pursue a career in ag. Located in small-town Nebraska and surrounded by agricultural businesses, farms and natural resources management areas, Concordia's ag program not only gives you real-world, hands-on experiences working with local ag businesses, but also helps set you up with a career in the agriculture field after graduation. By networking with local businesses, large- or small-scale, you can learn about different areas of agriculture and be a part of actual procedures being employed in the ag field today, putting the innovative techniques and technology you learn about in the classroom immediately into practice.

What kind of skills do I need to work in the agriculture field?

While an education in agriculture is important if you want to go into the agriculture career field, there are some basic skills outside of agriculture that Concordia Nebraska will help train you with to make sure you're as effective and prepared as you can be for your future career.

Many jobs in agriculture will require basic organizational and management skills. Even if you're part of only a small ag operation, with few people to manage, you'll likely need to know how to keep records and handle paperwork accurately and efficiently, as well as keeping yourself (and any other agricultural employees you may have) on task.

People skills may not seem like a big part of a career in ag, unless you work in a job like agriculture sales or agriculture marketing. However, interpersonal and communication skills are important for most business owners, including farmers, agricultural managers and even general agriculture laborers. With an agricultural science degree from Concordia Nebraska, you'll be able to effectively communicate across all associations of domestic and international agriculture.

You'll also need to be willing to pursue lifelong education to work in agriculture. The agriculture field is constantly growing, adapting and changing, and you'll need to keep up with trends and remain knowledgeable about new technologies and trends in the field.

The final skill that Concordia will help you develop with our agriculture program is critical thinking skills. Almost anyone can learn to grow crops or manage livestock, but having a truly successful agriculture career means you'll need to be able to problem solve, analyze situations and formulate plans to implement. Concordia's ag program is specifically geared to helping you learn critical thinking skills in the classroom and in the field.
Discover The Full Ag Industry at Concordia
Dive deeper into our agricultural science program, and hear from Dr. Dennis Brink on this episode of Concordia Chats.
Concordia Nebraska Ag Industry Partners
Concordia is blessed with partners who are joining us to build together the future ag industry.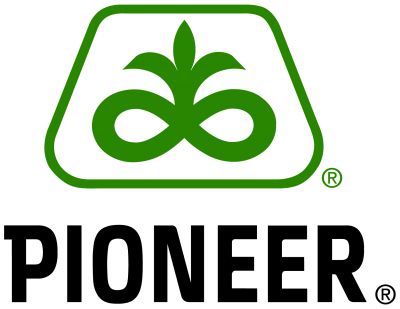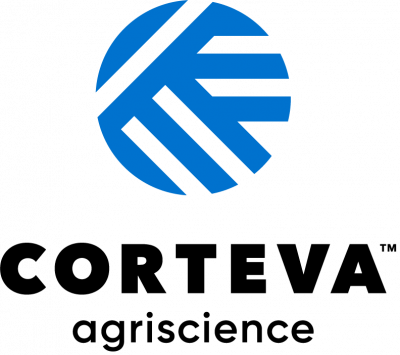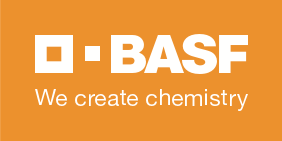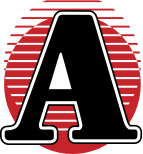 Concordia Nebraska

Agricultural Science: Career Outcomes
Farmer/Rancher
Farmers, ranchers and agricultural production managers are in charge of producing crops, livestock and other agricultural goods. Typically, as a farmer, you would be in charge of managing and executing all the stages of crop production, from preparing a field to planting, fertilizing and harvesting your crop. A rancher raises and sells livestock. In addition to producing crops or livestock, as an agricultural production manager, you would evaluate market conditions, protect your product against disease and purchase and sell your product. You would also likely need to maintain your facilities and equipment, such as pivots, barns, tractors or fences.
$35,440
Entry-Level Salary2
$67,950
Mid-Level Salary2
$136,940
Late-Level Salary2
Agricultural Marketer
Marketing professionals who work specifically for agriculture-related companies are known as agricultural marketers. Depending on your area of expertise, as an agricultural marketer, you may handle media relations, issue press releases or develop educational materials about an agricultural issue or product. You might also create product labels, work in public relations for an agricultural company or even work for a government agency, promoting farmand commodity interests in your state or region.
$26,233
Entry-Level Salary2
$101,769
Mid-Level Salary2
$167,130
Late-Level Salary2
Agronomist
Agronomists are scientists that conduct research and experiments to improve the productivity and sustainability of food crops. As an agronomist, you might develop a new food product or discover new ways to increase ag crop yields. You might also use chemistry, biology and other ag-related sciences to analyze nutritional content of crops, research and improve soil treatments or advise crop developers and farmers about techniques to enhance production.
$38,740
Entry-Level Salary2
$64,020
Mid-Level Salary2
$116,740
Late-Level Salary2
Concordia Nebraska

Agricultural Science: Related Programs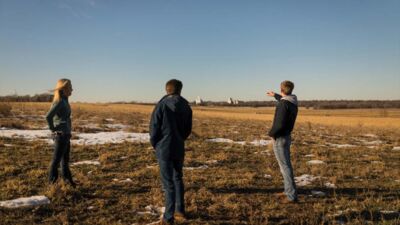 Agricultural Education
A degree in agricultural education from Concordia University, Nebraska will prepare you with the teaching and leadership skills, technical agricultural knowledge and broad general education you need to be a successful middle, high school or community agricultural program agriculture teacher. The ag education program at Concordia can also provide you with the preparation you need to work in agricultural extension, positions in foreign service or as an agricultural educator in business and industry.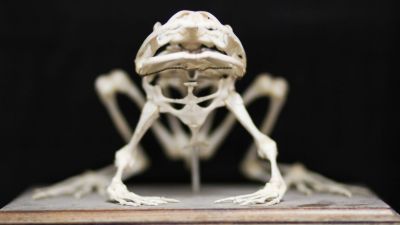 Biology
With a degree in biology from Concordia Nebraska, you will be prepared to begin a career in the biological sciences right away, or to continue your education in graduate, medical, dental or veterinary school. As a biology major at Concordia, you learn essential skills such as time management and mastering complex material, as well as studying more in-depth topics such as microbiology, human anatomy and immunology to give you the knowledge you need to be successful in the field of biology.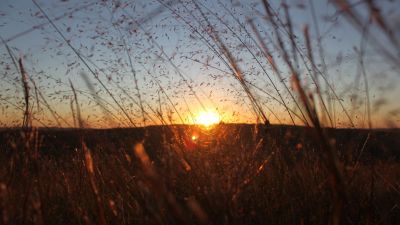 Environmental Science
The environmental science program at Concordia University, Nebraska will prepare you for a variety of environmental careers by providing a core of required courses in different disciplines. You can then choose your area of emphasis: natural resources, geography, chemistry or business.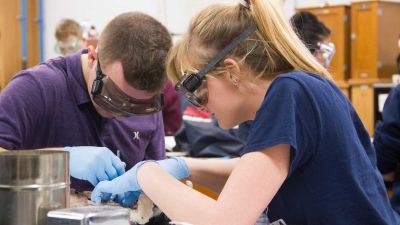 Pre-Veterinary
Concordia University, Nebraska's pre-veterinary program will prepare you for veterinary school and your ultimate career as a vet with science courses in biology, zoology and chemistry. Concordia also prepares you for success with an excellent, Christ-centered liberal arts education; you'll study general math, humanities and business courses to increase your critical thinking, time management and research skills, so you can manage your own practice or find the career of your choice in the veterinary field.
1 Recent graduates attending graduate school or employed within six months of graduation.
2 Career salary and wages sourced from the U.S. Bureau of Labor Statistics.