Plant Science
Crops have a large role in our everyday lives, it's important to understand how they function, and how they can be improved. Crops provide oxygen, food, materials or medicine and are a crucial part of agriculture. Through Concordia University's Agricultural Science degree, you'll learn how to care for both field and forage crops in order to provide be a responsible steward for God's creation.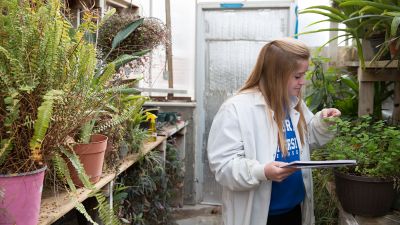 Why Plant Science is an Important Part of Ag
With the rising population across the world, it's becoming vital that crops and agricultural plants are managed to get the most yield possible. Concordia University, Nebraska's Agricultural Science program will provide you opportunities to learn hands-on from crop producers on how to successfully manage different types of crops.
What You'll Learn in the Plant Science Area of Focus
Within the crop production portion of Concordia's Agriculture Science program, you will learn the fundamentals of field and forage crop production, in addition to:
Basic knowledge of the biology production and utilization of major food crops climatic zones, where differing cropping systems are used.
Yield potential, genetics and biotechnology in field crop production
Field and forage crop growth and development
Basic tillage systems and equipment, rotations, soils and fertility management, irrigation management and pest management for field and forage crops
How You'll Use Your Plant Science Knowledge
Your crop production background will prepare you for a number of careers, whether you're managing a farm or breeding plants. Below are some examples of careers you can pursue in crop production.
Agronomist
Crop advisor
Crops systems specialist
Crop adjuster