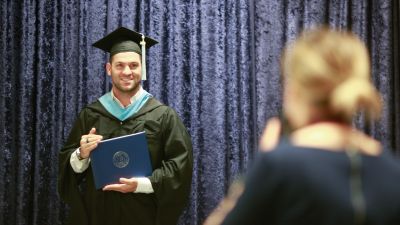 Applying for Graduation
Students need to apply for graduation by the published deadline. Applications will be sent to potential graduates by campus mail or are available in the registrar's office. The registrar's office will contact applied graduates of their status toward graduation after the application is filed.
Traditional undergraduate students at the Seward campus who plan to graduate in the 2019-20 academic year should notify the Registrar's Office by submitting a Graduation Application. December 2019 prospective graduates should submit graduation applications to the Registrar's Office by September 20, 2019. May and August 2020 graduates should submit their applications no later than January 24, 2020.
Graduates are invited to participate in the commencement ceremony at the Walz Arena on the Seward campus at 10 a.m. on May 9, 2020. More information will be available on the Commencement page.
Participation in Spring Commencement Ceremonies
Commencement ceremonies are held in May of each year. All graduates are strongly encouraged to attend. Please see the main commencement page for details related to graduation.
For questions regarding you progress toward graduation connect with your assigned academic advisor and the registrar's office.
August and December graduates may participate in the subsequent spring commencement. Those who are planning to take their final classes during a summer term may also participate in spring ceremonies, prior to actually completing all of their coursework. Please review the information below carefully if this applies to you.
Commencement Information for Early Participants
Undergraduates may participate in commencement activities if you...
are within 6 hours of completing your degree and will complete your degree by the end of August 2013 OR are in the DCE program and only has DCE internship remaining, and
have submitted a "Graduation Application" form to the registrar's office, and
have submitted a "Permission to Participate" form to the registrar's office
Graduate students may participate in commencement exercises if you...
have met all the academic requirements of their program, or
are currently registered for the summer term immediately following May commencement for the final class required in their program, and have six or fewer credit hours to complete in their program and
have submitted a "Graduation Application" form to the graduate office.
Contact the registrar's office immediately if you desire to participate and have not completed the appropriate forms.