Career Services
Concordia's Career Services Office is your first stop for all things career-related. Here, you can find career counseling, internship opportunities and graduate school information using quality assessment tools and resources to help you discover and live out your vocations.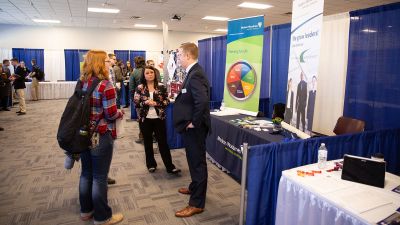 Handshake
Concordia uses Handshake to help students find jobs and meet future employers. Sign up to create a profile, get personalized job recommendations and apply for jobs and internships.
Internships and Practicums
Employers and graduate schools want to see that you can apply the knowledge you've acquired in the classroom to real-world situations. Through your Handshake account, Concordia can help you find an internship to set you up for career success.
Resumes and Job Interviews
Careful preparation when applying for a job can help you set yourself apart from other candidates and make a favorable impression on prospective employers.
Graduate Studies
Applying to graduate or professional school can be an exciting venture - an opportunity to focus your academic studies on a particular interest, meet other people with similar goals and ideas, and develop the skills and credentials needed for the field you want to pursue in the future.
Upcoming Events
Tuesday
09
January '24
6:00pm - 7:30pm
Resume Workshop
Career Services
Tuesday
30
January '24
6:30pm - 8:30pm
Mock Interview Workshop
Cattle Conference Room
Friday
02
February '24
11:00am - 1:30pm
Career Fair
Cattle Conference Room
Daisha Thomas
Director of Student Success
Academic Student Services