Commencement
At this time, we are tentatively planning to celebrate the Class of 2020's accomplishments with an in-person ceremony on Saturday, Aug. 1, contingent on public health safety guidelines.
More information about the Aug. 1 celebration will be posted on this page as it becomes available.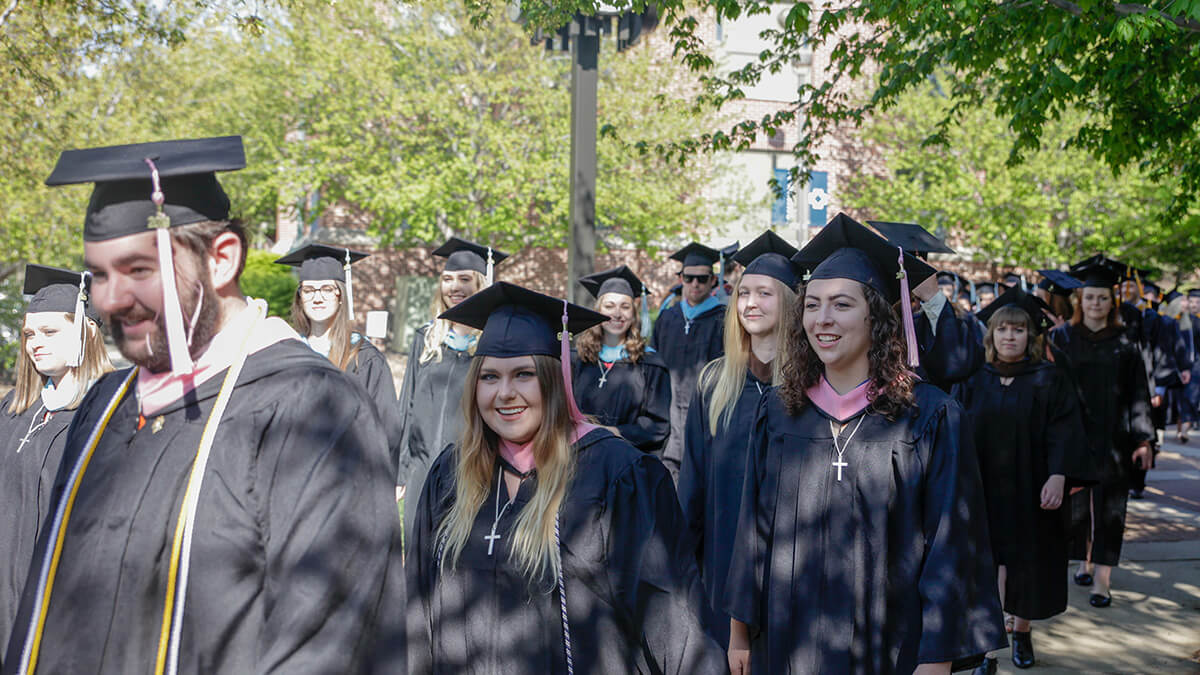 Let's Celebrate
Congrats, Class of 2020! Download and display your #CUNEGrad Class of 2020 sign at home - in your window, on your lawn, in a selfie - to celebrate your achievements. Show us on social media with #CUNEGrad!
Commencement planned for Aug. 1
We're excited to announce that our 2020 commencement ceremony is scheduled for Aug. 1 in Walz Arena on our campus in Seward! We hope you can join us for this celebration and recognition of your accomplishments.
Keeping you, your family and your guests safe is our number one priority. We recognize this is an unprecedented situation, however we want you to be confident that we will adhere to all safety guidelines. As we have throughout this pandemic, we will work closely with our local health department and will communicate with you about the precautions we will take and anything else you should prepare for as we get closer to August 1. We will send updates via email to all registered attendees and will post these updates on this page.
If you would like to participate in the commencement ceremony on Aug. 1, you must register and order your graduation regalia. Registration deadline is June 19.
We are making full plans for this event to occur in its modified way. Should the safety our campus community require us to cancel this event, you will be refunded in whole for your ordered regalia.
Congratulations again! We are so proud of each of you!
Schedule of Events
Friday, July 3
Bookstore open for Regalia Pick up
10 a.m.-7 p.m.
Janzow Campus Center, lower level
Saturday, August 1
Bookstore open for Regalia Pick up
8 a.m.-1 p.m.
Janzow Campus Center, lower level
Doors to Arena at Walz Human Performance Complex Open
12 p.m.
Walz Arena
Graduates Line Up for Processional
1 p.m.
Thom Main Street
Commencement Ceremony
2 p.m.
Walz Arena
Class of 2020 Celebration Social
3:30 p.m.
Brommer Drive
Outdoor social, weather permitting. Beverages and light desserts.
Lodging Options Available
Hotel and Address
Room Rate per night
Cobblestone - Seward
2575 Progressive Rd.
Seward, NE 68434 (402) 646-1004
$89.99 + tax
Hampton Inn & Suites Northeast I-80
7343 Husker Circle
Lincoln, NE 68504 (402) 435-4600
$124 + tax
Hampton Inn - York
309 W. David Dr.
York, NE 68467 (402) 362-0222
$110 + tax
Holiday Inn Express - York
4020 S. Grand Ave.
York, NE 68467 (402) 745-6272
$110 + tax
Country Inn & Suites, Lincoln Airport
1301 W. Bond Circle
Lincoln, NE 68521 (402) 474-2080
$79 + tax
Courtyard Marriot - Downtown
808 R St.
Lincoln, NE 68508 (402) 904-4800
$117 + tax
(Parking fee not included)