Commencement
At this time, we are tentatively planning to celebrate the Class of 2020's accomplishments with an in-person ceremony on Saturday, Aug. 1, contingent on public health safety guidelines.
More information about the Aug. 1 celebration will be posted on this page as it becomes available.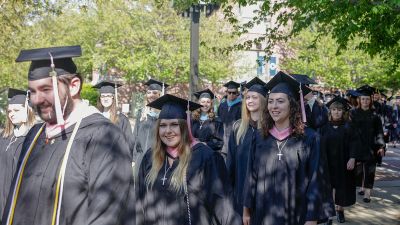 2020 Commencement Event Preparation
We're thrilled that more than 130 graduates have registered to attend this special event, and we are excited to celebrate your accomplishments together!
As you may know, the State of Nebraska Department of Health and Human Services has specific requirements for events and gatherings. We are working with our local health agency, Four Corners Health Department, to ensure our event meets all Directed Health Measures (DHMs).
There is a possibility the State and/or Four Corners may release new DHMs between now and the event, which will cause us to adjust our protocols, or cancel the event if we cannot make accommodations within the DHMs. Any changes to the plan below will be communicated to registered attendees and published on this page.
To make this event a success, and to keep you and our attendees as safe as possible, we have implemented the following public health safety protocols before, during and after the event.
Road Construction Notice: The City of Seward is working on Columbia Ave., which may limit access during Aug. 1. You and your guests are encouraged to use 2nd Street and Hillcrest as the easiest way to get to Walz Human Performance Complex. Columbia Ave. will be open, but there will be sections with only one lane. St. John parking will also be available for use.
Before The Event
Commencement will be held in the Walz Arena on campus. Due to capacity requirements, each graduate will be able to bring up to six guests. We realize this may be limiting for larger families. Should capacity guidelines increase between now and Aug. 1, we'll provide additional details for registering more guests, but at this time, the guest limit is mandated. Live streaming of the commencement will be available on this page.
Guests may enter through the north main doors to Walz, where you will check in with your paper ticket.
The campus bookstore will be open on Friday 10 a.m. to 7 p.m. and Saturday 8 a.m. to 1 p.m. for regalia pick up.
Before you and your guests arrive on campus, you will be required to conduct a self-screen to keep you, your guests and other attendees as safe as possible. During this process, you will be asked questions related any COVID-19 symptoms.
Handicap parking is available in front of Walz. Security will be available to direct you.

Handicap seating is available in the top concourse and in the Athletic Hall of Fame viewing room.
During The Event
All graduates will meet at Thom Mainstreet at 1 p.m., with the event starting at 2 p.m.
Graduates will be seated on the floor of Walz Arena with appropriate physical distancing. Physical distancing will also be required in the stands between all family units.
Face coverings are required inside Walz at all times. All guests and participants must bring their own face coverings.
We have doubled our janitorial crew for the event, and high-touch traffic areas, as well as restrooms, will receive extra cleaning before and during the event.
Hand sanitizing stations will be available throughout the arena.
You may bring your own water bottles into the arena. No other outside food or drinks will be allowed.
After The Event
Graduates will not need to bring the diploma binder back.
Attendees, please remain seated until your section is excused. Ushers will direct you out of the arena. When dismissed, you will meet your graduates in the Fieldhouse.
All other campus buildings will be closed, but you are encouraged to take photos with your friends and family around outdoor locations on campus, such as the sign on Columbia Ave., steps of Weller, Founders Hall, or wherever else you'd like.
Due to the heightened chance for rain, the recessional will lead graduates to the Fieldhouse.
Routes to Walz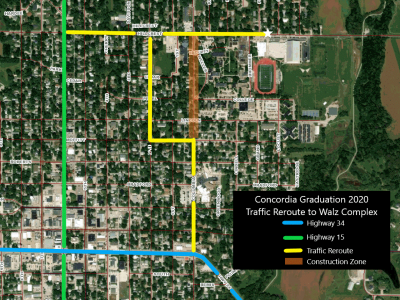 Lodging Options Available
Hotel and Address
Room Rate per night
Cobblestone - Seward
2575 Progressive Rd.
Seward, NE 68434 (402) 646-1004
$89.99 + tax
Hampton Inn & Suites Northeast I-80
7343 Husker Circle
Lincoln, NE 68504 (402) 435-4600
$124 + tax
Hampton Inn - York
309 W. David Dr.
York, NE 68467 (402) 362-0222
$110 + tax
Holiday Inn Express - York
4020 S. Grand Ave.
York, NE 68467 (402) 745-6272
$110 + tax
Country Inn & Suites, Lincoln Airport
1301 W. Bond Circle
Lincoln, NE 68521 (402) 474-2080
$79 + tax
Courtyard Marriot - Downtown
808 R St.
Lincoln, NE 68508 (402) 904-4800
$117 + tax
(Parking fee not included)
Schedule of Events
Friday, July 31
Bookstore open for Regalia Pick up
10 a.m.-7 p.m.
Janzow Campus Center, lower level
Saturday, August 1
Bookstore open for Regalia Pick up
8 a.m.-1 p.m.
Janzow Campus Center, lower level
Doors to Arena at Walz Human Performance Complex Open
12 p.m.
Walz Arena
Graduates Line Up for Processional
1 p.m.
Thom Main Street
Commencement Ceremony
2 p.m.
Walz Arena
Class of 2020 Celebration Social
3:30 p.m.
Brommer Drive
Outdoor social, weather permitting. Beverages and light desserts.
Let's Celebrate
Congrats, Class of 2020! Download and display your #CUNEGrad Class of 2020 sign at home - in your window, on your lawn, in a selfie - to celebrate your achievements. Show us on social media with #CUNEGrad!