Commencement
Join us for Commencement Weekend May 5-7 as we celebrate the latest Concordia graduates!
Graduates: Register for Commencement here
If you are unable to access the course, please contact the registrar.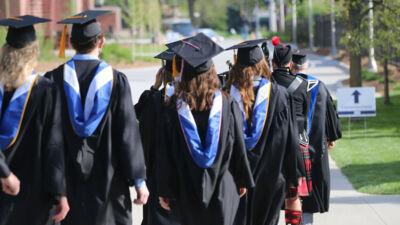 Download the Commencement Program
If you weren't able to attend in person, or if you want another keepsake, you can download this year's program.
Commencement Weekend Schedule
Friday, May 5
Rehearsal
1 p.m.
Friedrich Arena
Sending Service for Church Work Graduates
3 p.m.
Weller Chapel
Baccalaureate Service
7 p.m.
St. John Lutheran Church, Seward, Neb. (across the street from Concordia)
The service will also be livestreamed.
Saturday, May 6
Doors open
8 a.m.
Friedrich Arena (Inside Walz Human Performance Complex on Concordia's campus)
All Graduates Line Up for Processional
9:15 a.m.
Thom Leadership Education Center main floor
Commencement Ceremony
10 a.m.
Friedrich Arena
The ceremony will also be streamed online. Flowers and bouquets will be available for purchase.
Luncheon
Janzow Campus Center
Following the commencement ceremony, a complimentary luncheon will be available in Janzow Campus Center for bachelor's graduates and their guests.
Master's Luncheon with Program Directors
12:30 p.m.
Room 137—Track Viewing Room, Walz Complex
Menu TBD
Is the baccalaureate service required? Can we just show up or do we need to register?

The baccalaureate service is optional. However, registration is requested for graduates planning to attend. The service will also be available via livestream.
What events am I required to attend?

If you register for commencement, please ensure you attend. If your plans change, please both change your RSVP/registration in Blackboard and email the registrar at registrar@cune.edu.
Is there reserved seating?

Due to the number of guests expected, reserved seating is not available. Seating is on a first-come, first-served basis.
If I don't attend, can I still get my diploma?

If you are a May graduate and are not attending the commencement ceremony, your diploma will be mailed to you.
How long will the commencement ceremony last?

The commencement ceremony will last approximately 90 minutes.
Will there be a photographer to capture graduates receiving diplomas on stage?

There will not be a stage photographer. After the ceremony, graduates and their guests are encouraged to take photos on the field in Bulldog Stadium.
Can a graduate leave their stuff in Thom during the ceremony?

No, once you exit Thom, the building will be locked. If possible, please leave your things with a guest, or return them to your vehicle before the processional starts.
What if I'm a graduate and I cannot participate in the processional due to physical limitations?

Please contact the registrar's office at registrar@cune.edu to make alternative arrangements.
Will Concordia's Bookstore be open during commencement weekend?

The Concordia Bookstore (located in the lower level of Janzow Campus Center) will be open 10 – 5 on Thursday, May 5, 10 – 7 on Friday, May 6, and 8 – 4 on Saturday, May 7.
Does Seward have Uber or Lyft?

No, Seward does not have Uber, Lyft, or public transportation available.