Residence Life
There is more to attending a university than academics. Whether you are spending time with friends in a residence hall or participating in one of our clubs or organizations, we want your experience outside of class to be just as great as in it. Concordia is primarily a residential university, which creates an incredible community and opportunities for you to grow and develop. By living on campus, you can learn to communicate effectively with a diverse range of people, make lifelong friendships, become more independent and discover new insights about yourself and others. Our residence hall staff, consisting of nearly 50 RAs and RCs, is trained and passionate about helping you make the most of your time in college, navigate challenges that arise and grow during your time on campus.
Concordia Dorm Tour - David Hall (Women's dorm)
Anna and Haley explain what to expect as a first year student in the women's dorms.
Concordia Dorm Tour - Schuelke Hall (Men's dorm)
CJ explains what to expect as a first year student in the men's dorms.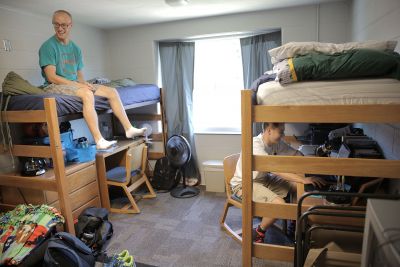 Dorm Room Layouts
Each dorm room at Concordia has a different layout. See which one yours will have so you can plan accordingly!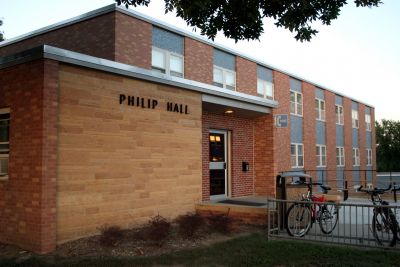 Interactive Campus Map
Use the interactive campus map to find your way to your dorm and to other buildings
on campus.
Campus Dining Options
There are plenty of options for dining on campus, from the Dining Hall to the Dog House Grill and the 10:31 Coffee shop.
Residence Hall Open/Closed Schedule
Residence halls are closed during Thanksgiving, Christmas Break and Spring Break. All residents must leave campus during these periods. Residence halls are closed and food service is not available.
All residents are expected to check out with their RA and leave campus during these periods. Fines and charges may be assessed if you do not check out or leave. If you expect to fly to your holiday destination, you are advised to make reservations early in the semester so as to avoid departure delay.
Requests to stay late or return early from breaks must be submitted to the Student Life Office at least 2 weeks prior to the break. Residents with permission will be charged a room rate of at least $50 per night for staying late or returning early from breaks.
Residents with exceptional circumstances should bring their concerns to the Student Life Office.
Vacation checkout procedures will be posted in your living area prior to Thanksgiving, Christmas and spring vacations.
On Campus Living Policy
There are many benefits to living in the residence halls such as community, student support resources, and convenience. Studies have shown that students who live on campus often perform better academically as well. The Regents of the University have carefully weighed all the benefits and drawbacks of this policy and have made the studied determination that Concordia is a residential university.
Therefore, all full-time undergraduate students are required to live on campus unless they meet one or more of the following off-campus eligibility requirements:
The student lived on Concordia's campus for three years and is 21 years old by October 15 of the academic year they desire to live off campus
The student transferred into Concordia and is over 21 years old by October 15 of the academic year they desire to live off campus
The student is supporting a child at their residence
The student is married before classes start
The student lives at home with parents within Seward County
These are the only reasons that make a student eligible to live off campus. All requests to live off campus for any other reason would require an exception to this policy.
Off-Campus Housing Exceptions
An exception to the On-Campus Residence Requirement is an allowance and privilege granted due to unusual circumstances that would not be common to other students (for example, medical needs, living at home with parents, and unique family situations). Financial need is not a circumstance unique to students that qualifies for an off-campus exception. Requests for an exception are to be in writing to the Vice President for Student Affairs and Athletics. Guidelines for these request are available in the Student Life Office. Requests based on medical need must meet the requirements of an accommodation under the Americans with Disabilities Act.
Students who are allowed to live off campus realize that the privilege may be revoked should circumstances change. Any violation of the Student Code of Conduct may also result in this exception and privilege being revoked and may require the student in violation to move on campus. Falsifying information, choosing to reside off-campus without permission, and/or non-compliance with the guidelines allowing the exception to live off-campus may result in disciplinary consequences to the student, including but not limited to, being assessed the full room and board rate.
Financial Aid and Living On Campus
The University's scholarship and grant programs are designed to assist students with direct educational costs including housing. Therefore, students who request an exception to the On-Campus Residence Requirement and are approved understand and agree to pay the Off Campus Exception Housing Fee of $1000.00 (non-refundable) each semester. Students who are eligible to live off-campus for the reasons listed in the On-Campus Residence Requirement will not be subject to this fee.
Call the Student Life Office at 402-643-7411 for information related to the policy.
Common Residence Hall Questions
How do new students find out about their roommates?

Students will be matched with roommates and assigned housing in June. If a student already has a roommate they may be housed earlier than June. Once a student has been housed, they will receive and email with instructions on how to find their roommate and room assignment using connectCUNE. Any updates and changes will be reflected within the connectCUNE system as well. The Student Life Office can answer any housing related questions at slohousing@cune.eduor 402-643-7411.
Is there internet in the dorm rooms? Is there wireless internet available on campus?

There are high-speed internet connections in each room for each roommate. Students can use an Ethernet cord to connect to the internet, or connect to the wireless network.
What is security like for the dorms?
A variety of safety and security measures are in place on campus. Security personnel are available 24/7/365. During business hours, the safety and security manager and student life office staffs are available.
Resident halls are locked 24 hours a day and access is controlled through electronic card access. Each floor then has a unique lock with keys only issued the residents of the floor. There are resident assistants (RAs) available on every floor, and resident coordinators (RCs) also function in a security role by monitoring their halls and reporting any incidents.
Visitation on the floors is limited after midnight Sunday through Thursday and after 1 a.m. Friday and Saturday. There is video surveillance in key areas.
Should the need arise, the Seward Police Department is located less than a mile away from campus. We are constantly evaluating and improving our security campus-wide.
Is cable TV available in dorm rooms?

Cable TV is available in the residence rooms of the residence halls. This is a streaming service and can be accessed on any computer or device with an internet connection on campus. For help with connecting to cable and/or troubleshooting issues with your cable connection, please visit the following link. You may also contact Von Thomas, Assistant Director of Student Life, with further questions at von.thomas@cune.edu.
What items are not permitted in a dorm room?
Weapons
Highly flammable liquids or explosives (lighter fluid, candles, fireworks, etc.)
Pets
Non-university approved lofts (several dorms have loft kits available for use by students)
Most kitchen appliances, including microwaves, hot plates, toaster ovens, space heaters, woks, pizza ovens, slow cookers, crock pots, skillets, hotdog/hamburger cookers, rice cookers and broilers, due to the electrical load they require.
What appliances are permitted in a dorm room?
1 Dorm refrigerator (1.4 amps) is allowed per room (coordinate with your roommate to only bring one)
Coffee pots and electric kettles
What comes with a room?

Rooms are furnished with curtains and a bed, dresser, desk, desk light, chair and closet for each resident. Apartments in Jonathan Hall include furnishings for a living area and kitchen including a full-size stove and refrigerator. Microwaves are allowed in Jonathan apartments, but are not provided by the university.
What does it cost to do laundry?

LLaundry costs $1.50 to wash a load and $1.50 to dry. (The price is determined by our vendor and subject to change.) Payments for laundry can be made with quarters or through the PayRange mobile app.
What do students often need or like to have in their room?  
Favorite pillow and pillowcase
Bedspread/comforter
Sheets: Beds in Dorcas, Esther, Jonathan, Ruth A, Ruth B, Ruth C, Schuelke, Strieter, and Timothy are extra-long twins (36" x 80"). Beds in David are all regular twins.
Towels and washcloths
Hangers, laundry bag, waste basket
Summer and winter clothes, snow boots
Swimsuit, umbrella, raincoat
Emergency-related items: Flashlight(s), battery-operated radio (Flashlights that are easy to find in the dark can be the most essential tools during a power outage. Also, if a power outage is widespread or associated with other emergency situations, a battery-operated radio may provide regular updates.)
Iron, scissors, sewing kit
Frisbee, deck of cards, board games
UL-listed heavy duty extension cord
UL-listed multiple outlet strip with breaker switch
Bible, hymnal, dictionary
Computer
Alarm clock, stereo, TV, headphones
Coffee pot, hot pot, can opener
Rug, drinking glass, silverware, dust cloth, plants
Plastic bucket or shower caddy (for carrying things to and from the bathroom)
A small vacuum cleaner or electric broom
Drawer-lining paper, address book
White poster putty (to hang up posters, etc.)
Cough suppressant with expectorant
Multi-symptom cold medication
Aspirin, Tylenol or ibuprofen
I have more questions. Where do I learn more about student and residential life?
Your resident assistant will be a great resource for you. During the summer you can also give the student life office (SLO) a call at 800-535-5494, ext. 7411.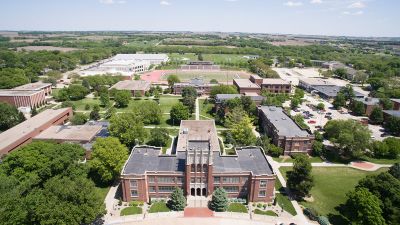 Centrally Located in America's Heartland
Our hometown is Seward, a friendly community of 7,200 people that's surrounded by beautiful scenery, farmland and wide-open spaces in southeast Nebraska. If you're looking for a close-knit, small town atmosphere, you'll feel right at home in Seward.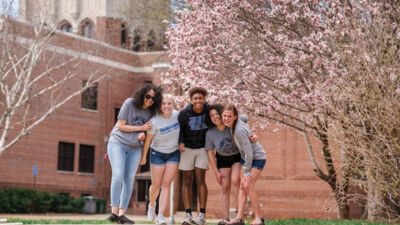 A Private Education With Value
You'll find a more meaningful college experience at Concordia, where you'll be part of a supportive campus community as you study your passions and prepare to make a positive impact in the world. Through generous scholarships and financial aid packages, your tuition at Concordia will be similar to what you will find at a large public university.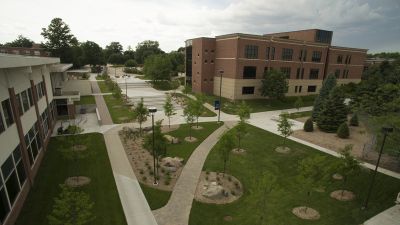 Get To Know Us Better
We believe the best way to get the Concordia experience is to visit our supportive and fun campus. We'd love to design a personalized in-person or virtual visit for you and your family, where you can meet with professors, potential coaches, current students and the financial aid office. You'll be able to get to know some of the people who make our campus special and get the information you'll need to make the best decision for you and your family.