Dining Options
Concordia's three dining options are found in the Janzow Campus Center. The Dining Hall offers breakfast, lunch and dinner staples, while the Dog House Grill has American casual food for lunch and dinner. At 10:31 Coffee, you'll find a variety of coffee, tea and specialty drinks, as well as some grab and go snacks.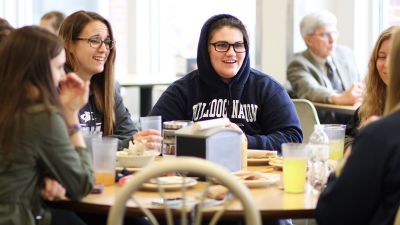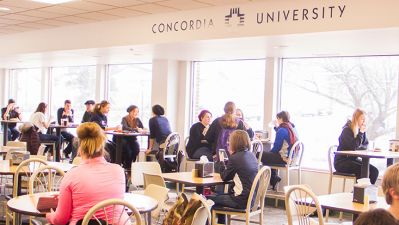 Dining Hall
The buffet-style Dining Hall in the lower level of Janzow Campus Center, is your go-to for all three meals. You'll have a variety of options ranging from burgers, pasta, salads, sandwiches and more, all included with your campus meal plan.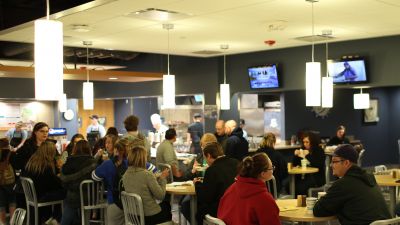 Dog House Grill
The Dog House Grill is a casual restaurant in the lower lever of the Janzow Campus Center. The menu features American cuisine including cheeseburgers, sandwiches, wraps, wings, salads, milkshakes and smoothies.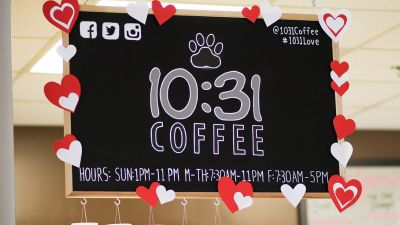 10:31 Coffee
10:31 Coffee, located in the upper level of Janzow Campus Center, is managed by Business students. You'll find all the coffee staples, along with speciality drinks and grab-and-go breakfast/snack items. Whether you eat or drink or whatever you do, do it all for the glory of God (1 Corinthians 10:31).
Meal Plan Options
Unlimited Access Plan
Allows you to come in as many times as you like during each meal period and includes $150 dining dollars that may be spent at the Dining Hall, the Dog House Grill or at 10:31 Coffee.
190 Block Plan
Allows you to use 190 meals per semester anytime you choose – no weekly limit and includes $200 dining dollars that may be spent at the Dining Hall, the Dog House Grill or 10:31 Coffee.
85 Block Plan
This plan is available only if living in Jonathan or off-campus, and allows you to use 85 meals per semester anytime you choose, there is no weekly limit and includes $200 flex dollars that may be spent at the Dining Hall, the Dog House Grill or at 10:31 Coffee.
Please note that student athletes must contact their coaches to determine which meal plan they will need for the semester the sport is played.
No refunds will be given for meal plan flex dollars not used by the end of the year. Additional Bulldog Bucks can be purchased; any unused amount can be refunded. Bulldog Bucks can be spent at the Dining Hall, 10:31 Coffee Shop, Dog House Grill, or in the University Bookstore.
Concordia University reserves the right to suspend a meal contract for non-payment of a student account. There will be no refunds for meals missed during suspension.
Students living on-campus are automatically signed-up for the Unlimited Access Plan. If you wish to select a different meal plan, please complete the appropriate form.
Friday, Aug. 26 is the last day students may change their meal plans for the first semester. After Aug. 26, changes may only be made for the second semester and will be allowed through Jan. 13.
Bulldog Bucks
Bulldog bucks provide students and their friends and family a way to add funds to a student account usable on campus at the Concordia University Bookstore, 10:31 Coffee, Dog House Grill and the student's campus print/copy account. A student can then use these funds by swiping their student ID card at these locations.
Adding funds to a student's Bulldog Bucks account
Funds deposited through this website are immediately reflected in the student account. At the web page click on 'Make a guest deposit' – you will need the following student information:

First Name of Student
Last Name of Student
Student CUNE Email Address (typically firstname.lastname@cune.org)
Deposit any amount of $5 or more to the 'Bulldog Bucks' account
Cash deposit: visit the Student Life Office, Janzow 204
Cash deposits made to the account will take 24 business hours for processing to the student account and will not be immediately available. Please make checks payable to Concordia University Nebraska and reference 'Bulldog Bucks' in the memo line.

Remaining funds in the account will rollover each semester until the student graduates and any remaining balance over $5 at that time will be refunded to the student. For questions, please email bulldogbucks@cune.edu.
Allergies
Chartwells food service is able to accommodate most food allergies. Students are requested to meet with the dietician to review alternative options if problems occur.
If you have a documented disability that impacts academics or residential living and wish to request accommodations, please contact our Disability Support Services Coordinator at 402-643-7187. Medical documentation will be required, specifying the medical disability, to determine "reasonable" accommodations.​