Concordia Nebraska to host new music building dedication event, special activities
Published by Amy Crawford 2 months ago on Tue, Sep 5, 2023 8:40 AM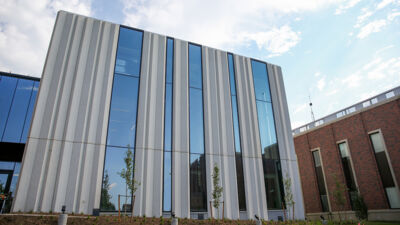 On Saturday, September 23, Concordia University, Nebraska will dedicate the university's newest academic building – the Borland Center for Music and Theatre. Dedication festivities will take place alongside campus homecoming events, and the day will feature an appreciation breakfast, special chapel service, building tours, a music recital, theatre events and more.
The 46,544 square foot Borland Center for Music and Theatre is an innovative space that includes 22 practice rooms, 13 teaching studios, customizable rehearsal spaces, a 100-seat theater, a recital hall, study areas and spaces for collaboration and community among students and faculty. Much of the facility features floor-to-ceiling windows offering abundant lighting and inspiring views of the campus and adjacent neighborhood. The building is named for music enthusiasts and university supporters Michael and Caryn Borland of Newport Beach, California.
"This building has been artfully designed by architects, acousticians, music faculty, and music students to glorify God and to enhance the instruction and performance of our student musicians," said Concordia Nebraska Music Department Chair, Dr. Kurt von Kampen. "The building has numerous state of the art features, including superior adjustable acoustics, large rehearsal spaces for choir, band and orchestra, and classrooms fully equipped with the latest AV equipment. It is fulfilling to see the results of many years of careful planning, come to fruition. Concordia now has a beautiful and professionally functional space for music instruction."   
The new space will allow the music department flexibility in adding new programs in the future. Larger band and choir rooms will accommodate the growing ensembles, while Concordia's drama program will have its first dedicated and purposefully designed theatre.
All practice spaces will feature electronic access for convenient security, along with design measures preventing sound transmission between independent practice and performance spaces. Updated acoustics in each practice room will ensure decibel levels stay below the recommended safety levels set forth by the National Association of Schools of Music, the music department's accrediting agency.
"Concordia's Christ-centered and world-class music department prepares students to develop the character and competence to be an immense blessing in the church and world," said Concordia Nebraska President Dr. Bernard Bull. "By providing an enhanced, intimate space for small theatre productions, the facility will also advance performing arts at Concordia. Thanks to many donors' inspiring and mission-minded generosity, including the Borlands, this innovative space will be a blessing for years to come, equipping students for lives of faith and flourishing as they share their gifts in music and theater in the world."
The Borland Center for Music and Theatre space was created with Concordia's students in mind and was constructed at no cost to them, meaning tuition and fees will not increase as a result of this striking addition to the university campus. Many dedication day events feature performances by both current and former Concordia Nebraska students and faculty. This intentional programming reflects the desire for this building to serve Concordia's students first and foremost, but to also benefit the surrounding community and beyond.
Learn more about Concordia Nebraska's music program offerings here.