In Harmony: Building a New Space for Music
We are excited to announce that Concordia is undertaking a $17.5 million project to construct and endow a 46,544 square foot music facility to provide a state-of-the-art collaboration and study center for our music students and faculty.
This innovative space will bless our community of performers on campus and throughout the region, equipping them to create excellent music and theatre for the church and world. By also providing an enhanced performance space for theatre productions, the facility will greatly advance the performing arts at Concordia.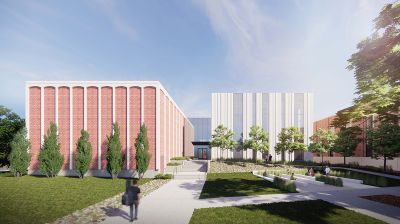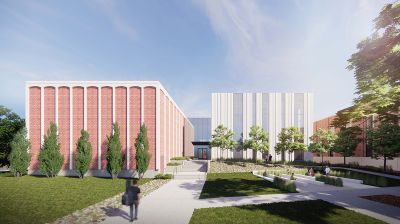 Borland Center for Music and Theatre Dedication and Open House
Join Concordia University, Nebraska for a weekend of music and celebration as we dedicate the new Music Center on campus!
A Cappella Alumni Matching Challenge
Thank you, A Cappella alumni! Your gifts exceeded the goal of $250,000 raised for the Music Center project, securing an additional $250,000 match—and the opportunity to honor Concordia's four A Cappella directors in the new facility (details forthcoming)! Note: although the match has concluded, your Music Center gifts are still invited.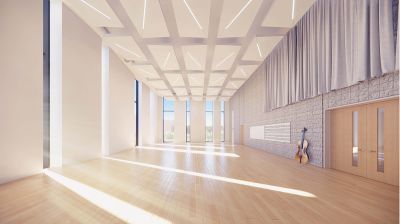 A Space for Inspiring Creativity
The new Music Center will include 22 practice rooms and 13 teaching studios with improved sound-proofing, where students and faculty can hone their skills and focus on each individual note. A multitude of floor-to-ceiling windows will provide natural light throughout the building, bringing energy and inspiring creativity in each space.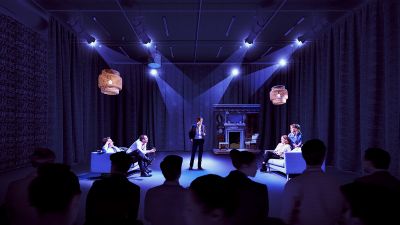 A Crescendo of Talents
Concordia's nationally accredited department of music provides students tools they'll need to be successful professionals, whether their vocation is focused on secular or church music. The Music Center will provide new resources, including a recording studio and designed spaces for music therapy. Meanwhile, a new 100-seat theater will provide drama students and patrons a first-class experience.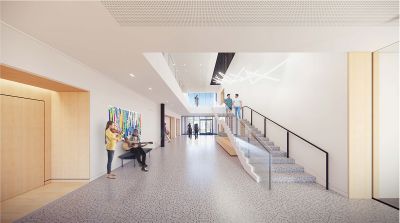 Sharing Sounds of Good News
Through Concordia's long-standing tradition of musical excellence, we honor God by helping our students refine their musical talents so they can be shared with the world. This new building provides updated technology and tools for our students and promotes community collaborations to share their musical celebrations that Christ has risen.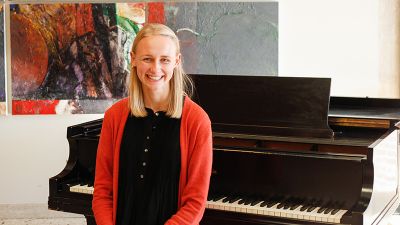 "We can soon have even more students participating in music at Concordia in a beautiful facility solely designed for making excellent music. This gives us an incredible opportunity to truly reflect Concordia's Christ-centered mission and share the Word through exceptional artistry."
Charlotte Lines '21
B.Mus. in Vocal and Instrumental Music Education
B.A. in Music with a performance emphasis
A Cappella Choir, Concordia Handbell Choir and Chamber Orchestra
Attention to Detail
The best performers with the best voices and musical instruments are even better when they're learning and playing in spaces that are tailored to their individual needs. Attention to detail has been paramount while the music department continues to work closely with architects and designers throughout the development process to ensure the new space provides students and faculty the technology and resources they need to be as successful as possible. Similarly, drama students will now have the use of dressing rooms and enhanced audiovisual systems.
A focus on each note
Students will be able to rehearse in sound-proof practice rooms and studios, helping them build their confidence and improve their skills. This upgraded sound-proofing allows students to create music at all times, even while a performance is taking place in the recital hall. Currently, there cannot be any other music played throughout the building during a performance because of inadequate soundproofing.
Adjustable acoustic settings
Throughout the recital hall and large rehearsal spaces, the acoustic settings can be modified for different types of music. Organ and choral music require a more reverberant space, while instrumental ensembles require a drier space without as much reverberation.
When sound is reflected properly, students will be able to hear the sound of their ensemble much better, allowing them to make more thoughtful decisions about how their own sound fits within the context of the entire ensemble. In turn, this helps raise the musicianship, quality and excellence of all ensembles.
Providing safe spaces
All practice spaces will feature electronic access, eliminating the need for keys while keeping students safe while they focus on their work. Updated acoustics in each practice room will ensure decibel levels stay below the recommended safety levels set forth by the National Association of Schools Music, the music department's accrediting agency.
Enhancing recruitment and growth
The new space will allow the music department flexibility in adding new programs in the future, including a bachelor of music in selected areas of performance and a bachelor of arts with an emphasis in music recording techniques. Larger band and choir rooms will accommodate the growing ensembles that cannot fit in the current spaces, while Concordia's drama program will have its first dedicated and purposefully designed theatre.​​​​
Recording studio
With a new recording studio available, students will be better prepared to learn recording techniques and sound amplification in schools and churches after they graduate. The studio also provides many opportunities for collaborations with local musicians.
Space to collaborate
With larger practice rooms and various gathering spaces throughout the Music Center, music students and performers will have the spaces to meet, gather, and discuss ideas, approaches and challenges, fostering their God-given creativity in new ways.
Increased accessibility
The new construction will replace the building's original split-level design and will include an elevator to make it easy for everyone to access the whole building.
Will You Answer the Call?
God has called Concordia to be a leader in Lutheran, Christian higher education in this country, and you are an essential key to making that possible. Help us respond to our ever-changing world in ways that remain faithful to the never-changing Word of God.