Concordia Nebraska announces name of new music building: Borland Center for Music and Theatre
Published by Amy Crawford 8 months ago on Wed, Mar 15, 2023 10:23 AM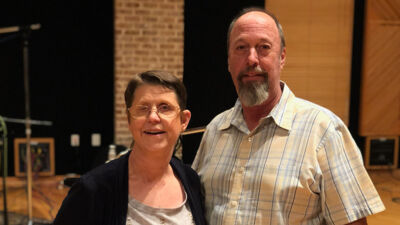 Caryn and Michael Borland are longtime supporters of Concordia's music program
Concordia University, Nebraska today announced the name of the university's new music building, which has been under construction for the past two years and is scheduled to be dedicated on Friday, April 21, 2023. Named for university supporters Michael and Caryn Borland, the new academic and performance facility will be known as the Borland Center for Music and Theatre.
"Concordia University, Nebraska gives thanks to God for the partnership and generosity of Michael and Caryn Borland," said Concordia Nebraska President Dr. Bernard Bull. "The Borlands love music and support the proclamation of the Gospel through it. Their long-standing support of Concordia Nebraska reflects their passion for Lutheran, Christian education."
While the Borlands' support for Concordia extends beyond the scope of this new facility, the music department's longstanding commitment to carrying forward the church's song with excellence aligns with the couple's deeply-held values, making this an appropriate project to bear their name.
"It is very important to us that we continue to train church workers and church musicians," said Caryn, who grew up in The Lutheran Church – Missouri Synod, and is a singer and songwriter. "The Lutheran church is known for its music. We need good songwriters and musicians in the church. We need to remember our musical heritage and continue to train the next generation of musicians who will serve the church."
The 46,544 square foot Borland Center for Music and Theatre is an innovative space that includes 22 practice rooms, 13 teaching studios with professional sound-proofing, customizable rehearsal spaces, a 100-seat theater, a recital hall, music therapy spaces, study areas and abundant floor-to-ceiling windows offering natural lighting.
The Borlands were instrumental in ensuring that the new facility includes a first-class recording studio that features the capability to record from multiple locations within the building. With a recording studio available, students will be equipped with best-practice techniques in recording, live streaming and sound amplification to best serve in schools, churches and professional settings after they graduate. The studio also provides opportunities for collaboration with local musicians.
"It is important for there to continue to be a focus on music that is not only good but also theologically correct," added Michael. "We have to be intentional about the music that is used in our churches. We support music and songwriting that reflects pure doctrine and correctly proclaims the Gospel. Music education and worship through music are incredibly important to us."
In addition to sharing their musical gifts through guitar, singing and songwriting with their church, the Borlands have also been involved in a variety of high-profile recording projects and movie productions. The couple serves on the praise team at Christ Lutheran Church in Costa Mesa, California and is also active with a church startup in Prescott, Arizona. Dedicated to supporting music education and worship in the Lutheran church, the duo are also actively engaged at Concordia University, Irvine, Caryn's alma mater.
"The Borlands are an inspiring example of mission-minded generosity," added Bull. "I thank God for their partnership in the Gospel, their fervent support of Concordia Nebraska's Christ-centered mission, and their help to create this new space that will be used to equip a next generation of young musicians—people whom God will use to bless their families, churches, communities and beyond."
Intersted in pursuing music at Concordia? Learn more here.