LAUNCH 2022
We're so glad you're coming to Concordia this fall! Whether this is your first time as a college student or you're transferring in, we cannot wait to meet you and welcome you into the Bulldog family!
This page has some helpful information and some final tasks to wrap up!
(If you are a returning student looking for your move-in information please see the Returning Student Move-In Page.)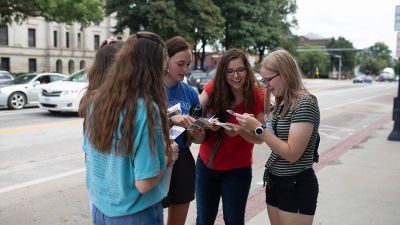 Move-in Days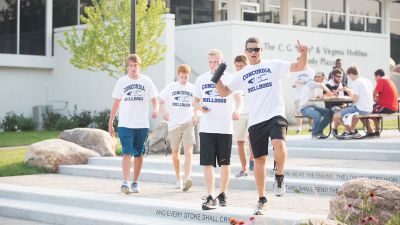 Football, Volleyball and Soccer Athletes
Move-in on Monday, August 8 between 8-11:30 a.m.
Schedule coming soon.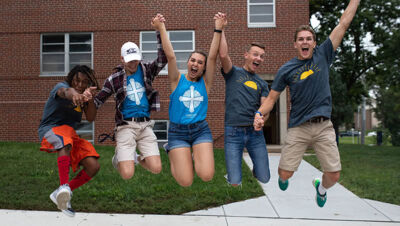 Cross Country and Golf Athletes and Speech and Debate Team
Move-in on Tuesday, August 16 between 8:30-11 a.m. for Cross Country and Golf. Speech and Debate between 8:30 a.m.-4:30 p.m.
Schedule coming soon.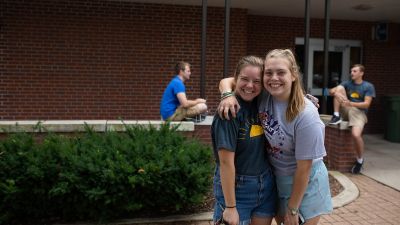 All other First-year or Transfer Students
Move-in on Friday August 19
(Pick your move-in time below starting in June.)
Schedule coming soon.

Next Steps Before Your Arrival
Sign up for a move-in time

For the August 19 move-in day, we will have morning and afternoon move-in timeslots available for your convenience and to ensure shorter lines while taking care of business (e.g., picking up dorm keys, getting student IDs, etc.). Information about selecting your move-in time will be available starting mid-late June. ​​​​​​
Complete your forms

If you have not completed all of your forms (Housing Contract, Course Pre-Registration, FERPA, etc.) please contact your First Year Coordinator (FYC) to see what you may still be missing. We cannot assign your housing or classes until we have these forms completed.
Sign up for a music audition time (optional)

Information coming soon.
Make an appointment with the health center (optional)

If you just want to meet our awesome health center staff or have a few basic questions about their services, they will be available for all students on the move-in days without an appointment. However, some students with chronic or other severe medical conditions appreciate having a conversation with our health center staff when they first arrive on campus. Our Nurse Practitioner, Suzanne Briggs, is offering appointments on Jump Start, move-in day and throughout the first week of school for anyone who would like a private opportunity to give more details than were provided on your health forms.

Appointment link coming soon.
View your housing assignment and connect with your roommate

April 15 - Early Housing Assignments: Any students who have their housing contract completed by April 15 will be housed by April 30. Student may or may not have a roommate assigned at this time. If we have a great match we'll match at this time; if not, we'll wait until we have more contracts submitted.

June 1 – Next Housing Round - Any applications that come in between April 16 and June 1 will be housed as we find good matches and no later than Jump Start Day on June 20.

To find your housing assignments:
Log in to portal.cune.edu.
Click on the "Student" tab at the top (may say "New Student")
Click on "Banner self-service"
Click on "Student"
Then click on "Housing, roommates, meal plans."
Make sure you choose the 'Fall Semester 202310' term. (NOT the one with "teach-out")
If you have not completed your housing contract or it arrived in our office recently, your housing information may not be available yet.
We encourage you to start connecting as soon as possible with your roommate through social media, email, and phone conversations. Talk about who is bringing what items and start building a relationship now!
Please email our Housing Coordinator at Von.Thomas@cune.edu with any housing questions.
Mark your calendar

Concordia has a variety of breaks throughout the year without classes. The residence halls and dining services are closed for some of them. Please mark your calendars now for when you will need to be out of the dorms and plan break travel accordingly. (If you are an athlete who has competitions during the breaks your coach will give you information about housing and meals.)
Fall Break – October 14-17 – Dorms and Dining Hall Open
Thanksgiving Break – Dorms and Dining Closed November 19 at 10am through November 27 at 10am
Christmas Break – Dorms and Dining Closed December 16 at 10am through January 8 at 10am
Martin Luther King Jr. Day – January 16 – Dorms and Dining Hall Open
Spring Break – Dorms Closed March 4 at 10am through March 12 at 10am
Easter Break – April 7-10 – Dorms and Dining Hall Open
Move Out at End of Year – Dorms Close to all non-graduating students at 10am on Friday May 5.
Get packing!

Here's a list of what our students find most useful in our residence halls.
Concordia allows one mini-fridge (1.4 amps or less) per room. Please connect with your roommate to determine which one of you is bringing this.
Microwaves are not allowed in the residence halls rooms. Common use microwaves are provided in each residence hall either in the lounges or the RA rooms.
Order Dorm Supplies and Sheets Guaranteed to Last Until Graduation – Concordia partners with OCM to provide dorm essentials including sheets they guarantee will last until graduation! Get everything you need in one spot!
For more about residence hall room dimensions and FAQs about dorm life, see our Residence Life page.
For more about residence hall room dimensions and FAQs about dorm life, see our Residence Life page.
Other Helpful Links
Parents and Family Members
As parents and family members you are a vital part of our Bulldog Family. Please check out our Parent and Families Page to sign up for our parent newsletter and to find other information you might find helpful as you support your student.