Fall Move-In 2022
Welcome to Campus!
Please review the information provided below as you get ready for your return Concordia. If you have any questions or concerns about this coming year, please feel free to contact the Student Life Office (SLOhousing@cune.edu). This information is for returning students only; if you are new student coming to Concordia (freshman or transfer) please see the LAUNCH page for your move-in and orientation information.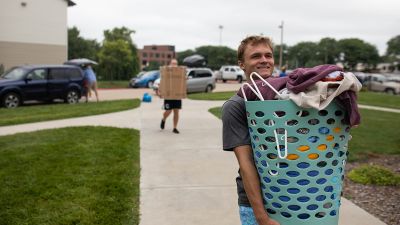 Returning Students Living in the Residence Halls
Residence halls will reopen for returning students on Saturday, Aug. 20.
Keys/ID cards will be available in the Student Life Office:

Saturday, August 20 from 8 a.m.- 5 p.m.
Sunday, August 21 from 10 a.m.- 4 p.m.

The meal plan for returning students begins on Saturday morning, August 20.
Any meals before then must be purchased with cash/credit card.
The first-floor meeting for each residence hall will be on Sunday, Aug. 21 at 9:00 p.m.
If you are in one of the following groups you may have an alternate move-in date:
Football, volleyball and soccer athletes (August 8)
Cross Country and golf athletes and Speech and Debate Team (August 16)
LAUNCH Leaders (August 17)
Freshmen and New Transfer students (August 19)
Generally, we are not able to allow students to move in before your assigned date. If you feel you have an extenuating circumstance that may need an exception, please contact SLOhousing@cune.edu at least two weeks before your move-in day. Approved exceptions may be subject to a $50/day charge. If you are in the residence halls before the dates listed above without prior approval you will be charged $50 per day and subject to other sanctions.
Returning Students Living Off-Campus
All returning students need to stop by at SLO to pick up and sign for their new I.D. card as well as ensure all paperwork is complete no later than August 26.
The Student Life Office will be open at the following times to complete these tasks:

Saturday, August 20 from 8 a.m.-5 p.m.
Sunday, August 21 from 10 a.m.- 4 p.m.
Monday, August 22 – Friday, August 26 from 8 a.m. – 5 p.m.

Off-Campus students may have an on-campus mailbox if they choose. Keys can be picked up for this in the mailroom.
Athlete Arrival Information
Football, Soccer, and Volleyball – Move in on August 8.
Cross Country – Move in on August 16.
All Other Returning Athletes – Move in on August 20 or 21.
Contact your coach if you have questions about arrival arrangements and the camp schedule. A physical is required annually for all athletes. Please complete this before arriving on campus using the form below.
Welcome Back Activities
While many activities during move-in week are geared toward our new students here are a few YOU (as a returning student) are invited to as well:
Saturday, August 20

8 p.m. - O-Show – Weller Auditorium
9 p.m. – Bulldog Bash – Janzow and Holthus Plaza
Outdoor dance, Sand volleyball, cornhole, snow cones, yard games, board games, and more!

Sunday, August 21

7 p.m. - Opening Service – St. John Lutheran Church
9 p.m. – Mandatory Floor Meeting for On-Campus Students – On your Hall