No breakpoint
Breakpoint
sm
Breakpoint
md
Breakpoint
mlg
Breakpoint
lg
Breakpoint
xl
Breakpoint
2xl
Fall Move-In
Welcome to Campus!
Your fall return to campus will look different than years past. We will be working with our local health department to ensure all aspects of move-in and your return to campus maximize safety. As such, you will receive assigned times from the Student Life Office in advance of your return to campus to ensure physical distancing and appropriate group sizes.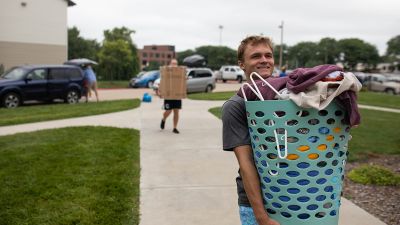 All students coming to campus for Fall 2020 will be assigned specific times for moving into residence halls. See below for details on where to find your assigned time in Banner and what to do if that time will not work for you.
Arrival Dates for the Fall Semester
Assigned move-in times are located in the "Housing, Roommates, Meal Plans" section of Banner Self-Service.
Football, volleyball, and soccer athletes have been assigned move-in times on Tuesday, Aug. 4.
New students have been assigned move-in times on either August 7 or 8.
Returning students have been assigned move-in times on August 5, 6 or 9.
We hope most people are able to be flexible and can make the move-in time we assigned work. If for some reason you have circumstances where it is not possible to return at your assigned time, please email Emmy Lewis-Zajic to arrange for another time.
We are unable this year to accommodate any arrivals earlier than the dates listed above. If you are in the residence halls before your assigned move-in time without prior approval you will be charged $50 per day and subject to other sanctions.
What to Expect on Move-in Day
We will continue to add detail to this section as August approaches, but here are a few things that may be helpful to know right now as you plan to return to campus:
Please stay within your 3-hour time slot for moving belongings into the building. You may arrive anytime in those three hours, but need to complete moving in by the end of your time frame.
You will start on the top floor of Janzow Campus Center where a host will greet you and walk you through getting your ID, keys, parking permits, and more while pointing out some highlights around campus and your residence hall.
To stay within room capacities and allow for physical distancing we are asking you to only have one person come with you into Janzow. Please limit your total number of guests assisting with move-in to two.
Road Construction on Columbia Ave.
The City of Seward is working on Columbia Ave., which may limit access during move-in. See our map for alternate routes to campus.
Meal Plan Information
The regular meal plans and dining hall hours begin at dinner on August 8. If you are moving in before that time, Concordia will cover 3 meals a day starting from your assigned move-in time until August 8 when the regular meal plan begins. We will also provide one meal on your move-in day for up to two guests. Shortened dining hall hours from August 4-8 will be posted and communicated closer to move-in day.
If you need to adjust your meal plan from what is showing in Banner, please click here to see your options and complete the change form. All students living on campus must have a meal plan. Many off-campus students also choose to have a meal plan. Contact us for more information about commuter options. Any changes to meal plans must be completed by August 14.
Athletes Only:
Contact your coach if you have questions about arrival arrangements and the camp schedule.
Athletic Medical Forms
Policy For Living Off-Campus
Living off-campus is something that should be considered well in advance of the fall semester. Please review the current resident requirements policy for more information. Every off-campus student must have an off-campus housing form on file in the Student Life Office with your off-campus address no later than August 14.
Times and locations for picking up student IDs will be posted here soon. If you have a meal plan, it begins at dinner on August 8. Please do not attempt to eat in the cafeteria before this time unless you have been approved to do so by a coach or staff member.
Other Questions?
We will continue to regularly update this page with information as we have it. If you have a question that is not answered here, email us at slohousing@cune.edu and someone will get back to you as soon as possible. Please know that Concordia's offices are closed on Fridays during June and July.