Marxhausen Gallery of Art
Founded in 2000, the Marxhausen Gallery of Art, named after Reinhold Marxhausen, the first Concordia art department chair, has hosted more than 40 artists and art professionals. Throughout the school year, the gallery hosts a diverse mix of exhibitions, performances, screenings and conversations that aim to bring the campus art community and local residents together.
The gallery is located in Jesse Hall.
Hours during the fall and spring semesters while classes are in session are:
Monday-Friday 11 a.m. to 3:30 p.m.
Saturday and Sunday 1 to 4 p.m.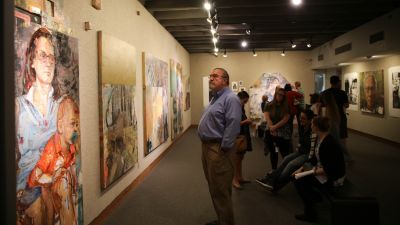 About Reinhold Marxhausen
Concordia University is the permanent archive for works of art and other materials related to the life and career of Professor Reinhold P. Marxhausen. In establishing the Reinhold P. Marxhausen archive, Concordia recognizes the significant role Marxhausen played in promoting the value of visual art and provides a unique opportunity for Marxhausen's work to be viewed, studied, and appreciated for its beauty, insight and creativity.
Through workshops, lectures, and films Marxhausen became known as an innovative and influential arts educator throughout the state of Nebraska and the Lutheran Church at large. Marxhausen enhanced and promoted the vocation of art by modeling the role of both professional artist and art instructor. His creativity was centered in the Concordia classroom where much of the artwork he produced was a result of a relationship between classroom teaching and studio practice.
The Marxhausen Archive not only serves as a study center, but more importantly, the archive celebrates the person, career, and reputation of Reinhold Marxhausen, as well as, the distinct role the visual arts play within the classroom, church and community.
About Concordia's Permanent Collection
The Marxhausen Gallery of Art houses the Koenig Collection, as well as, the Wake – Wiegmann Collection of contemporary prints and works on paper. These permanent collections contain over 300 art objects and are comprised of screenprints, etchings, lithographs and other original pieces by nationally and internationally recognized artists.
The origin of Concordia's art gallery can be traced to a dedicated and colorful humanities professor, Dr. Henry Koenig, who donated his extensive collection of framed pictures, glassware and other artifacts to the university. Additional growth came during the decade of the 1970s with gifts from Dr. and Mrs. James L. Lodge and through grants from the Woods Charitable Fund. More recently through the generous support of Steve Wake, the collection deepened and has come to be representative of a small, world-class collection.
The artists, such as Chuck Close, Elizabeth Murray, Robert Rauschenberg, Louise Nevelson, and Richard Serra are among the most influential artists of the last hundred years.
Recent Art Headlines & Upcoming Events