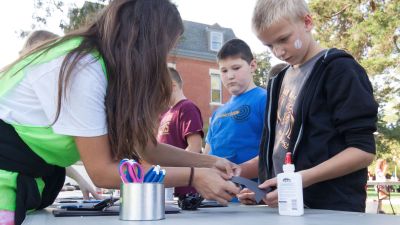 Art educators teach more than just art methods or art history. They also encourage creativity and teach essential life lessons, such as solving problems, working collaboratively and developing time management skills. Your art education degree will prepare you transform your students into critical observers of the world and to express themselves through their art.
A degree in art education from Concordia University, Nebraska gives you a broad range of skills with studio- and design-based courses that provide models for both learning and leading in a classroom. Coupled with course work in art history, you will gain exposure to a variety of media, technology, and art methods, all of which prepare you to be an art educator in a classroom or any number of other settings. You'll also receive a strong grounding in education and art theory, instructional methodologies and the art area concentration of your choice.
The art education program prepares you to enter the teaching profession through a balanced art curriculum of practical and theoretical content. Concordia's Saturday Art School is a unique extra-curricular experience that places art education majors in the classroom as teachers working directly with children, to help give you the hands-on learning you need to teach art or art appreciation programs.
Concordia's degree in art education won't just prepare you for teaching in schools; you can also choose to work with other groups, teaching art techniques in hospitals, prisons or assisted living facilities. If you love to create and talk about art history, methods and materials, then art education might be the right career path for you.
Credit hours listed above are the minimum required for graduation. Specific program credit hours may vary.
15:1
Student-to-faculty ratio
100%
Faculty with terminal degree
The art education program can transform you into a critical thinker who pushes past your own thoughts about art, creativity and skill to become an artist who can communicate and teach others about art.
Emma Dannehl
Bertrand, Nebraska
How do I become an art teacher?

The first thing you need to be a successful art teacher is a love of art. You should have some basic skills in oil painting, watercolor, sculpture and other types of art mediums. You'll also need at least a bachelor's degree. At Concordia University, Nebraska, you can choose to earn your bachelor of fine arts degree in art education, which focuses more on art coursework and the different types of art and art methods, or you can work towards your bachelor of science in art education degree, specifically designed to help you become an art educator in K-12 schools. Either degree prepares you to teach art in the classroom or in another setting.

Students in the art education program at Concordia do two semesters of student teaching, first close to campus, learning while taking courses and using your art and education classes and the expertise of your professors to help you become an innovative and effective art teacher. In the second semester of student teaching, you will assume more teaching responsibility and complete your training nationally, so you gain the valuable experience you need to take into your future art classroom.

To teach art in a school, you'll also need to obtain your teacher's certification, the requirements for which vary from state to state. Concordia will help you through your certification process, making sure you're fully equipped and prepared to teach after graduation.
What is the importance of art in child development?

Creative activities are vital in child development. As an art educator, you will be responsible for helping your students of any level of talent or age develop fine motor skills, visual learning techniques and decision making processes. Art can also help children explore critical thinking and cultural awareness. According to Americans for the Arts, children who participate regularly in the arts are four times more likely to be recognized for academic achievement. As an art teacher, you will be a critical part of the development of your students' minds.
What can I do with a degree in art education?

A degree in art education prepares you to teach others about art, traditionally in a K-12 art classroom, either in a private, Christian or public school. As an art teacher, you would teach various art methods and art history. Your exact curriculum will depend on what level of students you teach. You would also encourage creativity and teach essential life lessons, such as solving problems, working collaboratively and developing time management skills.

Teaching art classes in a K-12 school is just one of your career options. You might also teach art a university, serve as a museum curator or art gallery director or as a graphic or web designer. If you'd like to teach, but not in a school setting, you might choose to teach art in an assisted living facility, a community arts program or even as a private art instructor from your own studio.​​​​​
Do I need to a graduate degree in art education?

Whether or not you need a graduate degree in art education depends on your chosen career path. For most art teachers in K-12 art classrooms, a bachelor's degree is enough. If you want to find a career teaching art at a university level, or pursue an educational role in the art world outside of schools, you may need a masters or doctorate degree.
What is the starting salary for an art teacher?

As with many careers, the starting salary for an art teacher depends on your location, what grade levels you teach and the type of facility you work for. According to the Bureau of Labor Statistics, the average annual salary for high school art teachers is $55,000. For elementary school art teachers, the average annual salary Is $53,000.
Core Concepts
The art education program at Concordia University, Nebraska prepares students with basic skills in art methods, theories and educational practices so they are equipped to teach art at the elementary and/or secondary levels and to be leaders in the classroom, in the congregation and in the community.
Concordia Nebraska

Art Education: Learning Objectives

Students will be prepared with a strong base in art education, equipped to teach art history, art criticism, art production and aesthetics in an elementary or secondary classroom, including learning visual arts standards, creating a sample art curriculum and practicing assessment methods for diverse art classrooms.

Students will learn to demonstrate knowledge of art forms, artists and artworks, and engage in aesthetic inquiry to understand their own creative practices, as well as the practice of other artists and art educators.

Students will discuss issues in current art pedagogy and curriculum, addressing the role of art in our schools and addressing the interconnection between art and critical thinking.

Concordia University - Education Department

Concordia University - Art Department
Concordia Nebraska

Art Education: Program Goals
Students will demonstrate familiarity with art theory and criticism, art methods in a variety of visual media and art history.
Students will demonstrate the ability to design a comprehensive, inclusive art curriculum that incorporates a variety of art education strategies.
Students will be able to use different teaching and assessment strategies to promote conceptual learning and artistic achievement.
Students will demonstrate an understanding of the responsibilities and requirements of a professional art educator.
Concordia Nebraska

Art Education: Career Outcomes

If you want to inspire future artists, increase motor skills and critical thinking, teaching artmight be the career path for you. Most art educatorswork in K-12 schools, teaching arttechniques such as painting, drawing, printmaking, photography or ceramics, as well as the theory and history of those artforms. Art teachersmight also work outside schools, either through community artprograms, in hospitals or assisted living facilities or from a private studio.

$36,360

Entry-Level Salary2

$69,960

Mid-Level Salary2

$146,290

Late-Level Salary2

As a museum educator, you will help ensure that collections in an artmuseum or gallery act as a learning resource for people. By developing educationalprograms to engage those who may not normally use a gallery or museum, you will help reach a whole new audience of individuals who might benefit from access to the arts. Your job might include delivering workshops, working in the community or educatingmuseum visitors about the displayed artwork.

$27,190

Entry-Level Salary2

$48,400

Mid-Level Salary2

$86,480

Late-Level Salary2

Community Art Coordinator

As a community art coordinator, you will promote artto local groups or individuals, teaching arttechniques to engage and educatepeople in your community. You'll manage and coordinate events and activities with local artists to encourage creativity and diversity.

$17,550

Entry-Level Salary2

$41,451

Mid-Level Salary2

$70,466

Late-Level Salary2
Concordia Nebraska

Art Education: Related Programs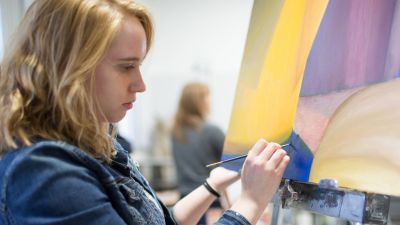 Studio Art
A degree in studio art from Concordia University, Nebraska is a degree in critical thinking, visual and spatial reasoning and creative problem solving. Through a sequence of studio and design courses, you will be introduced to a wide range of materials and procedures from basic two- and three-dimensional media to multi-disciplinary experimentation. Through historical and theoretical content, you can engage with art's critical discourse. Here, you can make connections across disciplines and learn how to use visual language to express your ideas, make social commentary, effect change and celebrate beauty. A studio art degree from Concordia Nebraska will help you not only achieve personal fulfillment through creative expression, but also give you the framework to be a professional within the art field.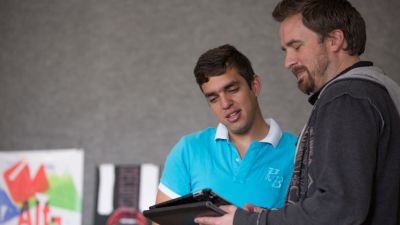 Art Therapy
The art therapy program at Concordia, the only one of its kind in Nebraska, will prepare you to serve in the health field through your art. A degree in art therapy provides you with a quality foundation for you to use your creative process to help people of all ages improve their health and emotional well-being. With your art therapy degree, you can work in schools, nursing homes, prisons, hospitals, recreation facilities, mental health hospitals and nonprofit agencies.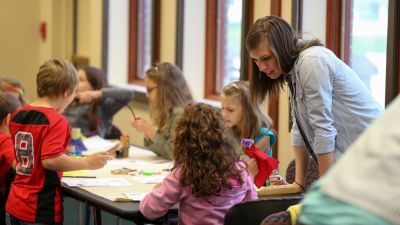 Elementary Education
As an elementary educator, you are certified to teach children in kindergarten through sixth grade. You will typically spend the day with the same group of students, teaching them foundational skills in a wide variety of subjects. The liberal arts education you will receive at Concordia University, Nebraska, along with subject-specific methodology courses in the education department, will prepare you to be an outstanding elementary school teacher.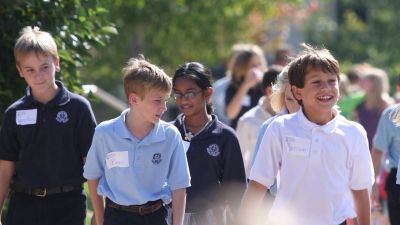 Middle Level Education
The middle level education program at Concordia Nebraska connects theory with practice to prepare graduates to teach grades 5 through 9 in both self-contained and departmentalized classrooms. As a middle level education major, you will choose from among math, science, social sciences and language arts and have the opportunity to add a second subject from those or Spanish, physical education and ELL/ESL, allowing your passion for teaching to connect with your subject-area passions, which you can share with your students.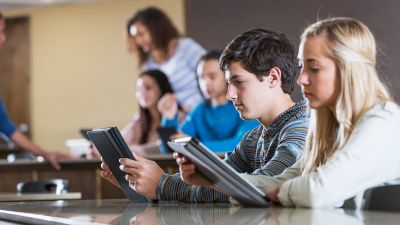 Secondary Education
With a degree in secondary education from Concordia University, Nebraska, you will be equipped to teach grades 7-12, encouraging intellectual and emotional growth at a critical time in the lives of your students. You'll engage in rich coursework, collaborate with faculty and gain invaluable experience first shadowing a professional teacher and then teaching in your own high school classroom.
1 Recent graduates attending graduate school or employed within six months of graduation.
2 Career salary and wages sourced from the U.S. Bureau of Labor Statistics.