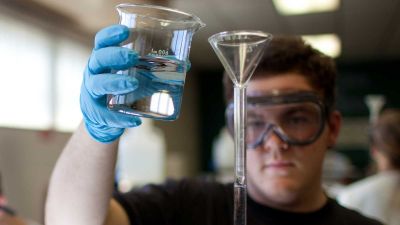 15:1
Student-to-faculty ratio
100%
Faculty with terminal degree
If you're interested in a career in medicine, but direct patient care doesn't appeal to you, consider becoming a pharmacist. As a pharmacist, you will be responsible for the collection, preparation and standardization of drugs. You will also advise patients on the use of prescription and over-the-counter drugs. Pharmacists are some of the most accessible and trusted health care professionals in the world. You will maintain a strong connection to patients and help them understand their medication and its uses.
Though pharmacy is a rewarding career, it is not easy. At Concordia University, Nebraska, you will be prepared for pharmacy school with courses in biology, chemistry, math and physics. When studying in the pre-pharmacy program, you will focus on the fundamentals of science that will carry through all of their coursework and future work tasks, as well as understanding and creating scientific communications and creating professional and ethical work practices. Since pharmacists work closely with customers, doctors and other pharmacists, you'll also need the skills to discuss pharmacology and human physiology with people at a general and professional level, which you'll receive with the liberal arts background Concordia provides. That knowledge base will prepare you to be successful in your education and career.
Concordia's pre-pharmacy advisors are equipped to help you tailor your studies to your particular interests, complete the foundational coursework required for pharmacy school, and navigate your way through the application process.
If you have a strong desire to help people feel better and get well as quickly as possible, a career as a pharmacist could be a good fit for you.
Concordia Nebraska

Pre-Pharmacy: Learning Objectives

Students in the pre-pharmacy program at Concordia University, Nebraska will demonstrate knowledge of and ability to integrate and apply basic principles of chemistry, biochemistry, physical science, biology, mathematics and statistics.

Students will be able to use observational, analytical and critical thinking skills to develop, implement and evaluate solutions that solve real-world problems.

Students will effectively listen, speak and write in a professional manner.
Concordia Nebraska

Pre-Pharmacy: Career Outcomes
Pharmacist
Pharmacists are medication experts, responsible to patients for achieving the best medication treatment outcomes at the same time assuring cost-effective and safe therapy. As a pharmacist, you would work with health care teams to advise other health professionals on the proper dose, availability, side effects and monitoring parameters for effective medication usage.
$87,790
Entry-Level Salary2
$126,120
Mid-Level Salary2
$161,250
Late-Level Salary2
Pharmacy Technician
Pharmacy technicians help pharmacists dispense prescription medication to customers or health professionals. As a pharmacy tech, you would receive written prescriptions and confirm their accuracy, measure and package medications and label prescriptions.
$22,740
Entry-Level Salary2
$32,700
Mid-Level Salary2
$48,010
Late-Level Salary2
Concordia Nebraska

Pre-Pharmacy: Related Programs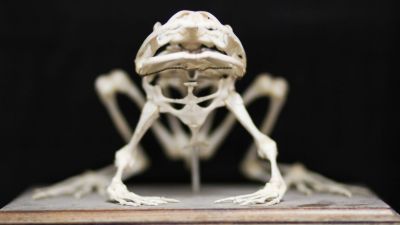 Biology
With a degree in biology from Concordia Nebraska, you will be prepared to begin a career in the biological sciences right away, or to continue your education in graduate, medical, dental or veterinary school. As a biology major at Concordia, you learn essential skills such as time management and mastering complex material, as well as studying more in-depth topics such as microbiology, human anatomy and immunology to give you the knowledge you need to be successful in the field of biology.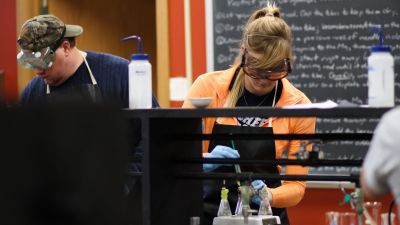 Chemistry
A degree in chemistry from Concordia University, Nebraska expands your understanding of general chemistry and gives you the practical, hands-on experience you need to continue a career in chemistry after graduation. Your classroom and chemistry lab experience will help you on your journey to use your passion for chemistry to serve in healthcare, industry, research and more.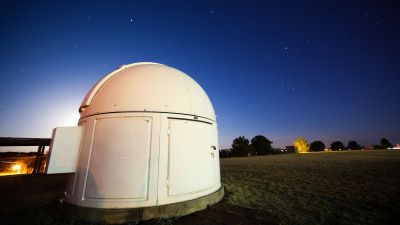 Physical Science
A degree in physical science from Concordia University, Nebraska will give you an interdisciplinary background in the physical sciences including physics, chemistry and math. Many students choose a physical science major as a broad-based education because they want to teach high school science, chemistry or physics, and a bachelor's degree in physical science can help equip you with the comprehensive physical science skills you need to educate your future students.
1 Recent graduates attending graduate school or employed within six months of graduation.
2 Career salary and wages sourced from the U.S. Bureau of Labor Statistics.