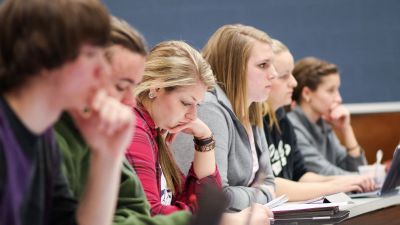 15:1
Student-to-faculty ratio
100%
Faculty with terminal degree
Physics is all about discovery; not only is physics about discovering how the universe works from the subatomic scale to the vastness of space, but also discovering your passion for the conceptual and quantitative aspects of physical science. The goal of physics is to understand how the world works. It's the study of the universe: how it works the way it does, how it continues to function and where it's heading. By studying physics, you will discover the new theories and applications being made in our fundamental knowledge of science, help answer questions about the basic concepts that make up the entire universe and use developing technologies and ideas to advance the projects you're passionate about, whether it's the space program, energy conservation, climate change or roller coasters.
Whether you want to explore the mysteries of antimatter, aid in the development of laser technologies or discover new energy sources, Concordia University, Nebraska's physics program prepares you to pursue careers and graduate degrees in a variety of disciplines, from astronomy to engineering to computer science. You will gain a scientific foundation through a variety of interactive labs, lectures and classwork to make you a professional in the field of physics. Research programs and internship experience help you develop real-world skills and find the specialized field in which you will excel. If you choose to earn your major in physics, you will be equipped to work on the forefront of science and technology, in academia, the government or the private sector.
If working with technology, doing critical research and solving some of the world's biggest challenges interests you, a B.S. in physics from Concordia Nebraska might be the right program for you!
Program Differentiators
Core Concepts
Physics lies at the core of all scientific and technical disciplines. The physics program at Concordia University, Nebraska provides students who make a wide range of career choices with an outstanding learning experience in which they develop strong analytical, quantitative and problem solving skills with a deep appreciation of the role physics plays in technical innovations, and fosters cutting-edge research that expands the horizons of our knowledge of God's universe.
Dr. Brent Royuk - Physics
Science professor Dr. Brent Royuk calls physics "brain training" because you learn to think in ways that can be applied to any other discipline. Learn more about Dr. Royuk in this Faculty 5 video.
Dr. Robert Hermann - Physics
Dr. Rob Hermann loves that as a CUNE Science professor, he can talk about the huge scope of galaxies one moment and subatomic particles the next. Learn more about Dr. Hermann in this Faculty 5 video.
Testimonials
Physics is such an interesting field, and there is so much that is known but not understood. The professors at Concordia encourage students to think about these things, not just memorize facts.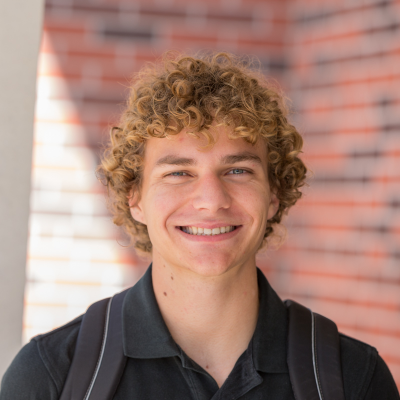 Ryan Gross
Riverside, California
Read Ryan's story
Concordia Nebraska

Physics: Learning Objectives

Students in the physics program at Concordia University, Nebraska will demonstrate an understanding of core knowledge in physics

Students will demonstrate written and oral communication skills in communicating physics-related topics.

Students will demonstrate an understanding of the analytical methods required to interpret and analyze results, draw conclusions as supported by their data and demonstrate proficiency in the acquisition of data using a variety of laboratory instruments.

Students will utilize a wide range of printed and electronic resources and information technologies to support their research on physical systems and present those results in the context of the current understanding of physical phenomena.

Students will demonstrate understanding of the applications of numerical techniques for modeling physical systems for which analytical methods are inappropriate or of limited utility.

Students will demonstrate a thorough understanding of the analytical approach to modeling of physical phenomena.​​​​​​​​​​​
Concordia Nebraska

Physics: Program Goals
Students will demonstrate an understanding of the impact of physics and science on society.
Students in the physics program at Concordia University, Nebraska will be able to critically assess their current state of knowledge and expertise, and develop, implement and refine a plan to acquire new knowledge for specific scientific goals and in pursuit of new intellectual interests
Students will be able to communicate effectively via oral, visual and written formats to diverse STEM audiences.
Students will learn to use the appropriate tools and requisite media literacy to acquire, assess and analyze data and information from diverse sources.
Students will be able to articulate how their own developing skills in science and technology can be increasingly used in constructive community service or engagement that recognizes the potential impact on local and global issues, including environmental impact and sustainability.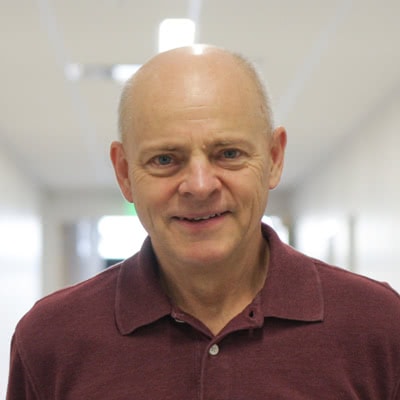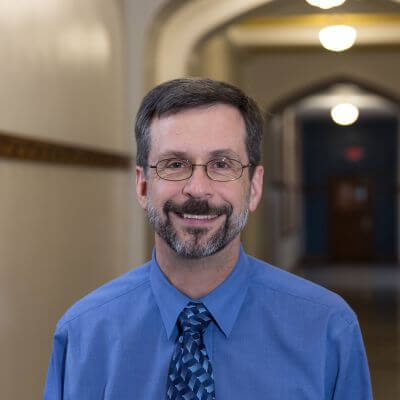 Physics Faculty
As experts in physics, our faculty and instructors bring years of experience to the classroom.
Concordia Nebraska

Physics: FAQs

Is physics a good degree?

Physics is an international enterprise which plays a key role in the future progress of humankind. The study of physics is an exciting intellectual adventure that expands the frontiers of our knowledge about nature and generates fundamental knowledge needed for the technological advances that drive the economic engines of the world. It improves our quality of life by providing the basic understanding necessary for developing new instrumentation and techniques for medial applications and earth, agricultural, chemical, biological and environmental sciences.

By studying physics, you can be an essential part of advancing scientific knowledge, whether you find a career as a teacher or researcher. Plus, there is a wide variety of careers available if you choose to major in physics, so you can follow your passion.​​

What kind of opportunities are available at Concordia University, Nebraska for physics majors?

Concordia Nebraska has many resources available on campus for those studying physics. The Dunklau Center for Science, Math and Business includes state-of-the art classrooms and laboratories, including a dedicated space for student research in physics.

If you're interested in astronomy, the Osten Observatory on Concordia's campus houses a 16-inch computer-controlled telescope with solar system and deep space cameras that allow you to view and study the planets and stars.

Concordia's physics program includes a research or internship component. All physics students have the opportunity either to develop and complete a research project with a faculty mentor, or to participate in a physics-related internship. Each spring, Concordia Nebraska hosts the Concordia University Research Symposium on campus, where you can present your personal physics research. Recent physics research projects have involved building and using sensors to analyze soil temperature and pH, modelling the motion of a pole vaulter, and measuring the temperatures of various stars.​​

What jobs can I get with a physics degree?

Because the physics program at Concordia University, Nebraska includes a broad-based liberal arts education, the careers you can get with physics degree are nearly endless. Majoring in physics will equip you with the ability to analyze complex problems and a strong quantitative background that can be applied in any technical field.

With a degree in physics, you might find a career that focuses on basic research in astrophysics, cosmology, particle physics, atomic physics, photonics or condensed matter physics, or in more applied research in areas such as renewable energy, quantum information science, materials development, biophysics or medical physics. Careers could also include teaching, medicine, law (especially intellectual property or patent law), science writing, history of science, philosophy of science, science policy, energy policy, government or management in technical fields.​​

What's the average salary for physics majors?

Your yearly salary in physics will depend on your geographic location, what area of physics you focus on, whether you teach or do research and whether you decide to pursue an advanced degree, among other factors. However, according to the Bureau of Labor Statistics, the average salary for all physics majors is $58,000.

I'm interested in teaching high school physics. Is a physics degree all I need?

To teach physics in a public and most private schools, you will need course work in the education program to become fully certified. Some private schools are willing to hire those with a physics bachelor degree directly, and you can also participate in Teach for America, VISTA or the Peace Corp with your physics B.S. to get experience communicating physics to students.

Also, there are very few high schools that offer careers teaching only physics, so increasing your teaching portfolio to include other subjects such as math, chemistry, earth science and/or computer science will make you more marketable.
Concordia Nebraska

Physics: Career Outcomes
High School Physics Teacher
Most high school science teachers have classes in not only physics, but also other types of science. It will depend on the individual school where you choose to teach. High school physics teachers instruct their students on topics like thermodynamics, fundamental parts of the physical universe and upper-level mathematics.
$39,080
Entry-Level Salary2
$59,170
Mid-Level Salary2
$95,380
Late-Level Salary2
Physicist
Physicists research everything from the most fundamental laws of nature to the practical development of devices and instruments. As a physicist, you might specialize in quantum mechanics, astrophysics, electromagnetics, particle physics or another category. Most physicists divide their time between research, teaching and writing scientific articles.
14.5%
Annual Growth Rate2
$57,430
Entry-Level Salary2
$118,830
Mid-Level Salary2
$190,540
Late-Level Salary2
Physics Professor
Physics professors teach students about matter and energy and how they interact. As a physics professor, you would likely spend time teaching and conducting your own research and experiments. You might also mentor physics students as well as grading papers and tests.
$47,630
Entry-Level Salary2
$87,340
Mid-Level Salary2
$171,920
Late-Level Salary2
Concordia Nebraska

Physics: Related Programs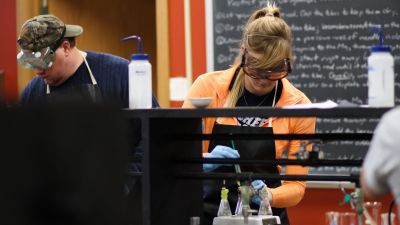 Chemistry
A degree in chemistry from Concordia University, Nebraska expands your understanding of general chemistry and gives you the practical, hands-on experience you need to continue a career in chemistry after graduation. Your classroom and chemistry lab experience will help you on your journey to use your passion for chemistry to serve in healthcare, industry, research and more.
Mathematics
Studying mathematics can help you develop basic skills such as arguing logically and rigorously, thinking abstractly, formulating and solving problems, analyzing data, and creating and analyzing mathematical models. As a math major, you will find yourself in demand by employers for careers in a wide spectrum of fields.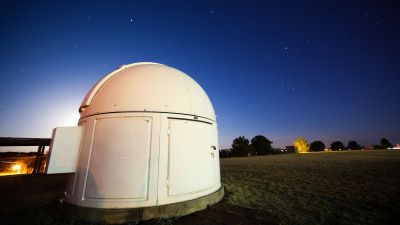 Physical Science
A degree in physical science from Concordia University, Nebraska will give you an interdisciplinary background in the physical sciences including physics, chemistry and math. Many students choose a physical science major as a broad-based education because they want to teach high school science, chemistry or physics, and a bachelor's degree in physical science can help equip you with the comprehensive physical science skills you need to educate your future students.
1 Recent graduates attending graduate school or employed within six months of graduation.
2 Career salary and wages sourced from the U.S. Bureau of Labor Statistics.