No breakpoint
Breakpoint
sm
Breakpoint
md
Breakpoint
mlg
Breakpoint
lg
Breakpoint
xl
Breakpoint
2xl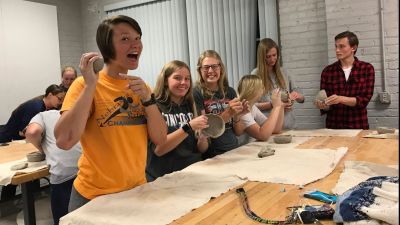 Art Club is a student-led group that functions primarily with the goal to provide an opportunity for students to come together in a community outside of the classroom setting to engage in conversation on different ideas happening in art. When we get together, we will look at artwork, gallery exhibitions, artist interviews, or films to discuss the different ideas and visuals present in the work as well as any questions we may have for each other.
One of the most important activities we do is take a trip to see artwork in gallery and museum spaces beyond the Seward/Lincoln area. It is important for us to branch outside of this area in order to see artwork in a different context than what we know in our daily lives. In addition to the trip to see galleries and museums and discussion nights, other activities include inviting visiting artists to speak, organizing a juried exhibition for members to submit their artwork to be displayed, and even screen-printing our own Art Club shirts. We also have critique nights in which students can receive feedback on their work. Because Art Club has members from all class levels, this is especially beneficial as students have the chance to engage in a dialogue about artwork with other students that they may not usually have classes with.
You can check us out on Instagram @cune_artclub and on Facebook @Concordia University, Nebraska Art Club. If you are interested in joining, feel free to email our current president Kassidy Grosserode at kassidy.grosserode@cune.org.
Meet our Faculty Advisors