What Jobs Can You Get with a Computer Science Degree?
Published by Hope Nelson 3 weeks ago on Thu, Nov 16, 2023 8:04 AM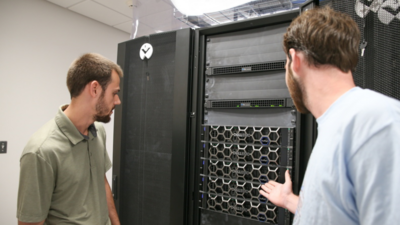 The field of computer science is one of the fastest growing in today's world. The Bureau of Labor Statistics predicts a 22 percent increase in computer science-related jobs by 2030 – and that's a significant difference from the 5.3 percent predicted for all U.S. jobs between 2021 and 2031! The skills that you will gain by pursuing a degree in computer science are transferable to a wide variety of unique and rewarding careers. At Concordia University, Nebraska, the computer science program is a foundation for students who wish to enter the field with a strong basis in problem-solving, leadership and analysis of complex issues.
Bachelor's degree programs in computer science introduce students to the basics of computer programming, software engineering, algorithms and computer systems. While many computer science graduates continue their education after college, the field is different from many others in that entry-level jobs (those that require minimal education or experience) usually offer high, competitive salaries. For example, software engineers can typically enter the field with a bachelor's degree and still expect a starting salary of nearly $90,000. Master's degrees can open opportunities for advancement and even better salaries.
Other career paths for students with a bachelor's degree in computer science include web development, data science, IT management, or computer systems analysis. With salaries ranging from $80,000 to over $160,000, these jobs are well-paid and often come with good job security. According to U.S. News, several of the most secure jobs right now are in the computer science and tech-related sector. In addition, exciting new careers such as "virtual reality developers" and "artificial intelligence engineers" are increasingly available and may define the future of the tech industry.
Furthermore, computer science can supplement work in so many sectors of the increasingly technological world. For example, if you love art and want to work on creative projects in the computer science field, you may like to become a web designer or UX (user experience) designer! Like many jobs in tech and computer science, these careers allow you to work from home and often create your own schedule. In addition, computer science can be an excellent secondary major in college if you want to go into business, information technology, management information systems, or mathematics careers. Having the skills to utilize the technology that can make work in these fields more efficient will only improve your resume.
For example, a student who has a double major in computer science and business may want to pursue a career in business analytics, where employees with a strong knowledge of both information technology and business processes serve organizations by streamlining functioning between different departments or increasing efficiency. There are jobs in computer science and technology-related fields for any type of student, whether you are creative, analytical, a skilled writer or a sports lover!
The answer to the question of "what jobs can I get with a degree in computer science?" is: a lot. Careers as they exist in the modern world are becoming increasingly tech-based, especially in the aftermath of the COVID-19 pandemic. Industries need more workers who know technology and how computers work as well as how to integrate their knowledge of computers with the duties of a career that may not be directly located in the field. Computer science is everywhere, so why not explore how you can contribute to the next generation through your technological skills?
Interested in studying computer science at Concordia? Learn more here.