The Weller Society for Leadership—a collection of the committed
Published by Danielle Luebbe 7 months ago on Tue, Apr 26, 2022 4:34 PM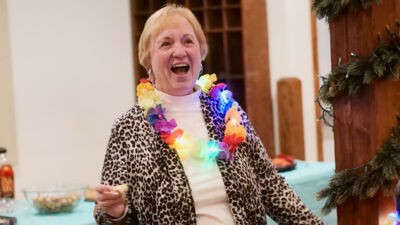 Elaine Royuk is a member of Concordia University, Nebraska's Weller Society for Leadership.
Blessed and committed. Appreciative and purposeful. If you encounter Elaine Royuk HS '59 CO '63 around Seward, you will find a person who feels tremendously blessed by her Concordia education, and someone equally determined to see generations of future students receive those same blessings.
A lifelong church worker alongside her late husband, Ron, Elaine carried a bounty of skills, relationships and experiences from Concordia into her life of ministry. In recent years, she returned to Seward in retirement where, unsurprisingly, she found part-time work in Concordia's bookstore to better keep up with campus happenings and to mix with students. Two children, Beth and Brent, serve on the faculty and a grandchild or two have been present on campus for quite a few years.
"Concordia is the backbone of our family, and a huge part of our family's faith maturity. This university means the world to me," she says. "We need more Christian graduates like the ones Concordia produces."
That sentiment is a tell-tale sign of a member of Concordia's Weller Society for Leadership, says Kindra Olson, whose role at Concordia includes oversight and leadership of this special giving society. The Weller Society could be described as a collection of the committed, of those who believe in and consistently support the mission of the institution through Concordia Fund giving. These gifts achieve two purposes: providing scholarship support for students to keep Concordia affordable and providing general fund support to empower Concordia's mission. Olson says most Weller Society members, including Royuk, share one consistent sentiment. "They are passionate about Concordia's mission and they want to make sure it continues to graduate the kind of Christian leaders today's world so desperately needs."
A mix of alumni and friends, the Weller Society exceeds 200 households, all of whom have pledged to make an annual gift of $1,500 or more to the Concordia Fund for as long as God allows them to do so. Royuk, who chooses to make a monthly recurring Weller Society gift from her checking account, trusts that Concordia is preparing students for learning, service and leadership in the church and world as much or more than ever before. "I definitely believe the university has stayed true to its mission. Now we have to keep it going," she says with determination. "I pray every single night for God to bless Concordia fiscally."
The contributions of this group are not limited to the financial realm, however. Olson, the Concordia Fund Manager for the university, explains that Weller Society members have the opportunity to contribute in other ways as well. "They give good outsider feedback about where we're going, and President Bull is good about asking for feedback." Through quarterly Presidential communications and regular opportunities for face-to-face interactions with the President at Weller Society events, members keep their respective fingers on the pulse of the university. Royuk enjoys having a front row seat to the evolving vision for the university's future. "I like how President Bull has emphasized keeping the college Christ-centered. That goal is very apparent."
Through all these interactions and commitments, Weller Society members are making an impact on Concordia. Each year, a meaningful portion of the annual fund goal can be counted upon from the current 220 member households. And that number could easily double because, as Royuk points out, there is no shortage of Concordia supporters every bit as committed as she is to sending more Concordia graduates into the world. "It's fun to see who is part of this group," she says. "There's more people, if presented with this opportunity, who would want to participate."
To learn more about participating in Concordia's Weller Society for Leadership, visit the Weller Society web page or contact Concordia Fund Manager, Kindra Olson.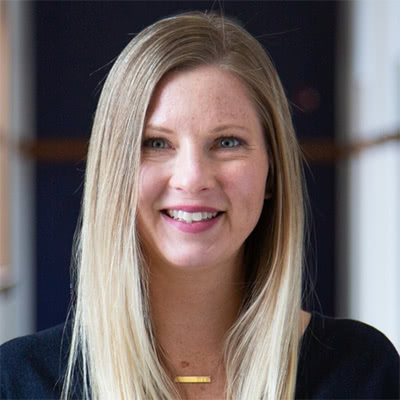 Kindra Olson
Concordia Fund Manager
Institutional Advancement and Alumni Relations