Track and field alumni Josiah and Jacy McAllister thankful for "focus on faith" at Concordia Nebraska
Published by Brooke Lange 1 month ago on Wed, Nov 1, 2023 4:09 PM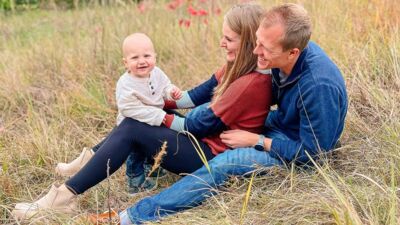 Josiah '19 and Jacy (Johnston) McAllister '19 both came to Concordia Nebraska to run track and field. Although athletics brought them to the university, they said people on campus are what made their experience at the university truly remarkable.
"Our favorite thing about our experience at Concordia was definitely the people. From the first day, it was clear that all the professors were very invested in who you are as a person," said Josiah. "Additionally, the other students we met while there have become lifelong friends. They were the bridesmaids and groomsmen in our wedding, our vacation partners, and our support system through the highs and lows life. We both really enjoyed getting the opportunity to be involved in a sport while still feeling like you could be invested in your academics."
Josiah earned a bachelor of science degree in biology with a minor in chemistry, and Jacy earned a bachelor of science in education, Lutheran Teaching Diploma, and a bachelor of arts in business administration.
"During my time at Concordia, I was fortunate enough to work with multiple faculty in the science department who helped me realize what I wanted to do. I will never forget having a conversation with Mr. Dr. Jurchen after an evening study session about careers and options after school, and how to prepare for them," said Josiah. "It was during this conversation, and many like them with Mrs. Dr. Jurchen, Dr. Callahan, Dr. Einspahr, and Dr. Huntington that not only did I learn what my purpose was, but I was encouraged to pursue that purpose of becoming a physician to serve people. There were many times where it sometimes seemed like the road ahead would be too difficult, but I could always count on their encouragement to keep my purpose in focus."
In addition to participating in track and field, Jacy also ran cross country, and convinced Josiah to join the cross country team, as well.
"I entered Concordia as an undecided major, but quickly began pursuing business and education," added Jacy. "I wasn't quite sure where my path would lead, but with the help of Dr. Langewisch, I applied and was accepted into an internship at the Federal Reserve Bank of Kansas City. While I was fully equipped by my professors to take on this career, I also encountered ways to grow as a servant leader."
About a month after graduation, the couple married and moved to Omaha, Nebraska where Josiah started Medical School at the University of Nebraska Medical Center. Jacy started a job as a bank examiner with the Federal Reserve Bank of Kansas City in their Omaha office.
"We both had the chance to focus on our faith while at Concordia. Being surrounded by fellow brothers and sisters in Christ allowed us to learn what it looks like to integrate faith into life after college," said Josiah.
The couple remained in Omaha while Josiah completed medical school. In May 2023, they moved to Salina, Kansas, where Josiah began his residency in family medicine. Jacy continues to work remotely for the Federal Reserve.
"When working with patients, I realize that so many people have emotional and spiritual needs in addition to their physical ailments," said Josiah. "From my time at Concordia Nebraska, I feel equipped to ask about those deeper issues and help when I can. It is often in these moments, the ones of serving past the physical concerns of the patient, that I find the most fulfillment in my work."
"As a bank examiner, I do a lot of work interacting with regulations, numbers, and bankers. While it is a bit of a niche career, it is one that is really helping ensure the safety and soundness of our community banks across the country," added Jacy. "At times it can be stressful, but knowing that our work is a service helps during those times. At Concordia Nebraska, I learned what it means to be a servant leader and how transferable these skills are to all our vocations in life. So whether I am helping a banker interpret a regulation on Friday or stacking blocks with my one year old on Saturday, it is done to the glory of the Lord."
The couple has one son, Myles, who is one year old. Josiah's father Bill McAllister previous served as a football coach at Concordia Nebraska and is now retired and lives in West Point, Nebraska with Josiah's mother, who continues to work as a nurse.
Outside of work, they both still enjoy running, although they are glad they don't have to do quite as much as they did while on campus.
"We enjoy lots of outdoor activities, and we spend many weekends visiting family," said Josiah. "We are fortunate to have a large garden at our new home, so gardening and eating our fresh produce has recently become a new fun activity for us We very much enjoyed our time at Concordia, and we try to come back for at least one track meet each year. It has become even more fun now as my cousin - Adrianna Rodencal - is on the track team. We enjoy following how the team is doing throughout the season. We also have especially appreciated how often we run into people who have connections to Concordia, no matter where we go."
Are you interested in learning more about track and field at Concordia Nebraska? Read more here.