Nathan Von Rentzell '14 thrives in dream job as forensic scientist
Published by Concordia University, Nebraska 2 years ago on Tue, Jan 26, 2021 11:48 AM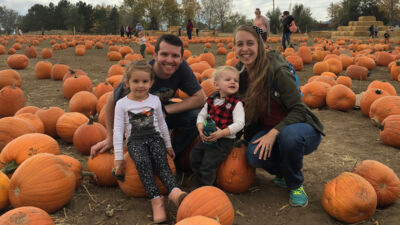 Nathan Von Rentzell '14, a Denver native, is working his dream job as a forensic scientist with the Denver Police Department Crime Lab.
Nathan Von Rentzell '14 is living his dream job as a forensic scientist with the Denver Police Department Crime Lab. Carli (Smith) Lindeman '15, a Concordia regional ambassador based in Colorado, interviewed Von Rentzell about his experiences and how Concordia helped prepare him for his vocation.
Carli Lindeman: What is a memory you have from Concordia that you think shaped you into who you are today?
Nathan Von Rentzell: I have so many memories of Concordia science experiences that shaped my life, especially those related to forensic science. However, some of my fondest memories are those of birding with Dr. Joe Gubanyi, driving all over rural eastern Nebraska. Seeing his passion for birding was both contagious and inspiring. It provided me with a new hobby, but more importantly, it demonstrated the essence and value of finding joy in science in everyday life, not just when it is career-related.

Carli: What did you major in? Did you start your dream job right after you graduated?

Nathan: I majored in biology, with an emphasis in forensic science. It took me a little over a year to land a job in the general field I wanted, and then another six months to start working my dream job.

Carli: Were there any key/life changing moments you had at Concordia that led you to where you are today?

Nathan: Practically all my interactions with Dr. Tim Huntington ("Dr. H") led to the career I have today. Entering college as a freshman, I knew that I wanted to pursue forensic science, but I didn't have a clue as to which of the many subfields (DNA, chemistry, crime scene, etc.) would be the best fit, or if I would have the proper skillset. Among other interactions, I had Dr. H for multiple forensic science classes, a biology research class (which led to an internship at a state crime lab), and I served as his lab assistant for two forensic science classes. Throughout these interactions, Dr. H. not only prepared me academically and professionally for a career in this field, but he instilled the confidence and passion that I have for this science and is the reason I pursued firearms/toolmark examination. When I map out the trajectory of my path to this career, there are so many concrete points where his influence steered me to the next point. To this day, he is still a great mentor and friend.

Carli: What are you currently doing? And where? Is this what you thought your life would like when you attended/graduated Concordia?

Nathan: I am currently working my dream job as a forensic scientist in the firearm/toolmark unit of the Denver Police Department Crime Laboratory in Denver, Colorado. Before graduating, I knew this was a competitive career path and that it may take a few years to break into the field. Thankfully, it is even better than where I expected to be at this point; as I am not only working my dream job, but it is even in my hometown in Colorado, where I had wanted to eventually end up.

Carli: Did you have a specific class/professor or experience at Concordia that made a difference in your life?

Nathan: Spoken like a typical science major, the science department staff, especially Dr. John Jurchen, Dr. Joe Gubanyi, and Dr. Tim Huntington had the greatest impact on my life. I was never passionate about chemistry, yet Dr. Jurchen's relentless energy and passion for science was so contagious that I couldn't help but feel like any scientific pursuit was an exhilarating quest (scored by John Williams)! I enjoyed all of Dr. Gubanyi's biology classes, but especially his ornithology class. His birding knowledge and related excitement drew me in and gave me the birding bug, as birding is still a main hobby of mine to this day. As mentioned previously, Dr. H. made an enormous impact on who I am today and the career I now have, and it was great to share a passion for forensic science together

Carli: What was your favorite part about attending Concordia?

Nathan: When thinking of Concordia as a whole, my favorite part about attending there is the Christian fellowship and support. Whether on the intramural sports fields, in the classroom, or just everyday college life, I always had close friends and Concordia staff who had my best interests at heart, offering me encouragement and steering me in the right direction when needed.

Carli: Do you have any other things that were about of your Concordia story that you would like to share?

Nathan: Students typically attend college during some of the most formulative years of their lives, and I am grateful for the Christian learning environment that Concordia offered. One of the greatest benefits of this environment is that it was easy to find close friends who share the same values. I am thankful for the close friends I made in college and how, even when we are separated geographically and sometimes don't regularly communicate, it doesn't take long to reconnect and pick up right where we left off, with the support and fellowship strong as ever.