Kyle Wilshusen '21 pursues vocation as a zookeeper
Published by Logan Tuttle 4 months ago on Thu, May 20, 2021 9:41 AM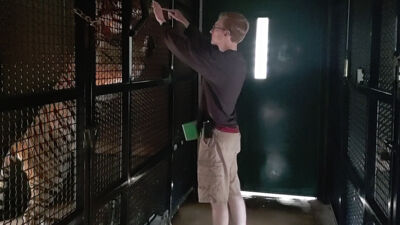 Kyle Wilshusen graduated from Concordia in May 2021 with a biology degree in minors in chemistry and physical science. After graduation, he plans to pursue a career as a zookeeper.
Tigers and lions and bobcats, penguins and puffins and toucans, oh my.
In the last two years, Kyle Wilshusen had the opportunity to work as an intern caring for big cats at Tiger Creek Animal Sanctuary in Tyler, Texas and with aquarium birds at Omaha's Henry Doorly Zoo.
"I was pretty young when I first thought that I wanted to be a zookeeper," Wilshusen, who will graduate in May with a bachelor's in biology and minors in chemistry and physical science, said. "I've always liked animals and I thought it seemed like a great way to work directly with wild animals in captivity."
In the summer of 2020, while working at Tiger Creek—a 173-acre animal sanctuary and wildlife preserve—Wilshusen worked with tigers, lions, a leopard, mountain lions, bobcats, servals and a Geoffroy's cat, as well as non-feline animals like lemurs, raccoons, red foxes, donkeys and more. The sanctuary is home to more than 40 rescued big cats and other endangered species.
"Working there was a great opportunity to gain experience in the animal care field," he said. "While it wasn't a zoo, it provided me with valuable experience working closely with big cats, small cats and many other species. My favorite part of working with big and small cats was the training. Even though I only did training for a couple of minutes every day, it was so much fun."
The summer prior, Wilshusen interned at Omaha's Henry Doorly Zoo, a place he had visited throughout his entire life that features more than 1,415 species across 162 acres of land. Starting his animal care experience at a familiar place seemed like a good fit, and it turned out to be just that. Originally, he applied to three other departments at the zoo, but he wasn't selected. He later learned that the aquarium birds department was seeking more interns, so he tried again.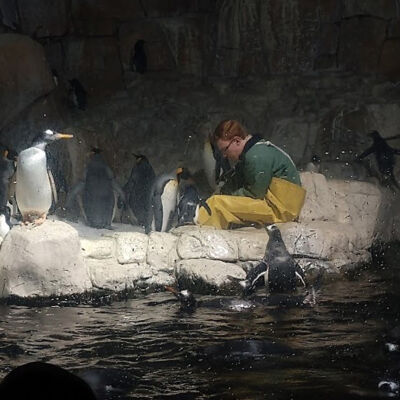 "God has a plan, and He put me where I needed to be," Wilshusen said. "My favorite part of that internship was being able to feed penguins by hand and do enrichment activities with them."
When people think about working with the types of animals Wilshusen has, either at Henry Doorly or Tiger Creek, he said there's a misconception about what the work actually entails. People will see zookeepers cleaning exhibits, feeding the animals and training them, but no one sees how much cleaning goes on behind the scenes, he said.
"Both internships were dirty, messy and smelly," he said. "They involved a lot of hard work and being on your feet for hours, but it's all worth it when you get to work directly with the animals. I absolutely loved both of my internships. I had the chance to work with some great people and make some good friends."
Learning about animal biology, in addition to his biology and chemistry classes at Concordia, has been invaluable as Wilshusen pursues his career as a zookeeper, he said. For others who are interesting in zookeeping, his advice is to apply to as many internships as possible.
"Internships provide a great experience in the field that many employers look for," he said. "If you don't get accepted right away, keep your name in the selection pool if you can, so you can be at the top of the list when there's another opening available."
After graduation, Wilshusen, who was named an outstanding biology lab assistant by Concordia's department of natural and computer sciences, said he plans on seeking a zookeeper position, or complete another internship to gain more animal care experience.