Alumnus Profile: Erin Clark found home away from home in university art department
Published by Amy Crawford 1 month ago on Wed, Nov 8, 2023 3:35 PM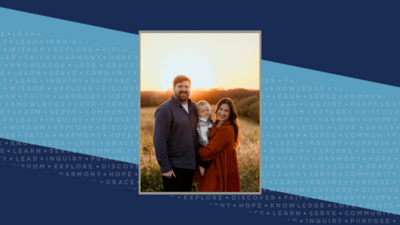 Erin Elizabeth (Wineman) Clark '14 discovered Concordia Nebraska while she was working at a summer camp in Schuyler, Nebraska. Many of the counselors attended the university and spoke highly of the people and the education offerings.
"I wasn't sure about it until I visited the amazing art department and met some incredibly caring staff and students," she said. "I immediately knew it was my home for the next few years."
Clark has a bachelor of fine arts in graphic design and minored in communications.
"Among many favorite things about my Concordia Nebraska experience was the way I felt like I was known and loved anywhere I went," she said. "It really felt like a caring family and that there was always someone who was there to encourage me, whether it be an art professor to challenge me, an resident assistant staying up way too late to listen when I had a bad day, evening prayer and praise to help calm my nerves and bring me back to what's important, or the impromptu conversations in Janzow. Definitely, one big beautiful family."
She said Concordia Nebraska professors challenged her, encouraged her and helped her find her purpose during her time on campus.
"As an art student I lived in the art building much of the time," she said. "One thing I will always look back on beyond the sheer expertise of every professor was their willingness to challenge the status quo and push us to think bigger and solve artistic problems in a unique way. It was truly so much fun. Tiring but fun!"
Clark said her time on campus helped her grow in faith and experience a variety of different things.
"I appreciated the ability to experience my faith in different ways," she explained. "While I grew up in a more contemporary environment, I appreciated the ability to attend things like evening prayer and experience pastors who were outside of my norm. It really helped my faith mature to be able to have respectful and loving conversations with people who thought differently than me rather than everyone doing and believing the exact same thing. I'm thankful I was able to have a variety of faith experiences."

During the first semester of her senior year, Clark interned with the Lincoln YMCA as a designer. Prior to graduation, they hired her as their full-time creative services director.
"I will always be thankful for Professor Soloway's portfolio class and how it taught us to button up our portfolios and prepared us for professional interviews and challenges that could come our way," she said. "I was also told by my employer that the reason I was hired was because of the way I was able to take their brand outside the box. I am so grateful my professors always challenged me to push my designs."
She now serves at KidGlov - a full-service boutique marketing, branding, and advertising agency - as senior art director and has been with the agency for almost seven years.
"When I started, I worked as a marketing specialist for a few months managing and scheduling client details. I then transitioned to graphic designer working on design projects and prepping things for production. Today as senior art director, I work on projects from the top, coming up with concepts alongside the creative team and carrying them through to design."
Her days are filled with client meetings, concepting ideas with a creative team and copywriters, managing production and freelancers and executing print and digital design as well as web and UX design.

"I'm so thankful to be working at a place like KidGlov where we use our creative expertise to help businesses and organizations around the country who are doing good in the world," she said. "I am incredibly grateful that I get to use my skills as a designer to help promote nonprofits and business who are making our communities stronger and healthier."
She is married to Kade Clark '15. Kade works as an analyst at Nelnet. They have one son, Ronin, who is one, as well as two dogs. The family loves traveling to Colorado to hike and snowboard.
"Ronin will be able to [snowboard] soon we hope!" she laughed. "We also attend local music and art events which are always paired with whatever good food we can find."
Clark has one piece of advice for college students launching into the real world: "To anyone currently beginning their career I will always say: you are not stuck, you can always use your experiences to push forward. Do things in your own unique way. You don't have to be anyone else except you. Continue to deepen relationships that make you feel loved but also the ones that challenge you. And always, always, always, pray when you're happy, sad, thankful, doubtful and everything in between!"
Are you interested in learning more about art offerings at Concordia Nebraska? Discover more here.