Theatre Scholarships
Theatre scholarships are available to students of any major who intend to participate in theatre activities (acting and/or technical/backstage) each semester during their college career. These scholarships are available to new students and are awarded before they begin attending Concordia. Students interested in a theatre scholarship must mark a performance scholarship intent (Theatre) on their application. If an application has already been submitted, the student's admissions counselor should be notified of their theatre scholarship interest.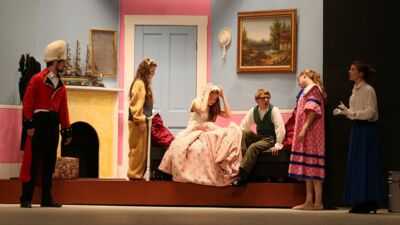 To qualify for the Preferred Performance Scholarship:
Apply to Concordia and mark a Performance Scholarship Intent in theatre on your application.
If you've already applied to Concordia, make sure you let your admissions counselor know you're interested in a theatre scholarship.
(You are welcome to share contact info for a reference (theatre teacher, director or coach), but it is not required.)
Accepting a Scholarship
If you are offered and accept a theatre scholarship, you will be required to complete a minimum number of hours in theatre activity in each semester, which can include working in any combination of: acting, technical theatre (sets/props, costume, lighting, sound, backstage, etc.), house management, marketing for productions (mainstage or one acts), regular involvement with the IMPROVables group or other activities approved by the theatre department.
(Theatre majors are eligible for a larger scholarship amount, but they also must complete more hours each semester.)
If you complete and submit your logged hours, the scholarship renews each semester for up to four years.
For questions or more information about scholarships, contact Bryan Moore.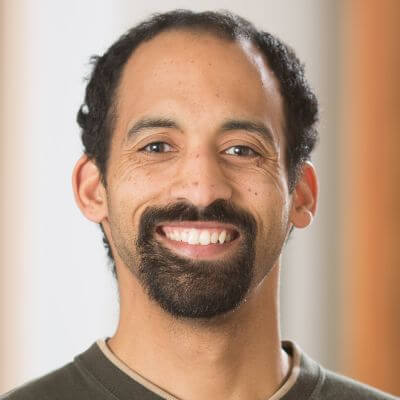 Bryan Moore
Professor of Communication & Theatre Arts
Department of English, Communication and Theatre Arts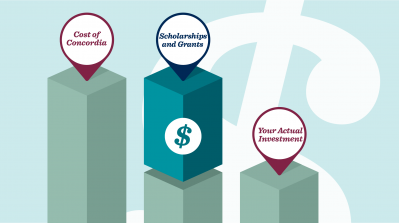 Academic and Performance Scholarships Available
There are a number of scholarships available for you at Concordia. Whether you're participating in one of our performance areas, on one of the 22 athletic teams or for your academic achievements and faith background.