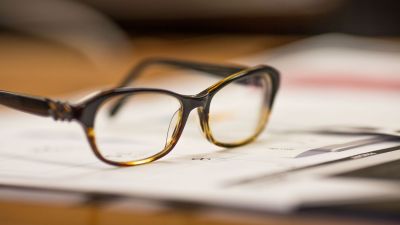 15:1
Student-to-faculty ratio
100%
Faculty with terminal degree
Humans are fairly unique in our reliance on sight as our dominant sense, which is reflected in how complicated our eyes are relative to other creatures. Human eyes have more components than most other animals, collect more information and work with our brain to figure out not only what we are seeing, but also the context of what our eyes transmit, all in a tiny fraction of a second.
If you want to make a difference in the lives of others, you won't find a better opportunity than through optometry. As an optometrist, you will focus on the structure, function and disorders of the eye, helping people regain and retain their sight. Most optometrists work in general practice, but you will also have the opportunity to specialize in contact lenses, geriatrics, low vision services, occupational vision, pediatrics, sports vision or vision therapy, if you feel called toward one area in particular. You might also choose to become an ophthalmologist, a licensed medical doctor that practices medicine and performs surgeries, or an optician, making eyeglasses, contacts and lenses and helping fit them to patients.
As part of the pre-optometry program at Concordia University, Nebraska, you will take courses in anatomy, chemistry and physiology, as well as health and wellness classes that will help prepare you to continue your education to become an optometrist. At Concordia, you have the opportunity to work with local hospitals, clinics and optometry offices in hands-on internships and volunteer experiences. Our state-of-the-art science facilities allow you the workspace you need to become proficient in laboratory procedures and scientific principles, so you can be prepared to earn your graduate degree and ultimately find a career in optometry.
Concordia Nebraska

Pre-Optometry: Learning Objectives

Students in the pre-optometry program at Concordia University, Nebraska will be able to perform routine laboratory procedures accurately.

Students will learn to communicate effectively, both orally and in writing.

Students will be able to problem-solve, troubleshoot and interpret scientific results and use statistical approaches when evaluating data.

Students will be able to operate and maintain laboratory equipment, utilizing appropriate quality control and safety procedures.
Concordia Nebraska

Pre-Optometry: Career Outcomes
Optometrist
An optometrist is an eye doctor who examines eyes for both vision and health problems. As an optometrist, you would prescribe eyeglasses and contact lenses, provide your patients with vision therapy and help treat eye problems and certain eye diseases.
$57,480
Entry-Level Salary2
$111,790
Mid-Level Salary2
$188,160
Late-Level Salary2
Ophthalmologist
An ophthalmologist is a medical doctor who specializes in eye and vision care. As an ophthalmologist, you would perform eye exams, diagnose and treat eye diseases, prescribe medications and perform eye surgery.
$80,990
Entry-Level Salary2
$111,790
Mid-Level Salary2
$208,000
Late-Level Salary2
Optician
Opticians are an important part of your eye care team. As an optician, you would fit and sell eyeglasses or contact lenses prescribed by an optometrist or ophthalmologist.
$57,480
Entry-Level Salary2
$111,790
Mid-Level Salary2
$208,000
Late-Level Salary2
Concordia Nebraska

Pre-Optometry: Related Programs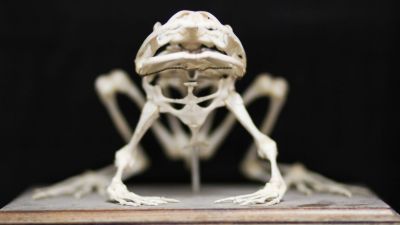 Biology
With a degree in biology from Concordia Nebraska, you will be prepared to begin a career in the biological sciences right away, or to continue your education in graduate, medical, dental or veterinary school. As a biology major at Concordia, you learn essential skills such as time management and mastering complex material, as well as studying more in-depth topics such as microbiology, human anatomy and immunology to give you the knowledge you need to be successful in the field of biology.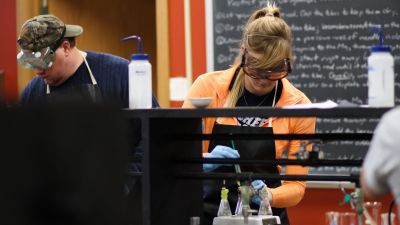 Chemistry
A degree in chemistry from Concordia University, Nebraska expands your understanding of general chemistry and gives you the practical, hands-on experience you need to continue a career in chemistry after graduation. Your classroom and chemistry lab experience will help you on your journey to use your passion for chemistry to serve in healthcare, industry, research and more.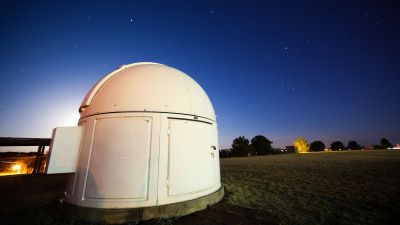 Physical Science
A degree in physical science from Concordia University, Nebraska will give you an interdisciplinary background in the physical sciences including physics, chemistry and math. Many students choose a physical science major as a broad-based education because they want to teach high school science, chemistry or physics, and a bachelor's degree in physical science can help equip you with the comprehensive physical science skills you need to educate your future students.
1 Recent graduates attending graduate school or employed within six months of graduation.
2 Career salary and wages sourced from the U.S. Bureau of Labor Statistics.