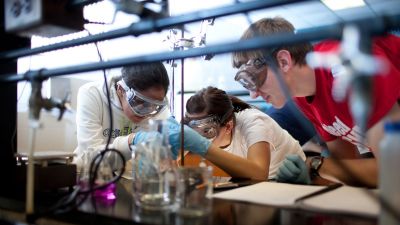 15:1
Student-to-faculty ratio
100%
Faculty with terminal degree
Few career paths require such relentless tests of resolve and commitment as the path to becoming a doctor. However, those who feel the call to become physicians will be needed more than ever as our population increases and ages. As a physician, you will use science and technology to diagnose and care for patients of all ages who are ill or have been injured. You will work to keep people healthy and heal them when they aren't. Being a doctor takes knowledge and empathy. As Christians, it is our responsibility to care for the physical and spiritual needs of others.
At Concordia University, Nebraska, you will receive a liberal arts background in chemistry, biology and the physical sciences that you'll need in order to succeed in medical school. As a pre-med student at Concordia, you'll get hands-on lab experiences, cadaver dissection and mentoring from expert science faculty. You'll also have the opportunity to intern and job-shadow with local physicians.
Concordia Nebraska's pre-med program can help prepare you for the rigorous standards of medical school admissions, as well as helping you work through the application process and MCAT test preparation and making sure you have the academic preparation and experience necessary to get into your choice of med school and, eventually, career.
If you are passionate about becoming a doctor, Concordia Nebraska's pre-med program can help you achieve your goals to empower patients to take control of their health, play a critical role in a fast-growing field and save lives.
Resource Articles
Concordia Nebraska

Pre-Medical: Learning Objectives

Students in the pre-medical program at Concordia University, Nebraska will be able to apply foundational concepts in general education to health-related topics.

Students will demonstrate knowledge of different scientific disciplines.

Students will learn to use general, scientific and technical knowledge effectively.

Students will demonstrate interpersonal and communication skills in both written and oral form.
Concordia Nebraska

Pre-Medical: Career Outcomes
Physician
Physicians prevent, diagnose and treat various diseases in order to improve their patients' overall health. You might choose to become a general practice physician (or family physician) able to diagnose and treat general illnesses, working in private practice or a hospital or clinic. Or, you might choose to become a specialist, diagnosing and treating specific illnesses and health issues related to your area of expertise, such as cardiology, pneumology, radiology or oncology. You might also choose to pursue a career as a surgeon or doing research.
$88,227
Entry-Level Salary2
$181,189
Mid-Level Salary2
$208,000
Late-Level Salary2
Physician Assistant
Physician assistants are healthcare professionals who practice medicine with the supervision of licensed physicians, providing patients with services ranging from primary care to very specialized surgical care. As a physician assistant, you would work closely with a doctor, perform physical examinations, diagnose illnesses, assist in surgical operations and perform various medical procedures.
$69,120
Entry-Level Salary2
$108,610
Mid-Level Salary2
$151,850
Late-Level Salary2
Anesthesiologist
Anesthesiologists give patients medication so they don't feel pain when they are undergoing surgery. As an anesthesiologist, you would be responsible for making a plan of anesthesia for each individual patient, whether that means administering a local anesthetic, sedating a patient or administering general anesthesia. You would also monitor the patient during surgery, controlling heart rate and rhythm, breathing, blood pressure, body temperature and fluid balance, as well as managing the patient's level of pain.
$275,032
Entry-Level Salary2
$369,364
Mid-Level Salary2
$473,701
Late-Level Salary2
Concordia Nebraska

Pre-Medical: Related Programs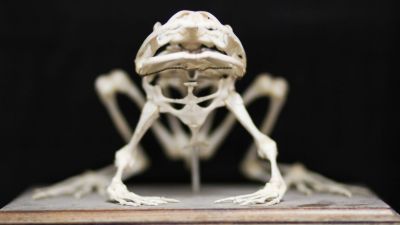 Biology
With a degree in biology from Concordia Nebraska, you will be prepared to begin a career in the biological sciences right away, or to continue your education in graduate, medical, dental or veterinary school. As a biology major at Concordia, you learn essential skills such as time management and mastering complex material, as well as studying more in-depth topics such as microbiology, human anatomy and immunology to give you the knowledge you need to be successful in the field of biology.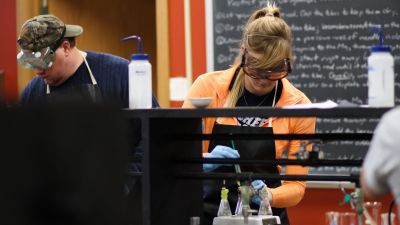 Chemistry
A degree in chemistry from Concordia University, Nebraska expands your understanding of general chemistry and gives you the practical, hands-on experience you need to continue a career in chemistry after graduation. Your classroom and chemistry lab experience will help you on your journey to use your passion for chemistry to serve in healthcare, industry, research and more.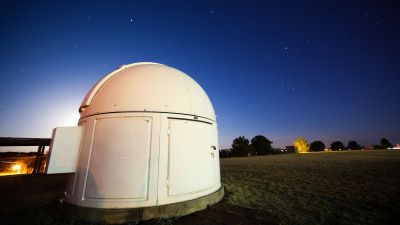 Physical Science
A degree in physical science from Concordia University, Nebraska will give you an interdisciplinary background in the physical sciences including physics, chemistry and math. Many students choose a physical science major as a broad-based education because they want to teach high school science, chemistry or physics, and a bachelor's degree in physical science can help equip you with the comprehensive physical science skills you need to educate your future students.
1 Recent graduates attending graduate school or employed within six months of graduation.
2 Career salary and wages sourced from the U.S. Bureau of Labor Statistics.