In-demand Teaching Credentials and How They Help Your Career
Published by Concordia University, Nebraska 1 year ago on Wed, Feb 16, 2022 9:33 AM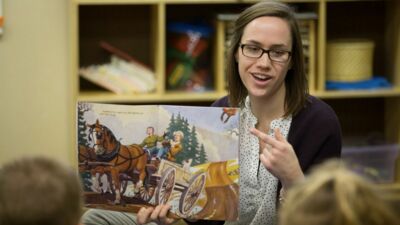 Expand Your Reach With These Teaching Endorsements and Degrees
Nearly 70 million—that's how many new teachers the world would need by 2030 to provide quality universal education, according to UNESCO's most recent report. Since that report in 2016, teachers and students alike have grappled with the effects of the COVID-19 pandemic. UNESCO estimates that, because of school closures and other issues, millions of learners will fall behind in critical skills such as reading. That means the number of teachers needed around the globe will only continue to grow, particularly for those with specialized teaching credentials.
If you're passionate about serving diverse learners and want to fill a need in our education system, a teaching endorsement or Master of Education (M.Ed.) degree may be for you. Whether you want to create inclusive environments for learners with disabilities or teach crucial skills in reading or STEM, countless opportunities are available to do so. We'll share some options in teaching endorsements for some of the most highly needed jobs to help you discover new opportunities for living out your calling in education.
Teaching Credentials in Technology: Instructional Technology Leadership Teaching Endorsement
Even before classrooms went virtual during the COVID-19 pandemic, the need for tech-savvy educators was growing. An instructional technology leadership (ITL) teaching endorsement prepares you to use technology to improve student learning. The instructional technologies available for today's classrooms range from smartboards and tablets to digital games and virtual simulations. These technologies allow you to create engaging learning experiences that resonate with tech-forward students and challenge young minds in new ways.
At Concordia University, Nebraska, our teacher credentialing program in ITL explores theoretical concepts, pedagogy and the technological tools themselves. In 15 credits, you'll learn best practices for integrating technology into the K–12 classroom; why differentiating instruction improves student achievement; how to use technology for assessment; ways to build an effective online classroom and more. This online teaching credential is part of the lowest-priced M.Ed. in Nebraska and the Concordia University System. Like our other teaching credentials, the instructional technology leadership endorsement also offers a faith-based community that prepares educators to live out their values in the classroom.
Teaching Credentials in ESOL: M.Ed. TESOL or ESL Teaching Endorsement
Like instructional technology leadership, English as a Second Language is another high-need area in almost every state. In Nebraska, schools need educators who can teach English language learners in every grade and age group, according to the U.S. Department of Education's Teacher Shortage Area reports. This need is largely due to the growing number of students who are learning English as a second language. In fact, according to Education Week, the "English learner population has surged [in K–12 schools] since 2000," now up to 4.9 million children in the United States.
This increase provides considerable opportunities for educators who enjoy working with diverse groups of learners. Whether you want to teach in the United States or abroad, completing an M.Ed. in TESOL or ESL credentialing program is the first step to connecting with learners whose first language isn't English. In programs like the ESL teaching endorsement at Concordia Nebraska, you'll cover exciting topics such as culture, linguistics, language comprehension and theory. You'll learn both theory and skills that are crucial for working with ESL learners.
The M.Ed. in TESOL is open to students who hold bachelor's degrees in education and includes the course work required for endorsement in ESL. The ESL teaching endorsement is an online teaching credential for students who already hold an M.Ed. or who are completing an M.Ed. in Curriculum and Instruction at Concordia.
Multiple-Subject Teaching Credentials: M.Ed. in STEAM
The STEM field is growing, and we're in more need than ever of teachers who can prepare the next generation of prospective employees in the science, technology, engineering and mathematics fields. In Nebraska, for example, science and math teachers are in demand at every grade from Pre-K–12, according to Teaching Shortage Area reports.
If you're a mathematically or scientifically inclined educator, an M.Ed. in STEAM—science, technology, engineering, arts and mathematics—is one multiple-subject teaching credential that sets you apart in your field. Many schools offer salary increases for earning a master's degree or specialized teaching endorsement, and a graduate-level certification in STEAM may fulfill that requirement, depending on your school's structure.
While many teacher credentialing programs in this concentration focus exclusively on STEM, Concordia Nebraska integrates the arts into this emphasis area. Our M.Ed. in Curriculum and Instruction with a STEAM teaching credential offers rigorous study in teaching engineering and the arts in addition to math and science. This better prepares teachers to provide their students with a more holistic education. If you're looking for a multiple-subject teaching credential with a promising job outlook, consider a STEAM program to expand your teaching skill set. It may also lead to a leadership role—those who hold an M.Ed. in Curriculum and Instruction can become instructional designers and pioneer changes to curricula at their school.
Teacher Credentialing Programs in Special Education
Like ESL and ITL, special education is a high-need teaching area in almost every state, according to Teaching Shortage Area reports. About 14% of all public school students receive special education in the United States, according to the National Center for Education Statistics. In Nebraska, 16% of students use special education services, reports the Nebraska Department of Education.
Special education teaching endorsements—whether an online teaching credential or in-person teacher credentialing program—are for educators who want to specialize in working with students who have cognitive, learning, developmental or other disabilities. Many educators specialize in this area to improve their teaching for all students and make a bigger difference in their current schools.
Credentialing requirements for special education instructors vary by state. For special education teaching certification in Nebraska, you must complete 42 credits in special education graduate courses for K–6 or 7–12 learners. Or, you could choose the full K–12 teaching endorsement in just a few more courses.
Concordia Nebraska's online teaching credential in special education centers on building inclusive environments for all learners. Our endorsement program leads to special education teaching certification in Nebraska, but many of our students successfully transfer that certification to other states. The program includes learning about current issues and legal aspects of special education, behavior management, instructional methods, assessment and more. If you're looking to widen your impact at your school and connect with new learners, special education teaching credentials are worth considering.
Affordable Teaching Certification in Nebraska and Online
These teaching credentials are just a start when it comes to those that are in high demand throughout the United States — and globally. Early childhood education teachers, reading specialists and trauma-informed educators are also all increasingly in need, as are teachers with other multiple-subject teaching credentials.
At Concordia Nebraska, we pride ourselves on providing you with the skills you need to thrive as an educational leader—now and in the future. We offer some of the lowest-priced teaching certifications in Nebraska and online teaching credentials that you can complete from the comfort of your own home, on your schedule.
Whether you want to help bridge the language gap for English language learners or create an environment in which every learner can grow regardless of ability, Concordia Nebraska will prepare you to do so in a faith-based community that values the individual. Join one of our teacher credentialing programs or earn your teaching certification in Nebraska at Concordia. We'll help you grow as a teacher-leader and person of God.