M.Ed.

TESOL (Teaching English to Speakers of Other Languages)
Earning an M.Ed. in TESOL (Teaching English to Speakers of Other Languages) from University, Nebraska equips you with the knowledge to understand the foundations of second-language learning and how to effectively assess students' abilities and develop methods for intervention and learning assistance.
With an online M.Ed. in TESOL, you will:
Have the skills to design and develop meaningful ESL curriculum and teach reading and writing skills that support overall learning.
Unlock real-world experience during a 45-hour practicum that pairs you with one or more PreK–12 ESL students in your own classroom or area school.
Be equipped to teach K–12 students and adult learners in both the United States and international contexts.
$340*
PER credit hour
for Nebraska Residents & Lutheran Educators
$425
PER credit hour
Outside of Nebraska
Class Type
100% Online, 8-week courses
18-24 Months
Time to Degree
Transform Healthcare as a Faith-Focused Servant Leader
Earn your M.Ed. with Value(s)
Start your journey today by filling out this quick form and one of our enrollment counselors will be in touch soon.
Program Highlights
WHY CHOOSE CONCORDIA FOR AN M.ED. IN TESOL?
With an online graduate degree in TESOL (Teaching English to Speakers of Other Languages) from Concordia University, you'll find a distinctive blend of faith-based training and real-world experience, and:
Understand and support struggling students with teaching methods and practices that reflect Christ's light and prepare kids for a future of success.
Choose an emphasis area or teaching endorsement that fits your unique interests or needs in the classroom, including reading specialist or ESL endorsements.

M.Ed. TESOL with ESL Endorsement (30 hours)
ESL Endorsement (15 hours + 45-hour practicum)

Concordia's M.Ed. in TESOL meets both Nebraska's English Second Language Endorsement and TESOL International Association standards.
MEET OUR EXPERT FACULTY
Learn from education experts who bring faith, years of experience and specialized knowledge to the classroom.
MEET OUR STUDENTS
Valerie E.
I had a very positive experience and I feel prepared for my job as an ELL teacher. I have already used and will continue to use many of the materials that I learned about in the classroom.
RSVP to one of our next information sessions
Information Sessions
Learn more about our programs at one of our next information sessions.
You may register for an information session by clicking "RSVP" next to your desired date and time.
Information sessions run approximately 20 minutes. During these meetings, we will discuss the program formats, application process, financial aid, payment plans and questions that you may have.
Accreditation
Concordia's online Master's degree in TESOL is accredited by the Council for the Accreditation of Educator Preparation (CAEP).
LEARN MORE ABOUT ACCREDITATION
Degree Goals
A TESOL graduate from Concordia University, Nebraska will be able to: 
Exercise an understanding of language as a system.
Support English language learners (ELLs) as they acquire English language and literacy.
Understand major TESOL concepts, principles, theories and research.
Understand the nature and role of culture in literacy and language.
Create effective learning environments for speakers of other languages.
Career Outcomes
ESL TEACHER / INSTRUCTOR
Teach ESL to students from grades PK-12 in a school, district, education unit, or outside the school setting in refugee/immigrant centers, afterschool programs, etc.
ESL COACH / CURRICULUM DEVELOPER
Design and/or develop ESL programs, materials, activities strategies, and more to support schools, churches, government programs, community programs, etc.
ADULT ESL TEACHER / COORDINATOR
Teach ESL to adults in a variety of potential settings, including community colleges, universities, or refugee/immigrant programs.
OVERSEAS / INTERNATIONAL ESL INSTRUCTOR
Teach ESL to children and/or adults overseas in schools and universities, or internationally as an EFL (English as a Foreign Language) instructor.
FAQs
What can I do with a TESOL degree?

After earning your degree in TESOL online, you can pursue a variety of careers that involve teaching English to speakers of other languages. One possible career path is to be an ESL teacher. You can also teach English as a foreign language in an international setting. You can teach English to adults who need language skills for a job in the U.S. The skills you gain through the program can also be applied in a job at an immigration or refugee center.
Does the TESOL program require a practicum?

This program requires 45 valuable hours of practicum experience, working with students whose first language is other than English.
Is TESOL the right career path for me?

If you have a passion for empowering every learner to succeed and wish to share that passion to those whose first language is other than English, then pursuing a career in TESOL may be right for you. The career path can be rewarding as you work with students and become part of their community, whether you are teaching in the states or internationally. Teaching English can help you analyze language and interact with people from a wide variety of cultural backgrounds.
Related Articles
Related Programs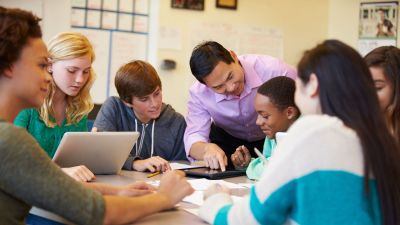 M.Ed. Curriculum & Instruction
The Master's of Education in Curriculum and Instruction online helps you become a forward-thinking curriculum coordinator or teacher leader.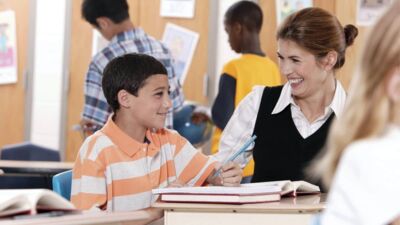 Trauma and Resilience Certificate
This graduate-level trauma and resilience certificate will prepare you with expertise in trauma-informed approaches to your teaching so you can support prevention, resilience and recovery among your students. Develop a fundamental understanding of the impact trauma and stress have on learning; the social, emotional and physical development of students; and the role resilience plays in creating positive future health outcomes.
*Discounted rate does not apply to course-only options.