M.Ed.

Literacy/Reading/ESL
Earning an M.Ed. in Literacy/Reading/ESL from Concordia University, Nebraska equips you with the knowledge you need to empower your classroom and instill a lifelong love of reading and writing in your students.
With an online M.Ed. in Literacy/Reading/ESL, you will:
Enhance your teaching skills and equip you to encourage and support your students' successful learning of reading and writing.
Understand the psychological foundations of youth language and literacy development.
Learn how to effectively assess students' abilities and develop methods for intervention and learning assistance.
Have the option to focus your studies on an area that fits your passions with a reading specialist endorsement or ESL endorsement.
$340*
PER credit hour
for Nebraska Residents & Lutheran Educators
$425
PER credit hour
Outside of Nebraska
Class Type
100% Online, 8-week courses
24-30 Months
Time to Degree
Equip Students with the Tools They Need to Master Reading and Writing
Earn your M.Ed. with Value(s)
Start your journey today by filling out this quick form and one of our enrollment counselors will be in touch soon.
Program Highlights
WHY CHOOSE CONCORDIA FOR AN M.ED. IN LITERACY/READING/ESL?
With a Master of Education degree in Literacy/Reading/ESL from Concordia University, you'll find a distinctive blend of faith-based training and real-world experience. You'll also:
Understand and support struggling students with teaching methods and practices that reflect Christ's light and prepare kids for a future of success.
Choose an emphasis area and teaching endorsement that fits your unique interests or needs in the classroom, including reading specialist or ESL endorsements.

M.Ed. Literacy Emphasis with Reading Specialist Endorsement (33 hours)
M.Ed. Literacy Emphasis with Reading Specialist & ESL Endorsements (48 hours)
Reading Specialist Endorsement (30 hours)
ESL Endorsement (15 hours + 45-hour practicum)
MEET OUR EXPERT FACULTY
Learn from education experts who bring faith, years of experience and specialized knowledge to the classroom.
MEET OUR STUDENTS
Lauren H.
I entered this program feeling like I had no idea how to best meet the needs of my most struggling readers. This program was exactly what it says it is. I have gained tools, strategies, assessments, and more that I can take into the classroom and help my students become better readers from whatever point they are starting at.
RSVP to one of our next information sessions
Information Sessions
Learn more about our programs at one of our next information sessions.
You may register for an information session by clicking "RSVP" next to your desired date and time.
Information sessions run approximately 20 minutes. During these meetings, we will discuss the program formats, application process, financial aid, payment plans and questions that you may have.
Accreditation
Concordia's online master's degree in Literacy/Reading/ESL is accredited by the Council for the Accreditation of Educator Preparation (CAEP).
LEARN MORE ABOUT ACCREDITATION
Degree Goals
A Literacy/Reading/ESL graduate from Concordia University, Nebraska will be able to: 
Understand the psychological, sociological and linguistic theoretical base of literacy education.
Effectively teach writing to PK–12 students.
Assess and design learning strategies for students with literacy difficulties and from varying backgrounds.
Develop, plan and implement case studies to help children with special needs.
Career Outcomes
READING SPECIALIST
Help students who may be struggling with reading and writing to accomplish their academic goals by supporting the improvement of their literacy skills.
Evaluate and assess students, learning styles, curriculum planning, and intervention methods.
READING COACH
Create individualized improvement plans and work one-on-one with students who may be struggling with reading and writing.
Offer guidance and counseling to educators by teaching assessment and intervention skills, creating teaching materials and facilitating professional development.
READING CURRICULUM SPECIALIST
Lead the design and development of literacy curriculum within a school or across a school district.
Help advance curriculum content and improve the overall effectiveness of instruction in schools.
READING CONSULTANT
Work with schools, teachers, and parents to provide support for students struggling with reading and writing.
Work as an independent consultant to coach students and/or support their classroom learning.
FAQs
What can I do with a literacy/reading/ESL degree?

You can pursue a variety of careers within education. You can become a reading specialist, reading coach or reading curriculum specialist, or you can help students from varying backgrounds learn the English language. The degree also gives you the skills to teach adult students English to help them prepare for further education to get a job.

Is there a practicum required for this program?

Depending on which path you take for this program, you will need to complete a three-credit field-based case study that includes documented student interaction, evaluation and intervention. Adding the ESL endorsement will include a practicum devoted to working specifically with students who are learning English as their second language.
Is literacy/reading/ESL the right career path for me?

A career in literacy/reading/ESL may be right for you if you enjoy the written word and helping students develop their reading and writing skills so that they can achieve their goals.

As the field requires the assessment of student abilities and being able to adapt lesson plans to suit their needs, you should have analytical and problem-solving skills. If you also like teaching English to people whose first language is not English, then a career in ESL after earning your ESL/ELL Endorsement may be ideal for you.
How does this program stand out against others?

Concordia's online M.Ed. in literacy/reading/ESL has received accolades from BestColleges.com as one of the top 25 best online master's in reading and literacy programs in 2019.
Related Articles
Related Programs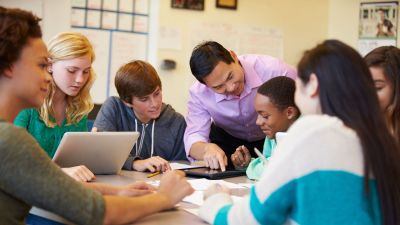 M.Ed. Curriculum & Instruction
The Master's of Education in Curriculum and Instruction online helps you become a forward-thinking curriculum coordinator or teacher leader.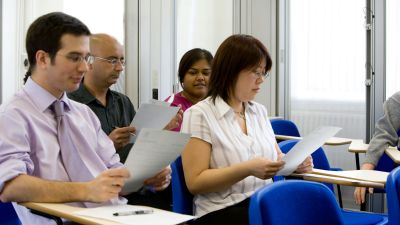 TESOL (Teaching English to Speakers of Other Languages)
Acquire the in-depth knowledge and real-world preparation to effectively teach English language and literacy with the master's in TESOL online (M.Ed.).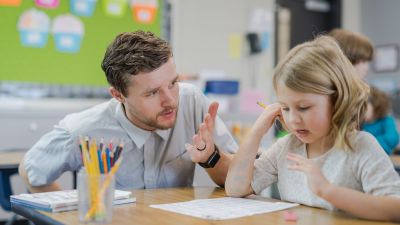 Early Childhood Special Education
Our early childhood special education master's program equips you with the knowledge and skills needed to design, implement and assess learning experiences in an early childhood special education (birth through kindergarten) classroom. As a teacher or other professional who understands disabilities, you have the opportunity to work closely with students with diverse developmental needs and help them establish a firm educational foundation filled with unique potential.
*Discounted rate does not apply to course-only options.