No breakpoint
Breakpoint
sm
Breakpoint
md
Breakpoint
mlg
Breakpoint
lg
Breakpoint
xl
Breakpoint
2xl
Educational Administration Courses
The following sample course of study is an example of the sequence of courses you might take in order to receive your degree. Please plan to discuss your actual course of study with your advisor, who can help you stay on track to meet your academic and professional goals.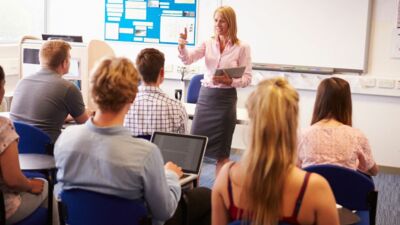 Introduction to School Administration
An introduction to philosophy and practice of school administration. With the help of a mentor from their building, candidates will begin to gain administrative experiences to fulfill their 250 hours of practicum work. Practicum procedures are explained in the initial class and are compiled throughout the entirety of the program. Practicum hours may vary from state to state so candidates need to check with their state department of education.
3


credits
Ethics for School Leadership
Principles and practices of ethics for school administrators. Focus on ethical leadership to promote the success of every student and foster ethical and responsible behavior within the school community.
3


credits
Curriculum Design and Evaluation
This course will begin with a review of major educational philosophies and their respective approaches to curriculum development. The focus of the course will include basic principles and practices in the curriculum planning and development cycle; aligning standards to curriculum; issues surrounding curriculum design and implementation, and the link between curriculum, instruction, and evaluation for an elementary, middle or secondary school. Theory will be linked to real-life problems utilizing a variety of active learning exercises.
3


credits
Processes in Elementary and Secondary School Administration
This course deals with processes in educational administration with emphasis on learning about administrative organization and the role of the principal in leadership, teaching, and management responsibilities in the elementary, middle or secondary school.
3


credits
School Resource Management
An examination of the principles of planning and administering school resources including fiscal, human and physical resources.
3


credits
Supervision of Instruction
The candidate will study modern theories of supervision of instruction; their purpose, methods, and participants. Special emphasis on the role that both teacher and administrator play in the process of supervision in an elementary, middle or secondary school.
3


credits
School Law
A survey of the principles and practices of school law and their effect on the administrator and classroom teacher. Topics will include education as a state function, separation of church and state, discipline and corporal punishment, tort liability, contracts, and educator protection against lawsuits.
3


credits
School Community Relations
An examination of how to manage the marketing and public relations functions of the school in order to facilitate open communication with all community partners.
3


credits
School Improvement Processes
An examination of various school improvement processes to include collaborative visioning, data driven decision making, continuous sustainable improvement models and transformational change at the building level.
3


credits
Special Education Supervision
School leadership to meet the needs of students in special education. Focus on special education laws and current issues, students with exceptionalities and services for them, role of leadership in special education, working with families, and inclusion of students with exceptionalities into the regular classroom.
3


credits
Research Evaluation and Design
This course emphasizes the development of skills in qualitative and quantitative research methods, and the evaluation of various forms of existing information, with emphasis on the ability to relate this information to personal professional practice
3


credits
Serving and Leading in Community and World
This course provides an in-depth examination of vocation, professional and organizational development and the ways educators, building on their personal beliefs and values, enact authentic service and leadership in a variety of contexts. Using the framework of evangelical Lutheran Christianity, participants explore, analyze and clarify, and apply vocation to their community and to the world.
3


credits
Portfolio Review
The Educational Administration Practicum Portfolio is reviewed at the end of the program to ensure that the evidence for 250 practicum hours and other end-of-program requirements have been submitted and evaluated for program completion. Student must be enrolled in this course simultaneously with the final course in the program to ensure field experience hours are met for graduation.
0


credits