M.Ed.

Early Childhood Education
As a student at Concordia University, Nebraska studying Early Childhood Education, you will gain an in depth knowledge to increase your pedagogy and leadership skills. These skills will enable you to positively impact young children and their learning.
When you choose Concordia for your M.Ed. in Early Childhood Education, you will:
Learn innovative educational theory and instructional techniques through curriculum that explores current research and modern issues in teaching.
Be prepared to step into the role of an accomplished teacher and mentor.
Learn from expert veteran educators who deliver relevant, real-world experiences.
Earn your master's from a university that intentionally intersects Christian faith, life experience and academics to help you grow as a whole person.
Receive guidance with finding the perfect opportunity to complete your 45 hours of direct field experience.
$340*
PER credit hour
for Nebraska Residents & Lutheran Educators
$425
PER credit hour
Outside of Nebraska
Class Type
100% Online, 8-week courses
Get more info and start your Early Childhood Education journey today!
Earn your M.Ed. with Value(s)
Start your journey today by filling out this quick form and one of our enrollment counselors will be in touch soon.
Program Highlights
WHY STUDY Early childhood education AT CONCORDIA?
With a degree in Early Childhood Education from Concordia University, you'll find a distinctive blend of faith-based instruction and real-world, hands-on experience, including:
This graduate degree program consists of five hours of teaching and five hours of observation. During this program, you will learn how to educate students with disabilities and also have the opportunity to observe different courses.
Developmentally appropriate practices to support children birth through third grade and their families.
Early Childhood Education endorsement options. If you have already earned a master's in education degree from Concordia Nebraska, you can earn the Early Childhood Endorsement or one of our many additional teaching endorsements.
TEACH Grant eligibility. Students who meet requirements for the TEACH Grant may be able to apply grant funds to the Master of Education in the early childhood education program.
MEET OUR EXPERT FACULTY
Learn from experts in special education who bring faith, years of experience and specialized knowledge to the classroom.
RSVP to one of our next information sessions
Information Sessions
Learn more about our programs at one of our next information sessions.
You may register for an information session by clicking "RSVP" next to your desired date and time.
Information sessions run approximately 20 minutes. During these meetings, we will discuss the program formats, application process, financial aid, payment plans and questions that you may have.
Accreditation
Concordia's online degree in Early Childhood Education conforms to the standards prescribed by the National Association for the Education of Young Children and is accredited by the National Council for Accreditation of Teacher Education (NCATE).
Concordia is also accredited by the Higher Learning Commission, a regional accreditation agency recognized by the U.S. Department of Education. 
LEARN MORE ABOUT ACCREDITATION
Requirements
No teaching certificate or GRE required; students with current elementary teaching certificates may add the ECE endorsement to their degree.
Degree Goals
Earning an M.Ed. in Early Childhood Education equips you with the skills, knowledge, and experience you need to become an accomplished teacher who provides young children with the best start in their education.
An Early Childhood Education graduate from Concordia University, Nebraska will be able to: 
Understand and process current research and issues in early childhood education.
Commit to professional standards within the early childhood education profession.
Establish and maintain inclusive environments that ensure children's safety and their healthy development.
Develop positive, supportive relationships with children, families and communities while incorporating diversity and differences based on race, gender, socioeconomic status, language, spiritual development and special needs.
Demonstrate an advanced understanding of child development, the ability to implement appropriate curriculum activities, and techniques for appropriate learning assessment.
FAQs
What can I do with an early childhood education degree?

An early childhood education degree prepares you with the advanced knowledge, skills, and dispositions needed to promote learning in all young children. Schools, social service agencies, health care systems, institutions of higher education, and governmental agencies across the United States and Internationally are investing in well trained early childhood educators which allows you to earn wages commensurate to your advanced qualifications.

With an online master's in early childhood education, you can apply your advanced expertise to a number of teaching and leadership careers including PreK-3rd grade teacher, professor, family support specialist, consultant, mentor, researcher, and program administrator. You will also be prepared for continued studies in a doctoral program.
Is an early childhood education internship required?

Through the program, you will complete a total of 45 hours of a required practicum experience. The practicum will give you valuable experience within the field and the classroom environment. Depending on where you reside, there may be many early childhood education practicum opportunities available close to you.

Is early childhood education the right career path for me?

Depending on your early childhood education career path, you may teach young children language, motor and social skills or fundamental knowledge in basic subjects like reading, writing and math. If you enjoy making a positive impact on the lives of young children and transforming them into lovers of learning, then early childhood education may be the right career path for you.
Related Programs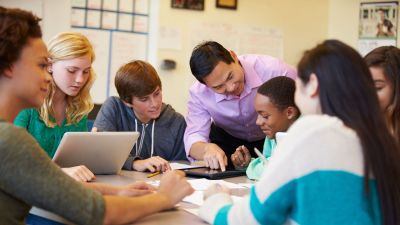 M.Ed. Curriculum & Instruction
The Master's of Education in Curriculum and Instruction online helps you become a forward-thinking curriculum coordinator or teacher leader.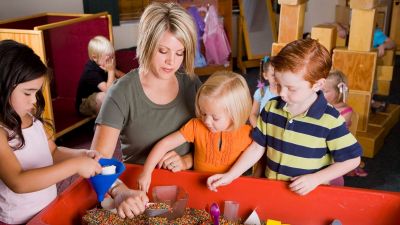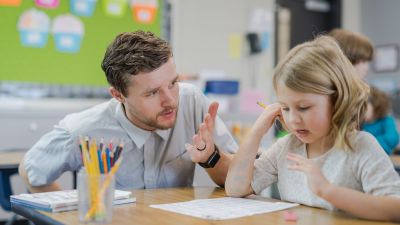 Early Childhood Special Education
Our early childhood special education master's program equips you with the knowledge and skills needed to design, implement and assess learning experiences in an early childhood special education (birth through kindergarten) classroom. As a teacher or other professional who understands disabilities, you have the opportunity to work closely with students with diverse developmental needs and help them establish a firm educational foundation filled with unique potential.
*Discounted rate does not apply to course-only options.