Broadcaster
Broadcaster is Concordia University, Nebraska's flagship magazine. It is printed twice a year (July and December) and shares current news, features and images from Concordia. To contact the Broadcaster staff, please email Broadcaster@cune.edu.
Editing, writing and contributing coordinated and managed by Associate Vice President of Marketing & Communication Emily Witt and Editor Danielle Luebbe.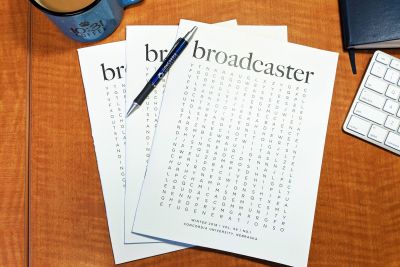 AlumNotes
Accomplishments, Marriages, Births
Have you experienced a life-changing event? Perhaps you got married, had a baby, earned another degree, wrote a book or received a promotion. Concordia welcomes news of alumni accomplishments and other milestones. Alumni news should be submitted directly by the featured alumni rather than a third party so accuracy may be verified.
In Memoriam - Deaths
Do you know of a fellow alum who was recently called home? Please let us know. When submitting a death notice, please send a copy of the obituary, if possible.
Update Your Address
Also, while you're here, please update your address and other contact information. Thanks for keeping in touch!
Photos
Photos are welcome, whether printed or digital versions. Hard copy photos will not be returned, however. Please note that sending an image does not guarantee its publication.
When possible, please follow these guidelines to ensure your photo will work to be included in AlumNotes:
Horizontal photograph
Submitted as a JPEG attachment
Minimum of 1200 pixels on its longest side (roughly a megapixel or more in total pixel size)
Timing
Cut-off dates for submitting AlumNotes:
May 1 - Summer issue cut-off date
Oct. 15 - Winter issue cut-off date
Submission Information
Submit electronically using the forms above.
If submitting by mail:
Concordia University, Nebraska
Alumni News
800 N. Columbia Ave.
Seward, NE 68434.