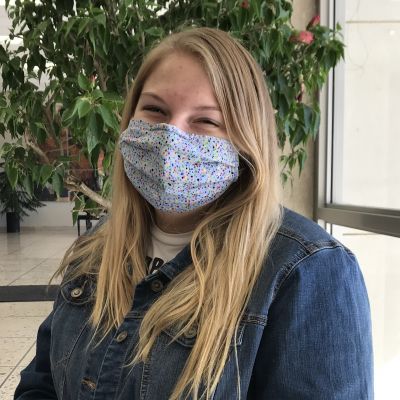 Abby van Velson
Seward, Neb.
All of the professors at Concordia are extremely caring, but they still expect a lot from you, since you're in college.
Abby van Velson has a clear perception of what college should be, but she is especially aware of how great a college can be. "I grew up in Seward and I really love the community. My family recently moved away, but Concordia still feels like home."
Another driving factor for Abby's Concordia decision was the music therapy program. "There really aren't many schools with music therapy programs, and the schools that did weren't really a good fit for me. So, I chose Concordia."
So far, Abby has thoroughly enjoyed her time in the music therapy program, especially the community that she has had the chance to be a part of. "It's a smaller program, which is great because you get the chance to get closer to people in your major." Another reason Abby enjoys the music therapy program is that it artfully combines two things she loves. "Music therapy is kind of two majors in one. On one hand, you have music lessons and ensembles, and on the other hand, you have a lot of psychology and medical training. It really suits me because it combines helping people and music, the two things I love most.
In the future, Abby has big plans to use her degree to help others. "After I graduate, I want to start practicing as a music therapist. Eventually, I hope to get my masters as a music therapist and own my own practice."
Even though Abby is confident about her major and future plans, she recognizes that some students might not be. "It's okay to change your major. Concordia is a great place to experience and try different things before choosing a major."