Vietnam to Seward: distance learning success for master's program graduate Le Cao Bach
Published by Amy Crawford 6 months ago on Fri, May 26, 2023 2:06 PM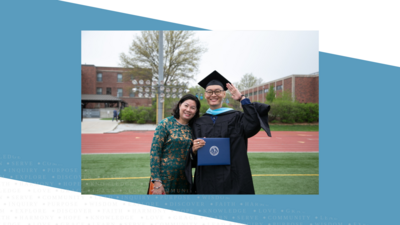 Le Cao Bach '22 graduated with a bachelor's degree in engineering from a high-ranking university in Vietnam, but never got a job as an engineer. He had always been drawn to learning and teaching English, but at first struggled to balance between teaching as a temporary job to earn a living and his love for it.
"After all, not doing engineering stuff then would mean throwing away four years of college and a lot of money," he said. "But fate would have it that I somehow kept on following teaching, bouncing from one school to another until I found a dear friend who looked me straight in the eyes and encouraged me to pursue a career in education. I then poured my heart and soul into being an educator and never looked back."
Fast forward to 2019, with one language teaching center under his name and another one in development, he decided it was time to pursue higher education.
"It was then that I found Concordia and the rest was history!" he said.
Bach received his master of education in TESOL (Teaching English to Speakers of Other Languages) from Concordia Nebraska in 2022. He spent close to a year saving up and preparing for a trip to the United States to participate in Concordia Nebraska commencement in 2023.
"After 24 hours of flight and layover, I finally got to Lincoln and from there to Seward, where I was welcomed with open arms and a beautiful ceremony!" he said. "During my visit to Concordia for my commencement, I received so much help and further advice from Dr. Vicki Anderson, Dean Lorinda Sankey and Dr. Kenneth Sankey that I am inspired to one day become a professor like they are in order to help the next generation just like they helped mine."
Bach said that from the start, his experience with Concordia's programs and people has been outstanding. After researching numerous distance learning programs, he said Concordia not only offered the outstanding programming he was looking for, the tuition was affordable, and the university's faculty and staff made him feel valued and appreciated.
He said that Concordia's faculty and staff helped him through all steps of the process from the program application, to credentials verification issues and any distance learning challenges.
"I loved how each lesson was presented with clear learning objectives as well as necessary materials stated at the beginning of every week," he said. "I could always keep myself centered regardless of how busy I was with work. The professors are wells of knowledge, with insightful commentaries that push thinking in weekly discussions." 
Bach said he valued the experience of the faculty that presented each class, citing their years of experience and willingness to interact closely with each student.
"They offered many unique perspectives on how to tackle problems I had with my students," said Bach. "They also set examples of what an educator and a lifelong learner should do, think and speak."
Bach specializes in language teaching and runs two language centers, one for TESOL training for apprentice teachers and one for IELTS (International English Language Testing System) test preparation. Aside from attending classes as the lead instructor, he is in charge of recruitment, training and curriculum development. Externally, he also the "face" that people recognize when they reach out to his organization.
"One change that is immediately apparent after I got my master's degree is that my credibility within the market increased significantly," he said. "I gained a lot of trust from students, parents and other teachers thanks to new knowledge and insights I could offer them. No less amazing is the fact that I began to attract master level teachers to apply for teaching positions, which was virtually non-existent before! The strength of my teaching teams got a whole lot better because of this."
Bach said he respects the faith-based focus of Concordia's classes.
"I have no religion but I have always respected the core teachings of Buddhism and Christianity, which Concordia has allowed me to see in a new and enlightening way," he explained. "I understood more about how one's vocation is linked to their faith, which guides their path throughout life. Learning at Concordia Nebraska gave me an opportunity to enrich my understanding of faith, therefore resonating better with myself and students of faith."
Although he used to focus almost exclusively on teaching, Bach now entrusts most of his classes to other teachers, attending classes only periodically. He is now often occupied with curriculum development, teacher training, public speaking and content creation.
Bach lives near his mom – whom he is very close to - in Ho Chi Minh City, Vietnam. When he is not at work, he enjoys working out at the gym and indulging his passion for video games and board games. He also enjoys playing the ukulele, photography, graphic design, video editing, travel and writing. Each day, he said he finds fulfillment in his work.
"Seeing my students succeed is the most precious gift of all," he said. "Be it getting a new teaching job for teachers, being able to speak English to a native or achieving high-score in a test for students, I am always ecstatic whenever I receive good news. I still keep a lot of 'love letters' from my students to read every once in a while. They are like my energy-booster!"