Klay Uher '22 uses financial acumen to help clients achieve goals
Published by Logan Tuttle 1 year ago on Wed, Jul 21, 2021 7:07 AM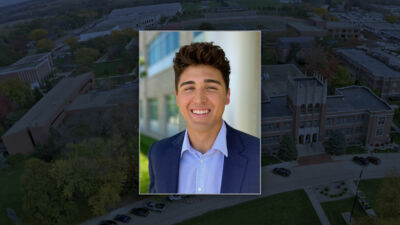 Before graduating from Concordia with his bachelor's degree, Klay Uher is making an impact as a financial advisor.
Uher, a Crete, Nebraska native set to graduate in May 2022, started his internship with Northwestern Mutual in May 2020, where he's responsible for developing relationships with prospective clients and then building financial action plans for them to help them reach their goals. As an intern, Uher has cultivated a book of business that allows him to get real world experience working with clients in a field that he's passionate about.
"Growing up, my mother was a teacher and my dad was a cop," Uher, who is majoring in business administration and minoring in marketing, says. "My entire life has been built around helping others and doing what is in their best interest. I've always been really good with numbers and great at building relationships with people. Mix that with my competitive nature and this career is a perfect fit."
As an advisor, Uher has helped his clients improve their financial situations—including building retirement plans for individuals close to retirement age, building the stepping stones for future success, helping a young couple purchase a home and more. Before his internship, Uher didn't know many people nationwide. Through his experience, he has made an impact across the country with clients in nine different states.
"That's the power of networking, you never know where it will lead you," he says.
Within the Northwestern Mutual internship program, interns are ranked by the number of new clients signed, products placed and premium amounts within an awards year, that runs from May to May. For the 2020-21 awards year, Uher finished as the No. 1 intern in Nebraska and within the Concordia University System, in addition to earning a national No. 74 rank out of 3,600 interns.
As a motivational tool, the company releases the rankings on a weekly basis so interns can keep track of their progress. For Uher, who describes himself as competitive by nature, his original goal was to be in the top 100. Once he saw his progress, he adjusted his goal to be top 75, then top 50.
"It means a lot to me to be ranked that high," he says. "I always stive to be the best in everything I do, no matter what it is. I always fought to be at the top of the leaderboards when the reports came out each week and month. Finishing No. 74 technically met my goal, but I was still unsatisfied. This year, my goal is to finish top 10 in the country."
With his internship spanning through the school year, Uher has had to manage his time as a member of the men's basketball team.
"Being a student-athlete and working an internship is absolutely attainable and should not be a reason to not experience work outside campus," he says. "Combating undergraduate, graduate, basketball and work all together has increased my time management and efficiency skills tremendously."
Uher is in Concordia's Bachelor's to Master's program, allowing him to utilize his undergraduate financial aid for graduate studies, and he's set to graduate with his MBA in the fall of 2023.
"Pursuing higher education is something I have always wanted to accomplish," he says. "Getting it out of the way now seems to be the most efficient for me. It is also a great way to save money because I can take graduate classes at the undergraduate rate and still get the same education."
At Concordia, Uher said he has been given the tools and experiences to achieve greatness and flourish in his career.
"My professors and classmates genuinely care and wish the best for you," he says. "With basketball, there are obviously great challenges, but with that comes great responsibility and great teammates and friendships. The relationships I have built here will last a lifetime."
When it comes to his experience working for Northwestern Mutual, Uher says he's learned about the impact he can have on someone else's life by helping them achieve their goals.
"This experience will help my vocation tremendously, even if in the long run this is not where I end up," he says. "My communication, leadership, relationship-building skills and confidence have increased significantly since starting this internship."