Concordia Nebraska announces new Paul Scholars work college program
Published by Amy Crawford 2 months ago on Tue, Oct 3, 2023 10:50 AM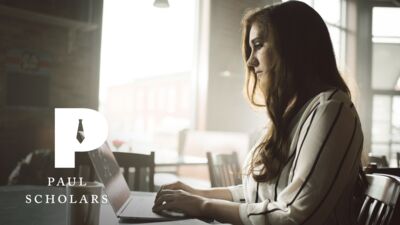 Concordia University, Nebraska today announced the formation of the university's new Paul Scholars work college program, which is expected to launch in fall 2024. Students accepted into the program will earn full tuition covered through a combination of institutional aid, Paul Scholar scholarship and job income while gaining experience in their chosen career field. The university plans to admit 10 students to the program its inaugural year.
Paul Scholars is named for the apostle Paul, who often supported his missionary service by working as a tentmaker. The new work college offering is the first of its kind at the university and one of only a handful of such programs in the world. The program will be partially funded by generous donors and partially funded by community partners.
"Paul Scholars is a dedicated academic community that aims to cultivate students' competence, character and conviction through a blend of Christ-centered academic studies and meaningful-rich work," said Concordia Nebraska professor of accounting Todd Johnson. "Students pursue a major of choice, engage in 15 hours of work per week in designated jobs and complete an interdisciplinary minor focused upon a biblical understanding of work, vocation, followership and leadership. In return, the student's tuition is covered in full for up to four years of full-time study."
Paul Scholars will offer students a community that combines academic excellence with real-world work experience to seamlessly integrate classroom learning with practical job skills, fostering a holistic approach to higher education that promotes servant leadership in the church and world. Ideal Paul Scholars candidates are servant leaders that are hard-working and driven and want to make a difference through their careers while leading their future teams, mentoring others and reflecting Christ's light in the workplace, no matter their future vocations. 
"We are a deeply personal community. We are distinctly Lutheran and Christian. We are humbled and shaped by our identity in Christ. It forms what we do and how we do it," said Concordia Nebraska President Dr. Bernard Bull. "It is beautifully expressed in our music program, in our church work program and in the many campus communities. All of our faculty embrace our Christian mission, and we have a critical mass of students who choose to be here because of that mission; even as we invite people from varied backgrounds to join the Concordia community."
Bull said the university invites students to find communities that challenge and inspire them, and where they are surrounded by others with shared passions and interests.
"For some it's athletics. For others it's a scholars program. Still for others it is our organic academic communities or extracurricular programs," said Bull. "When students come to Concordia, we want to look them in the eye and tell them, with confidence, that Concordia and these discrete communities are places for them to belong, flourish and grow. We want students to find meaning and connection with other people. Our goal is to offer a true and inspiring culture and community of learning."
All students who have been admitted to Concordia are invited to apply to be a part of Paul Scholars. An application, two letters of recommendation from teachers and, if selected, an interview are part of the application process. To be considered for the Paul Scholar program, students must maintain a minimum GPA of 3.0 and will be required to participate in development and leadership activities determined by the Paul Scholars director. Students may not receive sports or performance scholarships while in the program. The program is open to a wide range of majors and includes an exclusive Paul Scholar minor focused on developing character and competence to learn, serve and lead in the workplace, community, church and world.
Learn more about Concordia Nebraska's Paul Scholars program here.