Answering The Call campaign closes as largest in Concordia history
Published by Concordia University, Nebraska 2 years ago on Wed, Jul 28, 2021 8:04 AM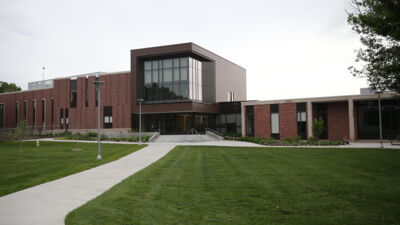 The Dunklau Center for Science, Math and Business, which opened in Fall 2019, was funded through Concordia's Answering The Call campaign, the largest in university history.
Concordia University, Nebraska's five-year Answering The Call campaign, the most successful in university history, ended June 30 after raising $93,783,198 for the university.
"We thank God for moving the exceedingly generous hearts of nearly 12,000 Concordia alumni and friends who provided amazingly abundant gifts for His mission for Concordia to continue equipping women and men to learn, serve and lead in the church and world," said Rev. Russ Sommerfeld, interim president.
The campaign was boosted early on by a $10 million gift from the Rupert Dunklau Foundation, the largest gift in university history, one of nine commitments of at least $1 million. The breadth of the support for Concordia was significant, with 11,740 donors contributing to the campaign's success.
"We are humbled at the provision of God through so many generous donations, and are excited to see the future kingdom building that will occur as a result," said Dr. Doug and Denise Tewes, co-chairs of the campaign's steering committee. "God's plans are bigger than ours and He showed that in this campaign, which morphed from a goal of $65 million to a final result of over $93 million – Wow, God!"
Supporters during the campaign bolstered scholarship endowments to provide funding for students, keeping the cost of attending Concordia competitive with public institutions. They fully funded the $26.5 million Dunklau Center for Science, Math and Business, a state-of-the-art facility that opened in Fall 2019. They also made a number of new academic initiatives a reality, including an agricultural science program developed through community and industry partnerships. Finally, they enabled Concordia to break ground in April 2021 on a new $17 million music center that is set to open in Fall 2022.
Publicly announced in July 2019, the campaign started in July 2016 with construction of a state-of-the-art instruction, lab and research facility for Concordia's growing and popular science and business programs as a key focus. Other initiatives included raising current and endowed funding for scholarships, including for students going into professional church work; resourcing academic programs and projects, including undergraduate research and mission trips; and growing annual support to assure short and mid-term financial strength and stability for the university. Every campaign goal was met and exceeded.
"All praise and glory go to Almighty God and Him alone," said Kurth Brashear, vice president for institutional advancement. "To accomplish all we hoped for, and more, during Answering The Call, especially considering these past 18 months, is proof that Concordia is richly blessed by generous men and women who support our students, value our Christ-centered education, and believe in the university's mission. Thanks be to God!"
Campaign highlights
Dunklau Center for Science, Math and Business
The Dunklau Center, a $26.5 million project, was funded entirely by generous supporters of the university, including a $10 million gift from The Rupert Dunklau Foundation, the largest gift in university history. An additional endowment in excess of $4 million will ensure the building, and its equipment and technology, will remain state of the art and well-resourced for decades to come.
Agricultural Science Program Launch
In Fall 2019, Concordia launched its agricultural science program, to equip students with an understanding of the full scope of agriculture including agribusiness, animal science, food science and plant science, so they can become leaders in the industry. In the program, students have hands-on experiences, both at industry facilities, a Farm Ag Lab partnership with Seward Public Schools, and local landowners, in addition to various internship opportunities.
Music Center (in progress)
This $17 million building will be a first-class collaboration, practice and study center for music students and faculty and be the site of a 100-seat theater. More than $13 million in gifts and pledges have been secured to date, enabling construction to start, and fundraising continues so that construction of the facility will be accomplished without using tuition revenue.
Increased Endowment Funds
More than $30 million in additional funds from this campaign will eventually be added to Concordia's endowment. This includes $11 million in gifts already added to the endowment plus planned gift intentions that will be received in future years. Concordia's endowment generates funds for student scholarships, faculty support and new programming. It ensures Concordia can continue providing students a valuable Christ-centered Lutheran higher education for an affordable cost. Often that cost is comparable to or, in some cases, lower than a large public university. . In 2020-21, each student received an average of $24,900 in financial aid.
Improved Financial Standing
In 2021, Forbes noted Concordia University, Nebraska as one of the 10 colleges that had most improved its financial grade compared to 2016. This year, Concordia received a B grade, up from its grade of C in 2016. Forbes examined the financial health and operating strength of 921 U.S. private higher education institutions with more than 500 full-time students on their financial situations, and provided grades for each institution. Most of Forbes' calculations utilized the federal government's National Center for Education Statistics, whose most recent data is from 2018 and 2019.