Groundbreaking ceremony launches Music Center project
Published by Logan Tuttle 2 years ago on Wed, Apr 28, 2021 12:07 PM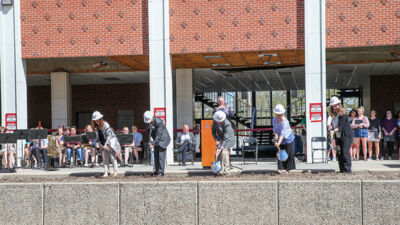 Concordia University, Nebraska hosted a groundbreaking ceremony for the new music center April 26. Pictured, from left is: Denise Tewes, Answering The Call co-chair, Rev. Russ Sommerfeld, interim president, Stuart Bartruff, chair of the board of regents, Makenna Clovis, a music student and Dr. Nicole Jacobs, assistant professor of music.
On a warm and sunny spring day with birds providing a joyful soundtrack, Concordia University, Nebraska hosted a chapel and groundbreaking ceremony on April 26 for its new Music Center that is projected to open in Fall 2022.
The $17 million building will be a first-class collaboration, practice and study center for students and faculty. Nearly $13 million has been secured to date, enabling construction to start, and fundraising continues so that construction of the facility, and an endowment to provide for its ongoing excellence, will be accomplished without using tuition revenue.
"As we break ground today, we take the first step in the construction of a facility at Concordia dedicated to providing men and women a place to practice and learn, to use their God-given talents to serve in vocations related to the performing arts and to praise Him through word, song and performance," Rev. Russ Sommerfeld, interim president, said during the ceremony.
The ceremony, which took place in the front of the current building with the front windows and doors removed, served as both a celebration and a mourning, Rev. Ryan Matthias, Concordia campus pastor, said during the service.
"Staring at that edifice coming down is hard for many," he said. "It's a place where many grew up. It's been a preparatory place for music so sublime that it will not literally knock your socks off, but close. It was a place of consolation and contemplation. Sometimes you just went in there to get away from the world. I know a couple who got engaged in there."
With 46,544 square feet, the remastered building will include 22 practice rooms, including specifically designed practice rooms for both vocal and instrumental ensembles, 13 teaching studios, Concordia's first recording studio and a new 100-seat theater for drama productions. These innovative spaces with the latest technology are designed for state-of-the-art acoustics and aesthetics—including floor-to-ceiling windows and fully accessibility—and will provide opportunities for Concordia's performing arts departments to increase academic offerings and co-curricular experiences for students to share their God-given talents.
"I am looking forward to the completion of this project because we will have a better place for our music and theatre departments to grow in their talents and communities," Makenna Clovis, a sophomore church music major from Albuquerque, New Mexico, said. "Students and faculty alike will have the best spaces to learn, teach, practice, perform and collaborate as they continue to bring glory to God through their gifts."
Concordia's music program has a long tradition of excellence, dating back to the University's beginning, serving as an outlet for both music majors and performers to share their God-given talents in a supportive community, while bringing glory to God through their performances. Cecilia Minchow, a junior psychology and behavioral sciences major from Lincoln, Nebraska, said she appreciates singing in the A Cappella and Chamber choirs with students who represent a large variety of Concordia's academic programs.
"Yes, there are music majors, but we also have scientists and artists, psychology and business majors, education majors, theology students and athletes representing many of the athletic teams on campus," Minchow said. "Each and every member of those ensembles is passionate about what they are here on campus to do, and they give glory to God through their studies and activities. I think it's beautiful how we can all come together, different as we are, with the common goal of praising our Lord and spreading His gospel message through song."
The current building, built in the 1960s, features a multi-level design on the east side that was common practice at that time but provided accessibility challenges for students and guests. An elevator that has been greatly needed since the time the current building opened its doors, will be installed that will serve three floors, instead of the current six.
"The building needed elevators from the very beginning," Kurt von Kampen, music department chair and a 1983 Concordia graduate, said in a previous interview. "There is always equipment being moved, especially percussion instruments that students are moving up and down the stairs. We also have the obligation to make it completely accessible. Although the elevator is past due, we are thankful it's happening now and it will be a terrific building for years to come."
Included in the plans is an update to the 200-seat recital hall, which will continue to house both a Casavant Frères organ and a Steinway & Sons concert grand piano. The current recital hall, located in the west portion of the building, will be fully renovated, while the east side of the building will be torn down and rebuilt, resulting in a completely new single structure.
While the building is under construction, the music department is dispersed across campus, including Weller Hall, Jesse Hall and the Thom Leadership Education Center, providing a unique opportunity for students and faculty to share their musical talents in other buildings.
After the groundbreaking ceremony, the University hosted a luncheon to thank the project's supporters and provide an opportunity for donors and the Concordia community to hear from students, faculty, the building's architects and special guests about the impact the new building will have on the campus community. Rev. Dr. Michael Kumm, chair of The Lutheran Church—Missouri Synod Board of Directors, brought greetings and remarks of appreciation on behalf of the church.
Dr. Elizabeth Grimpo, professor of music, who teaches aural skills, music appreciation and private piano lessons, shared that when the department moves into the new building, students and faculty will have the ability to elevate the standard of excellence that has already been established. She also noted how the addition of Steinway Piano studios will provide students the best pianos for lessons, practicing and performing—allowing them to reach their full potential. With the expanded spaces and abilities throughout the building, the music department can also grow their academic offerings, she said.
"Our fervent desire is that as news of this wonderful facility spreads and as our reputation continues to grow, we will be able to teach more and more students," Grimpo said. "The excellent music instruction they will receive in the new music center, along with the deepening of faith that often happens at Concordia will produce graduates who will surely be a light throughout the church and world, wherever they may go."
Renata Peperkorn, a sophomore music education and church music major from Rocklin, California, shared with the group that she has witnessed numerous miracles throughout the year—including how such amazing work can be produced of a small university in a small town in Nebraska—and it all starts from the faculty who expect Concordia to produce excellent music, and the students who want that high quality of music and are willing to help push the program to achieve that level of quality.
"I have also seen the miracle of all the wonderful donors who trust in Concordia's faculty and students and have given us this opportunity to grow in our gifts from God," she said. "The miracle that God has given us the gift of music to share with each other, to hear this beauty and to provide renewed hope. Finally, the miracle that God could use this same gift of music to proclaim his own gospel of redemption to the world."
Concordia's architectural partner, Sinclair Hille Architects of Lincoln, Nebraska—the firm that also designed the Dunklau Center for Science, Math and Business and the Walz Human Performance Complex—is partnering with HDR, a global engineering company headquartered in Omaha, Nebraska and Threshold Acoustics of Chicago, Illinois to assist with the interior acoustic engineering. In the current building, there is a large amount of sound bleed, where students in practice rooms and even the recital hall can hear other students' practice sessions, which provides some challenges when students need to focus on their own works.
"I am thrilled the new music center will have features that the old building needed," Isaac Weander, a freshman music education major from Norfolk, Nebraska, said. "I am thrilled to have controllable acoustics to heighten the quality of both vocal and instrumental performances. I feel like I can speak on behalf of most students and professors when I say I'm beyond excited to have practice rooms that are a little more soundproof than they were in the old building."
An updated 100-seat theater in the new Music Center will provide drama students a new space to hone their craft. Bryan Moore, professor of communication and theatre, said the new theater will provide more flexibility in staging options and techniques, which increased the opportunities for more practical experience and education for students. Additionally, Moore said, students will have the ability to perform a wider variety of shows, and he was equally excited about the improved accessibility.
"I would like to thank the donors for this project, both those who have already made gifts so far and those who will contribute in the future," Moore said. "We know that there are many expenses for this kind of project, but we hope that the education, experiences and entertainment that will result from this renovated facility will be worth the effort and investment."
Adam Prince, a freshman theatre major from O'Fallon, Missouri, said the new space is a prime example of Concordia's commitment to preparing students to make their impact.
"You may think that something like a new Black Box Theater is a minuscule gesture, but to people like me, it means everything because it is tangible proof of how this school reflects Jesus' light," he said. "To everyone who made this possible, thank you. You aren't just helping the school succeed, you are enabling future generations to thrive. You are giving me an outlet for my passions and you are preparing people who haven't even been born yet to lead the church and lead the world."
Sommerfeld told donors that because of their partnership, musicians and thespians will study, practice and rehearse under the tutelage of gifted and skilled faculty who have a deep passion for their craft, but, even more, an enduring calling from God to form students with a distinctive Lutheran Christian education.
"Concordia's history of being synonymous with music will continue to grow, thrive and excel because of your partnership," he said, "as will dramatic depictions of human life and God's entry into it through Christ."
The project, titled In Harmony: Building a New Space For Music, is part of Answering The Call, Concordia's current fundraising campaign that has raised $89 million to date. For more information about the Music Center project, please visit cune.edu/harmony.