Concordia University announces largest gift in institution history for new academic facility
Published by Concordia University, Nebraska 5 years ago on Mon, Feb 26, 2018 11:11 AM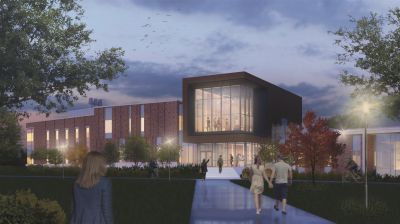 Dunklau Center for Science, Math and Business will be constructed beginning spring, 2018 thanks to donations to the university including the lead gift by the Rupert Dunklau Foundation.
Concordia University, Nebraska president Brian Friedrich announced the largest gift in the university's 124-year history of $10 million from Rupert Dunklau Foundation, the lead naming gift for a new center for science, math and business.
"Praise God from whom all blessings flow," said Friedrich. "The entire Concordia community celebrates the transformational gift commitment received from Rupert Dunklau Foundation. Rupert and Ruth Dunklau were longtime friends and generous donors to the University during their lifetimes. Naming this facility Dunklau Center for Science, Math and Business is a fitting testament to their faith in God and their commitment to equipping students through Lutheran education for lives of service and leadership in the church and world."
The Dunklau Center for Science, Math and Business will include 58,000 square feet of new construction and 28,000 square feet of renovated space in the current science building for a combined total of 86,000 square feet. The lead gift combined with the donations of other generous donors will fund the entire $24 million project.
The Dunklau Center will house the academic departments of science (biology, chemistry, physics, environmental science), math, business, and computer science. There will be five biology labs, three chemistry labs, two physics labs and two computer science labs. Research labs for each discipline, a gross anatomy lab and a greenhouse will also be featured in the facility. When completed, it will include 11 classrooms and two lecture halls, all equipped with state-of-the-art technology.
Additionally, the facility will provide collaborative spaces for students and faculty to work together in flexible, adaptable environments. A nearly 1,000 square foot "Co-Lab" extending above the campus quad will be prominent, providing space for large and small group student projects and study, classes, programs and meetings.
Administrative spaces, faculty offices, two conference rooms and an entirely new area for computing services will also be included in the completed complex.
"Science, technology, math and business are crucial to the continuing mission of Concordia University," said Concordia provost, Jenny Mueller-Roebke. "The Dunklau Center will encourage our students to serve as the next generation of scientists, mathematicians and business men and women by equipping them in a Christ-centered environment. We are grateful to Rupert Dunklau Foundation for this wonderful gift that will only advance these strong academic programs at Concordia."
Prior to his retirement in 1973, Rupert Dunklau served as executive vice president of Valmont Industries, Inc. Rupert, who died in 2016, and his first wife, Ruth, who died in 1998, established the Rupert Dunklau Foundation to glorify God by providing financial resources for the varied ministries related to the Lutheran tradition, especially The Lutheran Church—Missouri Synod. It has been a prominent supporter of Lutheran educational entities, and projects that promote the welfare of mankind, including Lutheran Family Services of Nebraska. It has also been a key benefactor of efforts in Fremont, the family's home community, where his widow, Ruth, still lives.
"The giving culture of the Dunklau Foundation is a direct reflection of Rupert's philanthropic philosophy – you give because of your love and faith in Jesus Christ and because you acknowledge that God will continue to out give you," said Delmer Toebben, Rupert Dunklau Foundation president. "This culture, along with Rupert's passion for Lutheran higher education at Concordia, made us want to be part of this exciting project. We pray it will have a transformational impact on countless generations of students to come and those they go on to serve."
The official groundbreaking for the Dunklau Center for Science, Math and Business will take place at 11 a.m., Thursday, April 5, 2018 at Concordia University. Occupation of the completed facility is projected for late fall, 2019.
For updates on the Dunklau Center for Science, Math and Business, visit cune.edu/dunklau.