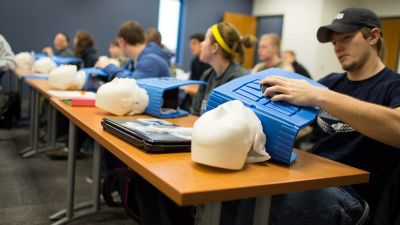 15:1
Student-to-faculty ratio
100%
Faculty with terminal degree
Occupational therapists help people of all ages fully engage in their daily lives, from their work and recreation to daily activities like getting dressed, cooking, eating and driving. As an occupational therapist, you will use your skills to treat injured, ill or disabled patients, helping them recover and improve the skills they need for daily living. You may choose to specialize your occupational therapy practice, working with premature babies at a pediatric hospital, assisting children with cerebral palsy or Down syndrome or working with older adults in nursing homes, for example. Some OTs work with accident victims, helping them regain skills after an injury. Others assist people with mental illnesses learn to perform day-to-day tasks. New specialties for occupational therapists are emerging every day as well, like training office workers to use the correct ergonomics, working with architects and construction companies to make buildings and homes more accessible or helping students in school who have learning disabilities or behavioral problems.
The pre-occupational therapy program at Concordia University, Nebraska will help prepare you to continue your education to become a health care professional. Here, you will gain the strong foundation in natural science, psychology, critical thinking and analytical reasoning you will need to excel in a graduate program and as an occupational therapist. Hands-on labs, internship experiences with local healthcare professionals and research opportunities will prepare you on your path to a fulfilling career as an OT.
Concordia Nebraska

Pre-Occupational Therapy: Learning Objectives

Students in the pre-occupational therapy program at Concordia University, Nebraska will demonstrate comprehension of key science principles relating to required courses.

Students will be able to analyze and evaluate information and identify the need for research to draw conclusions, formulate inferences, solve problems and make decisions.

Students will demonstrate information literacy skills by locating, evaluating, selecting, organizing, synthesizing and ethically documenting information from multiple sources using both informal and formal formats, as appropriate for diverse writing situations.

Students will learn effective written and oral communication skills.
Concordia Nebraska

Pre-Occupational Therapy: Career Outcomes
Occupational Therapist
An occupational therapist is a healthcare professional who helps individuals accomplish day-to-day tasks. As an occupational therapist, your primary goal would be to help your patients enhance their quality of life by helping them learn to perform daily tasks more efficiently and with greater comfort.
$55,490
Entry-Level Salary2
$84,270
Mid-Level Salary2
$120,750
Late-Level Salary2
Concordia Nebraska

Pre-Occupational Therapy: Related Programs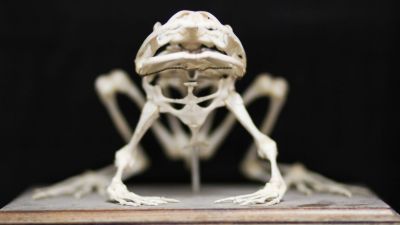 Biology
With a degree in biology from Concordia Nebraska, you will be prepared to begin a career in the biological sciences right away, or to continue your education in graduate, medical, dental or veterinary school. As a biology major at Concordia, you learn essential skills such as time management and mastering complex material, as well as studying more in-depth topics such as microbiology, human anatomy and immunology to give you the knowledge you need to be successful in the field of biology.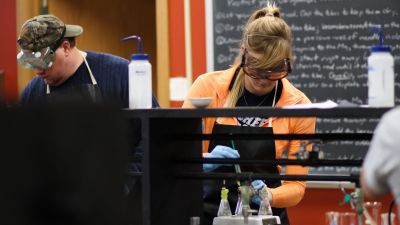 Chemistry
A degree in chemistry from Concordia University, Nebraska expands your understanding of general chemistry and gives you the practical, hands-on experience you need to continue a career in chemistry after graduation. Your classroom and chemistry lab experience will help you on your journey to use your passion for chemistry to serve in healthcare, industry, research and more.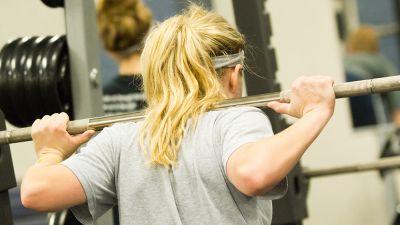 Exercise Science
The exercise science program at Concordia University, Nebraska offers you the opportunity to advance your knowledge, skills and abilities while staying current with innovative research by utilizing state-of-the-art human performance laboratory equipment. Here, you will learn how to apply the gifts God has given you to enhance the spiritual, physical, intellectual, emotional and social wellbeing of others.
1 Recent graduates attending graduate school or employed within six months of graduation.
2 Career salary and wages sourced from the U.S. Bureau of Labor Statistics.