M.Ed.

Early Childhood Special Education
Earning an M.Ed. in Early Childhood Special Education from Concordia, Nebraska equips you with the knowledge, training, and experience you need to become a certified special education teacher or professional who reflects Christ's light in their classroom by creating compassionate learning environments for students with disabilities.
When you choose Concordia for your M.Ed. in Early Childhood Special Education, you will:
Become equipped to skillfully educate students with diverse classroom needs using inclusive, forward-thinking methods.
Learn from expert veteran educators who have first-hand experience with the challenges and rewards of the classroom.
Earn your master's from a university that intentionally intersects Christian faith, life experience and academics to help you grow as a whole person.
Complete your 100 hours of direct field experience.
$340*
PER credit hour
for Nebraska Residents & Lutheran Educators
$425
PER credit hour
Outside of Nebraska
Class Type
100% Online, 8-week courses
RSVP to one of our next information sessions
Information Sessions
Learn more about our programs at one of our next information sessions.
You may register for an information session by clicking "RSVP" next to your desired date and time.
Information sessions run approximately 20 minutes. During these meetings, we will discuss the program formats, application process, financial aid, payment plans and questions that you may have.
Get more info and start your Early Childhood Special Education journey today!
Earn your M.Ed. with Value(s)
Start your journey today by filling out this quick form and one of our enrollment counselors will be in touch soon.
Program Highlights
WHY STUDY EARLY CHILDHOOD SPECIAL EDUCATION AT CONCORDIA? 
With a graduate degree in Early Childhood Special Education from Concordia University, you'll find a distinctive blend of faith-based instruction and real-world, hands-on experience, including:
A holistic special education master's program. Gain a broad introduction to special education policy, practice and teaching strategies that you can start applying in your classroom right away.
Real-life application of course work as you complete 100 hours of field experience in inclusive educational settings.
Special education endorsement options. If you want to work exclusively with students with disabilities, you can complete additional coursework to earn a special education endorsement after finishing your master's degree in special education. Choose from education teaching endorsements for K–6, 7–12 and K–12 students, or one of our many additional teaching endorsements.
TEACH Grant eligibility. Students who meet requirements for the TEACH Grant may be able to apply grant funds to the Master of Education in special education program.
MEET OUR EXPERT FACULTY
The faculty leading Concordia's Early Childhood Special Education programs are distinguished by excellence in teaching and scholarship. Their expertise inspires in the classroom, makes them leaders in their academic field and impacts the church and world.
Accreditation
Concordia's online degree in Early Childhood Education conforms to the standards prescribed by the National Association for the Education of Young Children and is accredited by the National Council for Accreditation of Teacher Education (NCATE).
Concordia is also accredited by the Higher Learning Commission, a regional accreditation agency recognized by the U.S. Department of Education. 
LEARN MORE ABOUT ACCREDITATION
Degree Goals
Concordia's early childhood special education master's program equips you to design, implement and assess learning experiences in a special education classroom for students of preschool and kindergarten age.
Upon completion of Concordia's M.Ed. in Early Childhood Special Education, which includes 100 hours of field experience, you'll be eligible for certification as an early childhood special education teacher in the state of Nebraska, provided you have a valid teaching certificate.
An Early Childhood Special Education graduate from Concordia University, Nebraska will be able to:   
Understand how disabilities can interact with development and learning and use this knowledge to provide meaningful and challenging learning experiences for individuals with disabilities.
Use multiple methods of assessment and data analysis to select and adapt general and specialized curricula to personalize learning for individuals with disabilities.
Create safe, inclusive and culturally responsive learning environments for students with disabilities.
Collaborate with families, educators, service providers, students and community agencies to address the needs of individuals with disabilities across a range of learning experiences.
Career Outcomes
SPECIAL EDUCATION PROFESSIONAL
As a special education professional, teacher or leader, you'll be responsible for working with students who have special learning needs. You'll adapt classroom environments and curricula to facilitate learning despite students' mental, emotional and physical barriers to their education.
INCLUSION SPECIALIST
An inclusion specialist is responsible for developing curricula that includes students with diverse needs in a traditional classroom, allowing students with various abilities to learn together. 
FAQs
What can I do with an early childhood special education master's degree?

The Master of Education in Early Childhood Special Education directly aligns with the established professional standards by the Council for Exceptional Children for teachers in the field of special education. You will be prepared to work in public or private schools and act as a leader to create inclusive classrooms and educate students with diverse learning needs.
Is an early childhood special education practicum required?

This program requires a total of 100 practicum hours, which are completed throughout the entire program.
Is early childhood special education the right career path for me?

Demand for early childhood special education teachers is high. In many areas, schools want an inclusive degree that includes a special education endorsement. If you're interested in teaching students with diverse needs in the classroom and have a passion for leadership and forward-thinking teaching, this degree is right for you.
Related Programs
An early childhood special education master's is just one of the many graduate degree and certificate programs we offer at Concordia Nebraska to help educators advance in their careers. If you're interested in expanding your professional capabilities as a teacher and leader in your school, check out some of these related programs: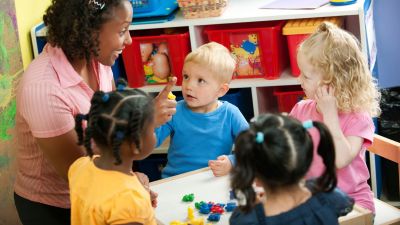 M.Ed. Early Childhood Education
Gain the skills you need to make a positive impact in the lives of young children with Concordia Nebraska's early childhood education online program.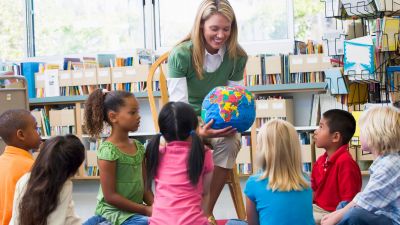 M.Ed. Special Education
Learn effective instructional strategies for students with learning, cognitive, mental and physical disabilities in our Master's in Special Education online.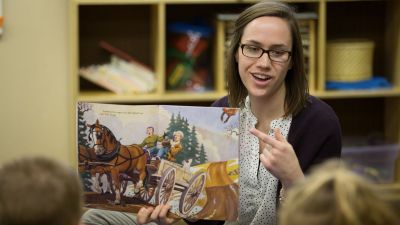 M.Ed. Literacy
Prepare to give students a lifelong love of reading and writing the English language through the online master's in reading and literacy program from Concordia.
*Discounted rate does not apply to course-only options.