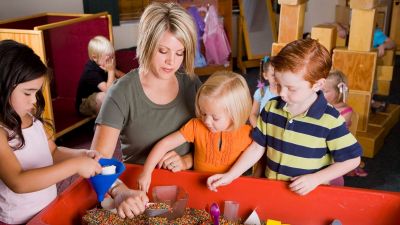 M.Ed.

Early Childhood Education Birth–3rd Inclusive
We offer the lowest-priced online M.Ed. in Nebraska and the Concordia University System.
Nebraska Residents & Lutheran Educators
$340*
PER credit hour
$425/credit hour rate outside of Nebraska
Through our Lutheran Guarantee, Lutheran Educators from around the world qualify for our special rate.
*Discounted rate does not apply to course-only options.
Class Type
100% online, 8-week courses
Accreditation
NCATE; CAEP
Discover how you can make a difference in the lives of young students. One of the few programs of its kind offered solely online, Concordia University, Nebraska's online master's in early childhood education program prepares you to put children first as you teach children from birth through third grade. While you earn your ECE degree online, you can also obtain your initial teaching license.
As you become an accomplished educator through our flexible, faith-based early childhood education online program, you will have the opportunity to earn hands-on classroom experience. The master's program requires the completion of 100 hours of field experience and 16 weeks of student teaching in pre-primary (PK) and primary (K-3rd) environments.
While you learn from experienced faculty who incorporate real-world examples into the early childhood education online curriculum, you will study key topics that include:
Early childhood program organization and management
Advanced child development
Psychological foundations of teaching and learning
Language and literacy development
Development, methods, curriculum and assessment
Behavior management in inclusive settings
Instructional methods for students with learning, intellectual and developmental disabilities
Children's literature
Best practice in integrating technology into curriculum and instructional design
Our online master's in early childhood education program conforms to the standards prescribed by the National Association for the Education of Young Children and is accredited by the National Council for Accreditation of Teacher Education (NCATE). In addition, our program does not require GRE scores for admission, but students must pass the Praxis Academic Core Skills and Praxis II Exams. Students are eligible for the TEACH grant.
If you have already earned a Master of Education degree from Concordia Nebraska, you can earn additional teaching endorsements. To learn more about our endorsement programs and their specific requirements, you can get in touch with an online enrollment counselor.
Information Sessions
Learn more about our programs at one of our next information sessions.
You may register for an information session by clicking "RSVP" next to your desired date and time.
Information sessions run approximately 20 minutes. During these meetings, we will discuss the program formats, application process, financial aid, payment plans and questions that you may have.
Earn your M.Ed. with Value(s)
Start your journey today by filling out this quick form and one of our enrollment counselors will be in touch soon.
Concordia Nebraska

Early Childhood Education Birth–3rd Inclusive Core Concepts

The NCATE-accredited online master's in early childhood education, birth to third grade inclusive program from Concordia University, Nebraska teaches students how to use a faith-based approach in diverse classrooms to help young children develop fundamental lifelong skills.
Learning Outcomes
Students will explore the history, philosophy and contemporary trends in early childhood education, including current instructional models
Students will examine the different approaches to educating students with cognitive or other moderate disabilities in an inclusive setting
Students will learn the cognitive, emotional, social, linguistic and physical development of typically and atypically developing children from infancy through age 8
Students will be prepared to teach in inclusive classroom settings with children who have a variety of cognitive, social, emotional, and physical abilities and who come from diverse families and communities
Program Goals
Establish a deep understanding of current models and trends in early childhood education
Complete an advanced study of childhood development through the elementary school years)
Exhibit an understanding of the selection and administration of standardized assessments for screening, diagnostics and progress monitoring
Expand your knowledge of key learning theories and their implications for the early classroom setting
Understand concepts and issues related to behavior management, education methods and procedures for serving the emotional, academic and social needs of young students
Master's in Early Childhood Education Online Faculty
As experts in master's in early childhood education, our faculty and instructors bring years of experience to the classroom.
Meet the faculty
Concordia Nebraska

Early Childhood Education Birth–3rd Inclusive FAQs

What can I do with an early childhood education degree?

An early childhood education degree prepares you with the advanced knowledge, skills and dispositions needed to promote learning in all young children. This degree will also give you additional career opportunities as its greatly sought after by high quality programs that serve young children and families. The expertise you gain through this online early childhood inclusive degree can be used to teach in birth through 3rd grade classrooms and administrative career paths. Schools, social service agencies, health care systems, institutions of higher education and governmental agencies across the United States and Internationally are investing in well trained early childhood educators, which allows you to earn wages commensurate to your advanced qualifications. With an online master's in early childhood education, you might also choose to pursue a career as a community college professor, family support specialist, consultant, mentor or researcher. You will also be prepared for continued studies in a doctoral program.

Is there a field experience requirement for the early childhood education B-3rd program?

Through the program, you will complete 100 hours of field experience and 16 weeks of student teaching. There may be several early childhood education internship opportunities available near you, through which you can earn real-world experience in the classroom setting.

Is early childhood education the right career path for me?

Early childhood education can be an extremely rewarding career path. You will become a major influence in the lives of young children and help them become lifelong learners. If you enjoy creativity, innovation and teaching fundamental skills that are used in everyday life, then a career in early childhood education may be right for you.
Resource Articles
Concordia Nebraska

Early Childhood Education Birth–3rd Inclusive Related Programs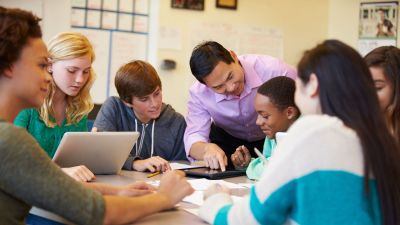 M.Ed. Curriculum & Instruction
The Master's of Education in Curriculum and Instruction online helps you become a forward-thinking curriculum coordinator or teacher leader.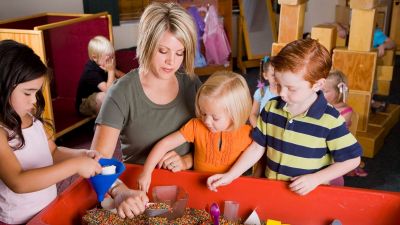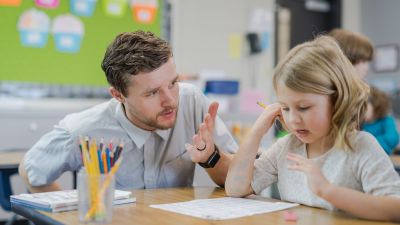 Early Childhood Special Education
Our early childhood special education master's program equips you with the knowledge and skills needed to design, implement and assess learning experiences in an early childhood special education (birth through kindergarten) classroom. As a teacher or other professional who understands disabilities, you have the opportunity to work closely with students with diverse developmental needs and help them establish a firm educational foundation filled with unique potential.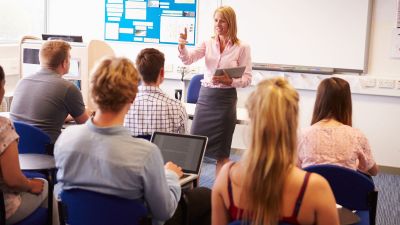 M.Ed. Educational Administration
Take the next step in your career and prepare to become a school administrator or principal with the online master's in educational administration program.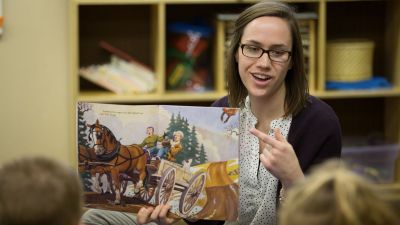 M.Ed. Literacy
Prepare to give students a lifelong love of reading and writing the English language through the online master's in reading and literacy program from Concordia.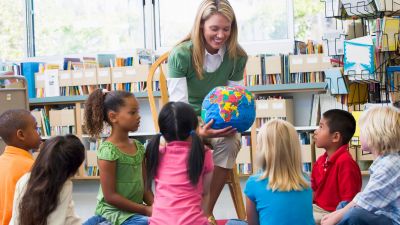 M.Ed. Special Education
Learn effective instructional strategies for students with learning, cognitive, mental and physical disabilities in our Master's in Special Education online.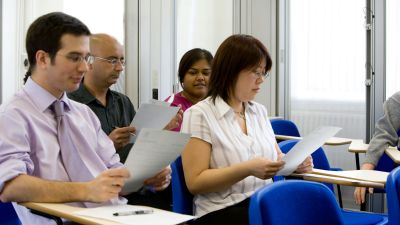 TESOL (Teaching English to Speakers of Other Languages)
Acquire the in-depth knowledge and real-world preparation to effectively teach English language and literacy with the master's in TESOL online (M.Ed.).